Rolex sponsored Roger Federer has moved one step closer to tying Pete Sampras' 17 Grand Slam title record with his semifinal win against Novak Djokovic at Wimbledon today. Federer won relatively easily with a 6-3, 3-6, 6-4, 6-3 victory. Experts expect him to retake the #1 spot in the rankings when they are released on Monday. If he is provided the #1 ranking, Federer will tie Sampras for most weeks at the top at 286 weeks.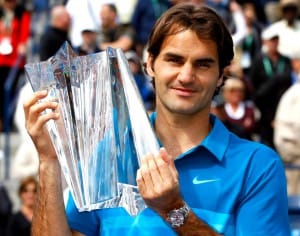 Federer and Djokovic had some exciting rallies, yet it appeared that Djokovic ran out of steam in the fourth set. Federer then asserted himself and went for the win. The next step for Rolex's Federer is to play the winner of Andy Murray and Jo-Wilfried Tsonga's semifinal match.
Now 30-years-old, Federer has won 16 tennis titles, the most of any professional in history. Additionally, in 2009 he completed a career Grand Slam when he won the French open title. If Federer wins the 2012 Wimbledon title, this will be his first major win since the 2010 Australian Open.
Without a doubt, Federer shocked the tennis world with today's win against favored Djokovic. However, those close to him aren't surprised because he is without a doubt one of the hardest working players in the world.
This year has been a great year for Federer on many levels, including the Rolex Company's renewed commitment and desire to have him as one of the official spokesmen of the all-new Rolex Sky- Dweller watch. He has also been a longtime wearer of the Rolex Datejust watch, long noted as the signature Rolex in the company's vast collection of luxury watches.
The Rolex Company chose Federer as their leading tennis figure because of his commitment to excellence, humility, and class. There is no telling what will happen in the final; however Rolex is undoubtedly betting on Federer to tie Sampras' long held record.
More news to come in the next couple of days as Federer seeks to jump into the record books. The Wimbledon final is sure to be full of excitement!
Tags: rolex, rolex datejust, rolex watches, Wimbledon 2012