Thank You – A Box Is On Its Way!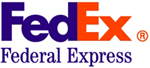 Your box, shipping materials, and prepaid FedEx shipping label will be delivered in two business days. Once you receive the box, here's what you will need to do next:
Packing your watch: Place  your watch inside the Bubble Pack provided. (You may place additional cushioning materials to prevent the bubble pack from bouncing around inside the box).  Close and seal the flaps attached and then affix the shipping label enclosed to the sealed box.
FedEx your watch:   

FedEx Drop Off:   Please click here to find the closest FedEx drop off location near you: Click here to find one closest to you.  Please be sure to keep your receipt.

FedEx Pick up:     For pick-ups at your location, please call FedEx at (800) GO- FEDEX to schedule the pick up.  Be sure to hand the sealed box to the driver and make sure he/she scans the box.
Please be sure to follow the packaging instructions above and call if you have questions or concerns. We send and receive hundreds of packages and have never had an issue.