Bob's Watches Auction Terms and Conditions
This web site is owned and operated by Bob's Watches. "You" or "your" refers to the person or entity that is an account holder, member, bidder or buyer of record. Because these terms and conditions may be modified from time to time, it is advised that you read these terms prior to every use.
All auctions are conducted in accordance with California Civil Code section 1812.600 et. seq. under the authority of Bob's Watches' California Bond No. 72BSBHE9842. Bob's Watches' business is located at 1900 Quail St. Newport Beach, CA 92660 (Tel: 800-494-3708). Please thoroughly read Bob's Watches Auction Terms and Conditions to ensure that you understand all the terms governing the purchase of all property sold at auction on the Bob's Watches Website before using this web site or buying property at auction. To participate in Bob's Watches Auctions, bidders must agree to these Auction Terms and Conditions.
USERS OF THIS WEB SITE MUST AGREE TO THE FOLLOWING AUCTION TERMS AND CONDITIONS OF USE:
As a condition of use of this website, you expressly agree not to use this website for any purpose that is unlawful or prohibited by these terms and conditions. Each bid placed is considered a binding contract to buy if you should win the lot. Therefore, you should only bid on lots that you intend to buy. Buyers who retract bids and/or refuse to pay for a product they have won will be subject to penalty including disqualification from any current and/or future auctions.
THE PROPERTY
You are bidding to buy property from Bob's Watches. Bob's Watches is a direct seller and also maintains this auction. This website will accept offers to buy through an auction process. The auctioned or to be auctioned property is herein referred to as "property," "lot" or "lots".
OPPORTUNITY TO INSPECT
Members shall be provided the opportunity to inspect each auction lot. Inspections will take place for one (1) business day, by appointment only, and will be one (1) week before the scheduled auction start date.
NO RETURNS
ALL AUCTION SALES ARE FINAL. BOB'S WATCHES DOES NOT ACCEPT RETURNS ON AUCTION LOTS OR AUCTIONED PROPERTY.
LIMITATION OF LIABILITY
BOB'S WATCHES DOES NOT PROMISE THAT THE SITE OR ANY CONTENT, SERVICE OR FEATURE OF THE SITE WILL BE ERROR-FREE OR UNINTERRUPTED, OR THAT ANY DEFECTS WILL BE CORRECTED, OR THAT YOUR USE OF THE SITE WILL PROVIDE SPECIFIC RESULTS. THE SITE AND ITS CONTENT ARE DELIVERED ON AN "AS-IS" AND "AS-AVAILABLE" BASIS. BOB'S WATCHES CANNOT AND SHALL NOT BE HELD RESPONSIBLE FOR ERRORS, OMISSIONS, OR FAILURES OF ITS OWN TECHNOLOGY OR THE TECHNOLOGY OF ITS USERS.
IN NO EVENT SHALL BOB'S WATCHES BE LIABLE FOR ANY LOST REVENUE OR PROFIT OR FOR SPECIAL, INDIRECT, CONSEQUENTIAL, INCIDENTAL OR PUNITIVE DAMAGES, HOWEVER CAUSED AND REGARDLESS OF THE THEORY OF LIABILITY, EVEN IF BOB'S WATCHES HAS BEEN ADVISED OF THE POSSIBILITY OF SUCH DAMAGES. TO THE FULLEST EXTENT ALLOWED BY LAW, IN NO EVENT SHALL BOB'S WATCHES' LIABILITY TO YOU, WHETHER IN CONTRACT OR TORT (INCLUDING NEGLIGENCE) OR OTHERWISE EXCEED THE AMOUNT PAID BY YOU IN THE APPLICABLE AUCTION TO WHICH SUCH LIABILITY RELATES. SOME STATES DO NOT ALLOW THE EXCLUSION OF CERTAIN DAMAGES, SO SOME OF THE TERMS ABOVE MAY NOT BE APPLICABLE TO YOU.
REGISTRATION
In order to bid on an auction lot, a bidder must be a registered member with Bob's Watches. Membership must be confirmed at least three (3) business days before the end of the first auction in which the member wishes to participate. Members shall at all times maintain the accuracy of their account information.
BOB'S WATCHES RESERVES THE RIGHT TO ACCEPT OR REJECT PROSPECTIVE MEMBERS IN ITS SOLE AND ABSOLUTE DISCRETION.
STARTING BIDS, MINIMUM BIDS & RESERVES
The "Starting Bid" is the opening bid price for an auction. The "Minimum Bid" is the smallest incremental bid amount. Minimum Bids must be in whole dollars. If a Minimum Bid amount is anything other than a whole dollar, the amount of the Minimum Bid will be displayed on each auction lot page. At the start of an auction, bidders must place a bid at, or higher than, the Starting Bid. Each subsequent bid must increase in an interval the same, or greater than, the Minimum Bid amount. Unless otherwise indicated, ALL auctions will also include a "Reserve". A Reserve is the minimum purchase price that Bob's Watches is willing to accept for the lot. The Reserve will not be published or made publically available. At the end of the auction, if the Reserve is not met, the listing will show the message "Reserve not met," in which case no sale has been made. Bob's Watches reserves the right to stop, void or cancel any auction where the Reserve is not met and re-list that property at a later time.
NO BID RETRACTION
A bidder may not retract his or her bid, for any reason. Bob's Watches may cancel a lot, to be relisted at a later time, to avoid any corruption to the bidding process. We reserve the right to exclude any bid, bidder or member from any auction, for any reason. Once the auction has ended, the winning bid cannot be retracted. (See "Buyer Liability").
WINNING BID
The term "Winning Bid" as used herein shall refer to either the highest bid price, above the Reserve, at the time the auction ends, or the highest Second Chance Offer (as defined below). The "Buyer" shall be the person or entity, with a valid Auction Account, that placed the Winning Bid. The "Purchase Price" shall be the aggregate of the Winning Bid and any applicable sales taxes. Additional shipping costs may apply. Bob's Watches DOES NOT charge a Buyer's Premium. The Buyer shall pay the Purchase Price plus any applicable shipping costs to Bob's Watches (as set forth below).
The Winning Bid will be determined by the bids received by Bob's Watches at the time the auction ends. If Bob's Watches had not received a bid at or by the time the auction closes, it is not a valid bid. The close of the auction will be determined as set forth herein and on each auction page. The official auction close time will be determined by Bob's Watches.
The money you spend bidding on items you receive at auction is not tax deductible. Please consult your accountant for all tax related questions or deduction qualifications and bid accordingly.
Bob's Watches reserves the right to remove, withdraw or invalidate any bid at any time.
SECOND CHANCE OFFER
If Bob's Watches is unable to complete the sale with the highest bidder, the second highest bidder (if same is more than the Reserve) may be notified that he or she has the opportunity to buy the lot at a price equal to his or her last bid amount ("Second Chance Offer"). The Second Chance Offer lasts for three (3) days before the offer expires. Should the second highest bidder decline, the Third highest bidder may be notified (if same is more than the Reserve) that he or she has the opportunity to buy the lot at the price equal to his or her last bid amount. No further offers on that lot will be made. The Second (or Third) Chance Offer will never be automatically charged to the bidder's credit card without his or her written consent.
DELIVERY
The Buyer will receive an email notification directly following the auction if they placed the Winning Bid. The Buyer must confirm the order, arrange and submit payment, and provide the appropriate shipping address. Orders must be completed within 24 hours of the end of the auction. Bob's accepts the following payment methods for winning bids up to $50,000: Visa, Mastercard, American Express, PayPal, or wire transfer. Bob's Watches will only accept wire transfers for winning bids over $50,000. Funds must be received to complete the order. The Buyer may also choose to pick up the watch at our California retail location free of charge, or keep the lot at our location. After the first 5 days of storage, storage fees of 1% of the Purchase Price, per month, apply. See Storage Liability, below.
If the Buyer fails to confirm and pay for the order within the 24 hour period described above, the auction lot will remain in Bob's Watches' possession and title to the property will not pass from Bob's Watches to Buyer. No property will be released to the Buyer until Bob's Watches receives all applicable state and local taxes that Bob's Watches may be required by law to collect. Any applicable storage or shipping charges must also be received prior to the release of the property.
SHIPMENT OF AUCTION LOTS
When a Buyer chooses to have the purchased lot shipped, the property will be shipped to the Buyer from our California location after receiving payment for the Purchase Price, applicable taxes and applicable shipping charges. All shipments are arranged through FedEx. Bob's Watches will only ship property where FedEx delivers. Buyer may also arrange to pick up the watch from our retail location in Newport Beach, California.
BUYER LIABILITY
Since the sale of the watch between Bob's Watches and Buyer takes place at Bob's Watches' facility, the Buyer becomes the owner of the watch upon Bob's Watches receipt of the Purchase Price and shipping costs and/or storage fees.
Should any Buyer fail to fully comply with these Auction Terms and Conditions, Bob's Watches may hold the Buyer liable for the Purchase Price or resell the property. In the event of non-payment by the Buyer, or non-compliance by the Buyer with these Auction Terms and Conditions, Bob's Watches reserves the right to take any and all appropriate or necessary actions including, without limitation, canceling or rescinding the transaction, reporting the defaulting Buyer to an appropriate credit reporting agency, charging the Buyer for Bob's Watches' fees and expenses incurred in connection with the non-compliance (including the costs of the transaction itself), turning any amounts due and owing over to a commercial collection agency and/or taking any other action permitted by law.
STORAGE LIABILITY
Bob's Watches will hold a Buyer's purchased lot(s) for up to five (5) days, after which time, Bob's Watches reserves the right to charge the Buyer storage fees of 1% of the Purchase Price, per month, with or without his or her consent. While in possession of auction lot property, Bob's Watches assumes responsibility for insuring such property against loss by theft, fire or by any causes beyond Bob's Watches' reasonable control.
CURRENCY
All Bob's Watches auctions are conducted in U.S. Dollars ($). The auction winner will be charged in U.S. Dollars ($) for the Purchase Price and any applicable taxes, storage and/or shipping costs. The actual amount to be paid in your home currency will be determined by the exchange rate used by your credit card company or bank at the time the Purchase Price is submitted to Bob's Watches.
LOT RETRACTION BY BOB'S WATCHES
In an auction with Reserve, Bob's Watches may withdraw a lot at any time.
SELLER REPRESENTATIONS AND WARRANTIES
Bob's Watches certifies that auctioned property sold is free and clear of all liens, claims and encumbrances of any type or kind at the time any bid is accepted and at all times thereafter until the title has transferred.
INDEMNFICATION
You agree to indemnify and hold harmless Bob's Watches and all of its officers, directors, owners, shareholders, trustees, partners, members, employees, agents, successors and assigns against and from any and all claims, actions, damages, fines, penalties, liabilities, losses, costs and expenses (including without limitation reasonable attorney's fees) arising out of, relating to or in connection with: (i) your use of the Bob's Watches website or Bob's Watches services; (ii) your purchase of property at any Bob's Watches Auction; or (iii) shipment of any property under these Auction Terms and Conditions.
WAIVER
No inaction, delay, or failure by Bob's Watches to enforce the provisions of these Auction Terms and Conditions shall be construed as a waiver of its rights hereunder. No waiver by Bob's Watches in any instance or at any time of any of its rights, including without limitation its rights under these Auction Terms and Conditions, shall preclude or stop Bob's Watches from invoking such right in any other instance at any other time.
SEVERABILITY
In the event that any part of these Auction Terms and Conditions is deemed invalid or unenforceable, the remainder shall remain in full force and effect.
PRIVACY AND SECURITY OF PERSONAL INFORMATION
These Auction Terms and Conditions include the terms of use of our Privacy Policy, which can be found here, and which is hereby incorporated by reference. We reserve the right to revise the Privacy Policy from time to time and advise You to check the Privacy Policy before each use.
Bob's Watches is committed to safeguarding the personal information entrusted to us by our users. Policies concerning the use and disclosure of any personal information is governed by Bob's Watches' Privacy Policy.
DISPUTE RESOLUTION
California law governs these Auction Terms and Conditions. In the event of any dispute related to any subject of these Auction Terms and Conditions (except as noted below), you agree that the same shall be resolved by binding arbitration in Orange County, California in accordance with the Comprehensive Rules and Procedures of JAMS Arbitration, Mediation, and ADR Services (www.jamsadr.com) or its successor then in effect. The decision of the arbitrator shall be final and binding on the parties. The arbitrator shall render the award in writing, explaining the factual and legal basis for decision as to each of the principal controverted issues. The parties and each of them expressly agree that any petition to confirm, modify or enforce the arbitral award shall be resolved by the Orange County Superior Court, to which jurisdiction the parties hereby submit.
The parties and each of them agree that any dispute resolution proceeding will be conducted only on an individual basis and not in a class, consolidated or representative action. If for any reason a claim proceeds in court rather than in arbitration all parties waive any right to a jury trial. We also both agree that you or we may bring suit in court to enjoin infringement or other misuse of intellectual property rights.
GENERAL TERMS AND CONDITIONS FOR BOB'S WATCHES WEBSITE
Use of Site
Bob's Watches authorizes you to view and download the materials at this Web Site ("Site") only for your personal, non-commercial use, provided that you retain all copyright and other proprietary notices contained in the original materials on any copies of the materials. You may not modify the materials at this Site in any way or reproduce or publicly display, perform, or distribute or otherwise use them for any public or commercial purpose. For purposes of these Auction Terms and Conditions, any use of these materials on any other Web Site or networked computer environment for any purpose is prohibited. The materials at this Site are copyrighted and any unauthorized use of any materials at this Site may violate copyright, trademark, and other laws. If you breach any of these Auction Terms and Conditions, your authorization to use this Site automatically terminates and you must immediately destroy any downloaded or printed materials.
Web Site License
As a user of this Site you are granted a nonexclusive, nontransferable, revocable, limited license to access and use the Web Site and Content in accordance with these Auction Terms and Conditions. Bob's Watches may terminate this license at any time for any reason.
Limitations on Use
The Content on this Web Site is for personal use only and not for commercial exploitation. You may not decompile, reverse engineer, disassemble, rent, lease, loan, sell, sub-license, or create derivative works from the Web Site or the Content. Nor may you use any network monitoring or discovery software to determine the site architecture, or extract information about usage or users. You may not use any robot, spider, other automatic device, or manual process to monitor or copy our Web Site or the Content without Bob's Watches prior written permission. You may not copy, modify, reproduce, republish, distribute, display, or transmit for commercial, non-profit or public purposes all or any portion of the Web Site, except to the extent permitted above. You may not use or otherwise export or re-export the Web Site or any portion thereof, the Content or any software available on or through the Web Site in violation of the export control laws and regulations of the United States of America. Any unauthorized use of the Web Site or its Content is prohibited. In no event may any person or entity solicit any Users with data retrieved from this Web Site.
User Submissions
Other than personally identifiable information, which is covered under the Bob's Watches Privacy Policy, any material, information or other communication you transmit or post to this Site will be considered non-confidential and non-proprietary ("Communications"). Bob's Watches will have no obligations with respect to the Communications. Bob's Watches and its designees will be free to copy, disclose, distribute, incorporate and otherwise use the Communications and all data, images, sounds, text, and other things embodied therein for any and all commercial or non-commercial purposes. You are prohibited from posting or transmitting to or from this Site any unlawful, threatening, libelous, defamatory, obscene, pornographic, or other material that would violate any law.
Links To Other Web Sites
Links to third party Web sites on this Site are provided solely as a convenience to you. If you use these links, you will leave this Site. Bob's Watches has not reviewed all of these third party sites and does not control and is not responsible for any of these sites or their content. Thus, Bob's Watches does not endorse or make any representations about them, or any information, software or other products or materials found there, or any results that may be obtained from using them. If you decide to access any of the third party sites linked to this Site, you do this entirely at your own risk.
Advertisers
This Web Site may contain advertising and sponsorship. Advertisers and sponsors are responsible for ensuring that material submitted for inclusion on the Web Site is accurate and complies with applicable laws. This Site will not be responsible for the illegality of or any error or inaccuracy in advertisers' or sponsors' materials.
Third Party Content
Third party content may appear on this Web Site or may be accessible via links from this Web Site. Bob's Watches is not responsible for and assumes no liability for any mistakes, misstatements of law, defamation, slander, libel, omissions, falsehood, obscenity, pornography or profanity in the statements, opinions, representations or any other form of content contained in any third party content appearing on the Web Site. You understand that the information and opinions in the third party content is neither endorsed by nor does it reflect the belief of Bob's Watches.
Product Information
All products offered are subject to prior sale. While Bob's Watches has tried to accurately display shapes and colors of the products offered on this Web Site, the actual colors you see mostly depend on your monitor and may not be accurate.
Copyright
All Web Site design, images, audio clips and information, the selection and arrangement thereof as well as all software contained on this Web Site are, to the extent possible, copyrighted and/or otherwise proprietary to Bob's Watches. You are authorized to download or print a hard copy of individual pages and/or sections of this Web Site, provided that you do not remove any copyright or other proprietary notices. This authorization is limited to use for information purposes only. Reproducing (in whole or in part), transmitting (by electronic means or otherwise), modifying, linking into or using for any public or commercial purpose any portion or all of this Web Site without prior written permission of Bob's Watches is strictly prohibited.
Trademarks
Unless otherwise indicated, the mark BOB'S WATCHES and all other marks including logos and graphic designs proprietary to Bob's Watches, are subject to the trademark rights of Bob's Watches and may not be used in connection with any product or services that are not offered by Bob's Watches in any manner that is likely to cause confusion among customers or in any manner that discredits or disparages Bob's Watches. No mention is made of rights with respect to other trademarks, service marks or trade-names, whether registered or not, which may attach to certain words or signs used herein. The absence of such mention, however, in no way implies that there is no protection of these marks, trade-names, words or signs.
Usage by Children under 18
Bob's Watches cannot prohibit minors from visiting this Site. Bob's Watches must rely on parents, guardians and those responsible for supervising children under 18 to decide which materials are appropriate for such children to view the site. Bob's Watches requires that all purchases be made by individuals 18 years of age or older.
Export
The U.S. export control laws regulate the export and re-export of technology originating in the United States. This includes the electronic transmission of information and software to foreign countries and to certain foreign nationals. User agrees to abide by these laws and their regulations -- including but not limited to the Export Administration Act and the Arms Export Control Act and not to transfer, by electronic transmission or otherwise, any Content derived from this Web Site to either a foreign national or a foreign destination in violation of such laws.
Unlawful Activity
Bob's Watches reserves the right to investigate complaints or reported violations of these Auction Terms and Conditions and to take any action we deem appropriate including but not limited to reporting any suspected unlawful activity to law enforcement officials, regulators, or other third parties and disclosing any information necessary or appropriate to such persons or entities relating to user profiles, e-mail addresses, usage history, posted materials, IP addresses and traffic information.
Remedies for Violations
Bob's Watches reserves the right to seek all remedies available at law and in equity for violations of these Auction Terms and Conditions, including but not limited to the right to block access from a particular Internet address to this Web Site.
International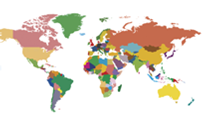 International shipping requires a bit of homework prior to successfully sending a package. Not knowing what to do may cause unnecessary delays in delivery, delays in Customs, or even possible confiscation of your shipment by Customs. FedEx/Parcel Pro, our carrier, does not ship to all countries. As a result, we are not able to ship to all foreign countries and destinations. Please see the list below of approved and allowed counties.
International Shipping
Duties, Customs, Taxes, and Other Charges:
All Shipments to addresses outside the United States are charged $150 and are generally subject to duties, taxes (such as VAT), and other charges, as determined by the local jurisdiction. Please be advised that the customer is responsible for any and all of these charges and they will be in addition to the purchase price, or hammer price in the case of an auction, displayed on our website (plus any shipping and insurance charges). Also, in the event there are customs charges assigned to your package, you must pay for any associated import taxes as well, including VAT and duties, required by your country's governmental regulations. To learn more, please contact your local customs office for further information. Your package will include a copy of your actual invoice, and the customs office will determine any applicable fees. Bob's cannot label an item as a gift or declare a lesser value than the purchase price of the item. Please contact your local authorities for specific information.
Important Notice regarding importation into the United States of Rolex watches
Bob's cannot arrange for the delivery of Rolex watches to the United States because U.S. laws restricts the import of Rolex watches. The buyer or a designated agent may collect the property in the country of sale. As such, all International Sales are final. Due to Bank credit card requirements, we can only accept wire transfers or PayPal on all international orders. We are also able to only ship to countries approved by our carrier, FedEx. Please see FedEx.com for a list of those countries. We have compiled a list below for your convenience.
Tips For New Importers and Exporters
For more information on international shipping, see the CBP website: http://www.cbp.gov/xp/cgov/trade/trade_outreach/diduknow.xml
List of approved countries & destinations that we can ship to.
Country
Code
Country
Insurance Limit
Country
Code
Country
Insurance Limit
AG
Antigua and Barbudo
$25,000.00
IT
Italy
$10,000.00
AI
Anguilla
$25,000.00
JM
Jamaica
$50,000.00
AN
Netherlands Antilles
$50,000.00
JO
Jordan
$10,000.00
AT
Austria
$50,000.00
JP
Japan
$50,000.00
AU
Australia
$50,000.00
KN
St. Kitts and Nevis
$50,000.00
AW
Aruba
$15,000.00
KR
South Korea
$50,000.00
BB
Barbados
$50,000.00
KY
Cayman Islands
$50,000.00
BE
Belgium
$50,000.00
LC
St. Lucia
$25,000.00
BH
Bahrain
$50,000.00
MC
Monaco
$10,000.00
BM
Bermuda
$50,000.00
MH
Marshall Islands
$50,000.00
BN
Brunei
$50,000.00
MO
Macau
$50,000.00
BQ
Bonaire
$50,000.00
MP
Saipan
$25,000.00
BS
Bahamas
$50,000.00
MS
Montserrat
$50,000.00
BZ
Belize
$10,000.00
MU
Mauritius
$10,000.00
CA
Canada
$50,000.00
MY
Malaysia
$50,000.00
CH
Switzerland
$50,000.00
NL
Netherlands
$50,000.00
CN
China
$50,000.00
NO
Norway
$50,000.00
CW
Curacao
$50,000.00
NZ
New Zealand
$50,000.00
CY
Cyprus
$25,000.00
PF
French Polynesia
$25,000.00
DE
Germany
$50,000.00
PG
Papua New Guinea
$10,000.00
DK
Denmark
$50,000.00
PH
Philippines
$15,000.00
DM
Dominica
$10,000.00
PL
Poland
$25,000.00
ES
Spain
$50,000.00
PR
Puerto Rico
$50,000.00
FI
Finland
$50,000.00
PT
Portugal
$50,000.00
FJ
Fiji
$25,000.00
QA
Qatar
$50,000.00
FO
Faroe Islands
$50,000.00
SA
Saudi Arabiia
$50,000.00
FR
France
$50,000.00
SC
Seychelles
$50,000.00
GB
Scotland
$25,000.00
SE
Sweden
$50,000.00
GB
United Kingdom
$25,000.00
SG
Singapore
$50,000.00
GD
Grenada
$25,000.00
SX
Saint Maarten
$50,000.00
GI
Gibraltar
$50,000.00
TC
Turks and Caicos Islands
$50,000.00
GL
Greenland
$50,000.00
TH
Thailand
$10,000.00
GP
St. Barthelemy
$50,000.00
TT
Trinidad and Tobago
$50,000.00
GR
Greece
$25,000.00
TW
Taiwan
$50,000.00
GU
Guam
$50,000.00
VC
St. Vincent and the Grenadine
$25,000.00
HK
Hong Kong
$50,000.00
VG
British Virgin Islands
$50,000.00
IE
Ireland
$50,000.00
VI
U.S. Virgin Islands
$50,000.00
IS
Iceland
$25,000.00
VN
Vietnam
$25,000.00