A recap of the all-important November Geneva watch auctions
4 Auctions: Phillips, Sotheby's Christie's Antiquorum
The Geneva watch auctions wrapped up last week and as the excitement settles and big headlines fade into the distance, it's a good time to take a closer look at the Rolex watch results across the Phillips, Christies, Sotheby's and Antiquorum auctions.
Phillips Geneva Watch Auction
The Phillips Geneva Watch Auction: Two was the big event of the four days of auctions with total sales of $28.7 million including two Rolex watches selling over the $1 million mark. The Rolex 6062 "Stelline" triple calendar and moonphase watch in pink gold with a star-dial fetched $1,265,000, while the Rolex 6102 "La Caravelle" with cloisonné dial sold for $1,235,000. Both extremely rare and both breaking a world record price for their respective references. Another Rolex highlight of the Phillips auction was the Rolex Submariner "James Bond" worn by Sir Roger Moore in the film "Live and Let Die" selling for $365,000 with an original estimate of $150,000 – $250,000.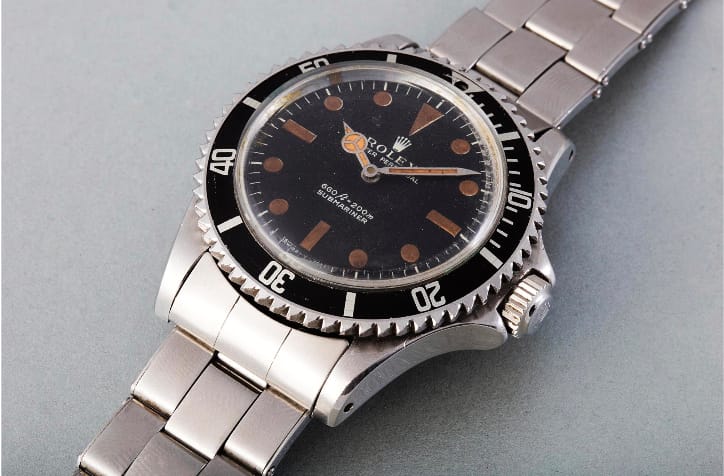 Christie's Geneva Important Watches Auction
The Christie's Geneva Important Watches auction brought in $13.25 million in sales and Thomas Perazzi, Head of Christie's Geneva Watch Department, stated that among the brands, "Vintage Rolex watches, particularly Daytona Chronographs, also performed extremely well." The highest selling Rolex Daytona during the auction was a Daytona 6265 Paul Newman "Panda Mystery Cross", which went for $268,357. A triple calendar Rolex with moonphases was also present at the Christie's sale, the ref. 8171, selling for $161,214, well above its high estimate of $100,000.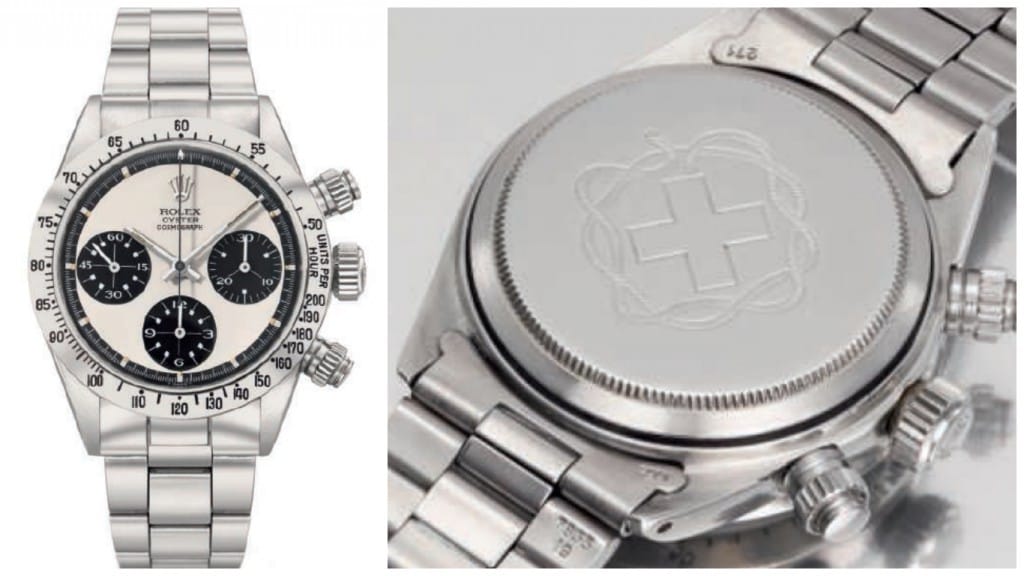 Sotheby's Auction
Although the focus of the Sotheby's auction was The Schmid & Muller Swatch collection, which sold for $1,330,000, representing a big chunk of the Sotheby's total sales of $5.09 million, there were some notable Rolex pieces up for grabs. Three of the top selling Rolex watches were Daytona Paul Newmans, a ref. 6262, a ref. 6239 with black dial, and a ref. 6239 with white dial, going for $100,000 each. However, a surprise of the evening was the Rolex 2508, a rare yellow gold chronograph circa 1947, that sold well above its high estimate of $12,000 for a total price of $62,348
Antiquorum's Important Modern & Vintage Timepieces Auction
At the Antiquorum's Important Modern & Vintage Timepieces auction (total sales $6.11 million) another Rolex 6062 "Stelline" triple calendar with moonphase indicator was also the top Rolex watch sold at $315,750, followed by a Daytona 6241 Paul Newman with tropical counters for $153,750.
Throughout the auctions, most of the attention for Rolex watches was geared towards the rarer, more unique and older pieces. Whether this attention stems from an actual love and passion for the brand and respect for exquisite watchmaking, or rather from an investment stance speculating on the watches' future resale value, remains to be seen.
Next up on the watch auction calendar are the New York editions taking place in December.