Similar to Christie's and Sotheby's, auction house Antiquorum will also host an NYC watch auction this summer. Antiquorum 2017 is scheduled to take place tomorrow,  and there are some very cool vintage Rolex tool watches that'll be offered at the upcoming Antiquorum's Important Modern & Vintage Timepieces auction. Let's inspect them a little closer.
Rolex Explorer II ref. 1655 "Steve McQueen"
Estimate: $10,000 – $20,000
Falsely nicknamed the "Steve McQueen," (the King of Cool's Rolex of choice was actually a Submariner ref. 5512) the Explorer II ref. 1665 is an important vintage Rolex reference in collecting circles. Characterized by its orange 24-hour arrow-tipped hand, the Explorer II was a tool watch from Rolex, explicitly developed for adventurers. For instance, note all the luminescent accents on the dial for optimal legibility in dark. This particular model, circa 1977, is especially noteworthy for its Tiffany & Co. stamp on the dial.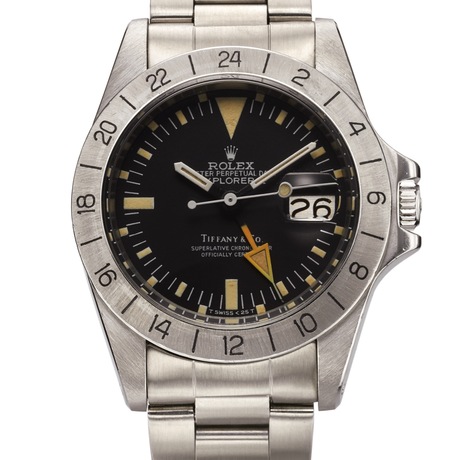 Rolex Sea-Dweller ref. 1665 "Double Red Sea-Dweller"
Estimate: $10,000 – $20,000
The inaugural Sea-Dweller reference, the ref. 1665, is highly sought after in the vintage Rolex community—especially the Double Red Sea-Dweller models. For those who don't know, the Sea-Dweller, with its Helium Escape Valve, was initially invented for divers of the commercial diving company, COMEX. While future models featured white text, early versions of the ref. 1665 had two lines of red text on the dial that collectors love. This specific Sea-Dweller ref. 1665 from 1975 sports the Mark IV dial.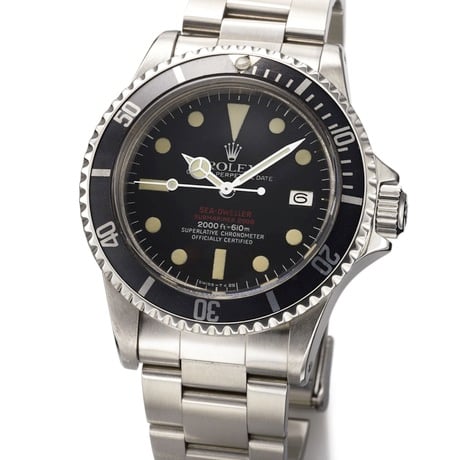 Rolex Submariner ref. 6536/1
Estimate: $15,000 – $25,000
A very early model, the production of the Submariner ref. 6536/1 ran from 1955 to 1959. Note the lack of crown guards on the watch and the smaller size (6mm) of the winding crown rather than the 8mm size of the "Big Crown" Submariners. Also, note this Submariner ref. 6536/1's gilt tropical dial—a detail that will make a vintage Rolex collector very happy. A charming vintage Submariner "Small Crown" indeed, this example of the ref.6536/1 is dated from 1957.
Rolex GMT-Master ref. 6542
Estimate: $15,000 – $35,000
The very first GMT-Master from Rolex was in fact, the ref. 6542. This was the model that Rolex famously created for Pan Am pilots in 1955 to keep track of multiple time zones as they jetted across the skies. This particular example of the GMT-Master ref. 6542 boasts the coveted and rare Bakelite bezel in the red and blue "Pepsi" colors. Early versions of the ref. 6542 included Bakelite bezels, however, since they were so prone to cracking, Rolex replaced them with metal bezel inserts the following year. The dial of this over 60-year-old vintage Rolex GMT-Master has turned brown over the years, a.k.a. "tropical" in Rolex-speak.
Rolex Daytona Paul Newman ref. 6239
Estimate: $70,000 – $100,000
The highlight of Anqituorum's New York Important Modern & Vintage Timepieces Summer auction is the Daytona Paul Newman ref. 6239. The Daytona watches with the Art-Deco styled "exotic dials" were later referred to as Paul Newman Daytona due to a link to the famous actor and racecar driver. As a matter of fact, Paul Newman wore a Daytona ref. 6239 with an exotic dial himself. The three subdials on this particular Daytona Paul Newman ref. 6239 from 1965 have turned into a chocolate brown color, pairing perfectly with the cream background. Since Paul Newman Daytona chronographs are the most in-demand vintage sports watches today, there will certainly be plenty of interest for this Rolex ref. 6239.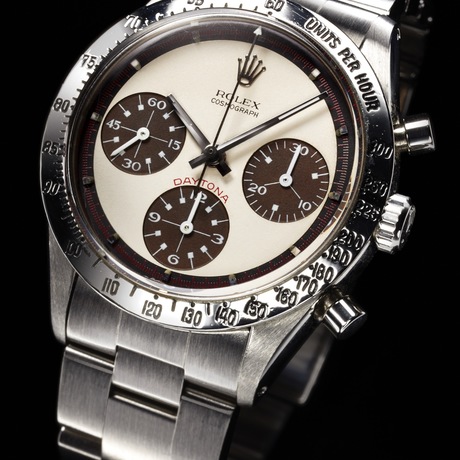 Stay tuned for our post-event recap after the auction takes place complete with results and commentary. Which of the above vintage Rolex tool watches is your favorite?