For the first time in its storied history, the Christie's Geneva 2017 auction house will devote an entire afternoon session solely to Rolex watches, comprising the largest Rolex collection ever to be offered for sale in a single afternoon. The move marks an important milestone for the Rolex brand at auction, which has long played second fiddle to Patek Philippe in terms of importance and prices realized at blue chip sales.
Christie's Geneva 2017 Rolex Auction
The first-ever Rolex standalone auction afternoon will take place at the Four Seasons Hotel des Bergs on May 15 during the Important Watches sale and will comprise 116 Rolex models of 55 different references.
Paul Newman Tropical Lemon Dial Ref 6462
The incredible array of pieces will span most of Rolex's history, from the 1930s to the current era. Estimates range from $2,000 – $800,000, and could include several record-setting pieces. On the top end of the scale (est. up to $800,000) is possibly one-of-a-kind "Paul Newman" tropical "lemon" dial Daytona Ref. 6264, made c.1970.
A step down from the 6263 lemon dial Newman we wrote about the other day, it is nonetheless one of the rarest Newmans in existence. What makes this piece a true standout is that both the outer minute/fifths of a second ring and the three subsidiary dials have "tropicalized" from black to a rich chocolate brown. Only four lemon dial 6264's of this specification are known to exist and only one of them features a tropical dial.
Paul Newman & John Players Special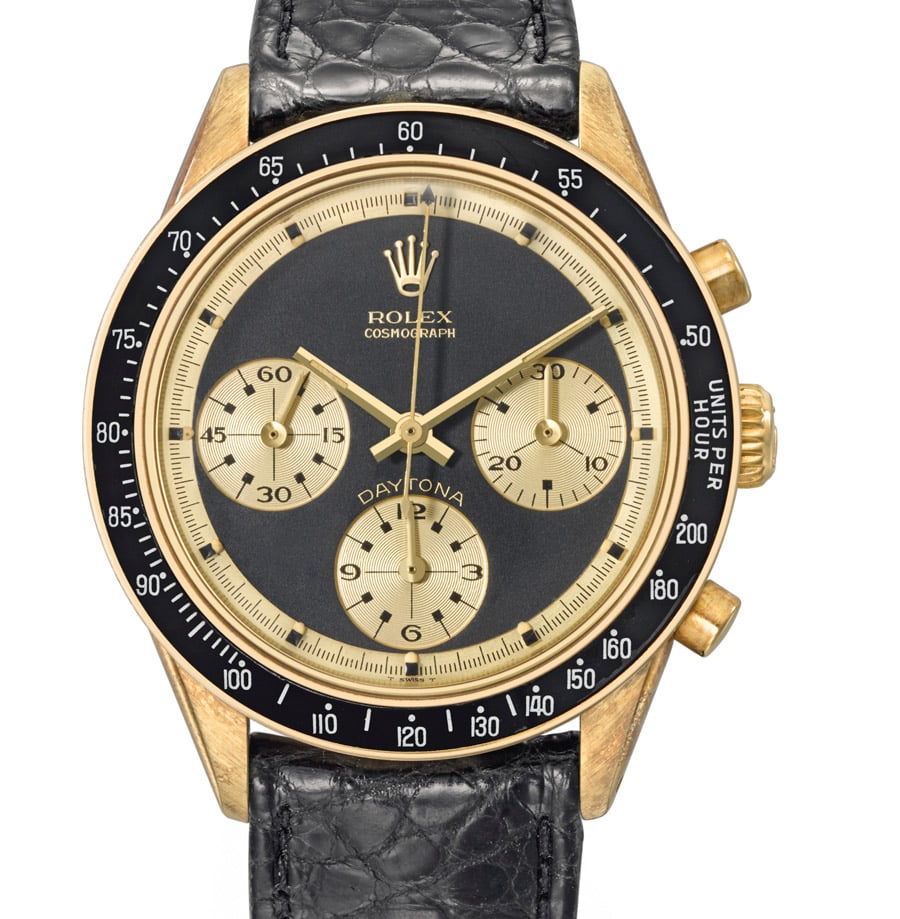 That's not the only high-end Daytona on offer of course. Estimated at up to $400,000 is one of our other favorite super-rare Newmans, the Ref. 6241 "John Players Special." This black and gold model takes its name from the racing colors of the UK's John Player & Sons tobacco company, which sponsored the legendary Lotus 72 Formula One race car in the 1970s. Fewer than 10 examples of the 6241 in 14K gold with a black Paul Newman dial have appeared at auction in the last 20 years; this example was made in 1967. Further distinguishing this piece is its incredible patinization and intact Rolex green and gold caseback sticker. At half the price of the lemon dial this is a much better buy. Aspiring Daytona collectors take note.