Every November and every May, during a single weekend during the middle of these respective months, hundreds of watch collectors and dealers descend on Geneva to see and participate in the watch auctions from four different auction houses held over the course of four days, from Saturday through Tuesday. That famous Geneva long weekend is now upon us, with auctions running from Saturday, November 10 to Tuesday, November 13.
As a former Senior Specialist and Vice President for Christie's, I remember those weekends in Geneva as being some of the longest I would experience all year, with long days in the preview rooms running from client to client, whether dealers or collectors, followed by hours of responding to questions and requests for more photos and information from clients through a myriad of communication channels including phone calls, e-mails, texts (SMS, iMessage, and WhatsApp), Instagram direct messages, Facebook messages, and even the occasional Twitter direct message. I remember getting an average of three to four hours per sleep in Geneva during those days preceding our Monday auction.
Now, sitting on the other side of the preview table as a vintage watch dealer and advisor to a few collectors, it is still quite busy trying to examine or "preview" (as we say) all the relevant watches or "lots" from the four different auction houses. All four auction houses have previews at different spots in the city and it requires planning in advance to determine what order of previews to see. Certain times of the weekend get a rush of clients wanting to see watches and can mean that you could end up waiting hours to see the few watches you have requested.
I thought I would share an inside peek at a few Rolex lots coming up for auction this season, with the caveat that I have not had a chance to see and carefully examine these watches yet, so all potential bidders should do their own further investigation and validation of the watches.
Saturday, November 10 and Sunday, November 11: Phillips
Phillips has their "The Geneva Watch Auction: Eight" auction split between Saturday and Sunday evenings, as has been their tradition the past few years since re-starting their watch auctions in 2015 after approximately a decade without one. Their auction comprises 226 lots, with 86 of the lots being Rolex watches (over 38% of the auction). Here are the two Rolex lots that most interest me:
Lot 174: Rolex "Single Red" Sea-Dweller reference 1665
Those Sea-Dweller models with "SEA-DWELLER" only printed in red on the dial are the earliest and most valuable examples of the model. They have garnered the nickname "Single Red" as opposed to the slightly later "Double Red" models with two lines of red text ("SEA-DWELLER") and "SUBMARINER 2000"). This one was formerly owned by American diver Robert Palmer Bradley and it is believed that it was given to him by Rolex. Judging by serial number, it may be the earliest example of the Sea-Dweller.
Estimate: CHF 500,000 to 1 million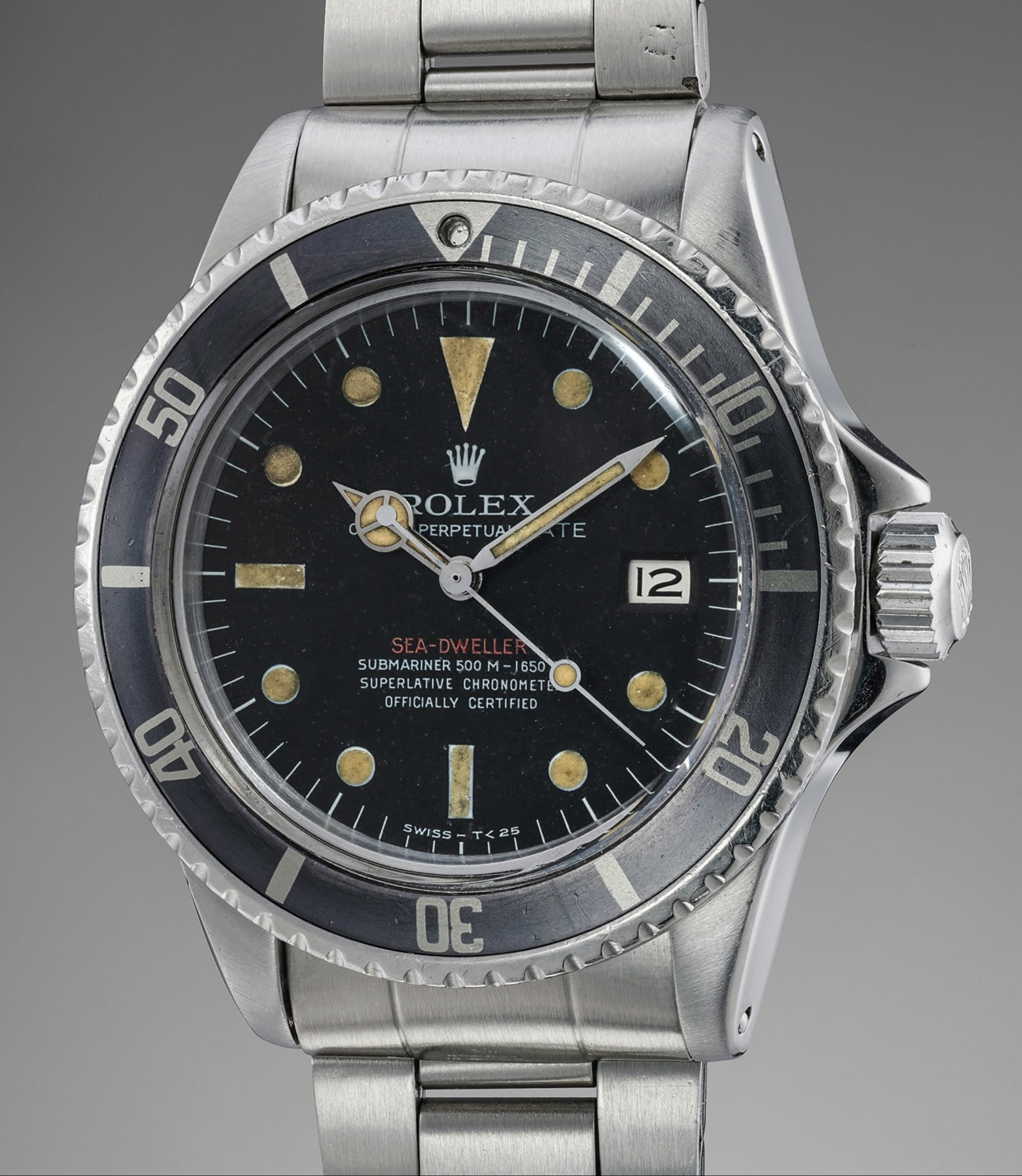 Lot 145: Rolex "Jean-Claude Killy" Chronograph reference 6236
Those Rolex chronographs that feature the addition of indicating the complete calendar (month, date, and day of the week) have garnered the nickname "Jean-Claude Killy", in a similar way to those vintage Daytonas that feature exotic dials made by Singer have received the nickname "Paul Newman" by collectors. This reference 6236 is the last version of "Killy" chronograph made by Rolex and has the record for most expensive steel version having sold for $638,500 at Christie's in 2012. While "Paul Newman" Daytonas have increased sharply since 2012, "Killy" chronographs have stayed flat or declined overall, so it will be interesting to see where this outstanding example sells.
Estimate: CHF 300,000 to 600,000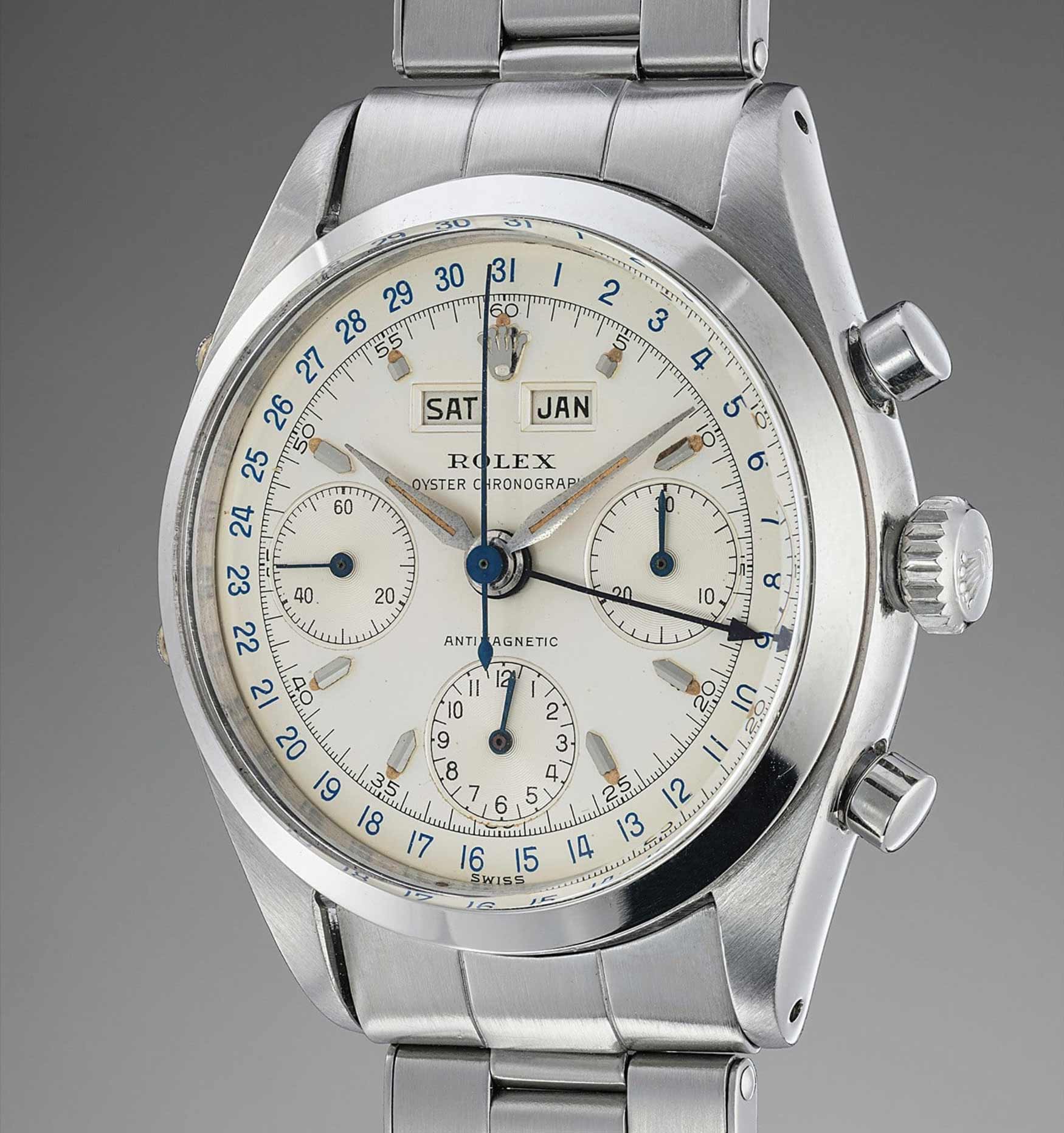 Honorable Mention: Lot 1: New Rolex "Pepsi" GMT-Master II reference 126710BLRO
The opening lot will certainly gather some attention from Rolex fans as it is the new "Pepsi" GMT-Master introduced at Baselworld this year and trading at close to double the retail price of $9,250. In our recent Bob's Watches auction, done in collaboration with Wind Vintage, we sold one for $22,000, coincidentally it was also Lot 1 in our auction. Will Phillips beat the price we achieved?
Estimate: CHF 8,000 to 12,000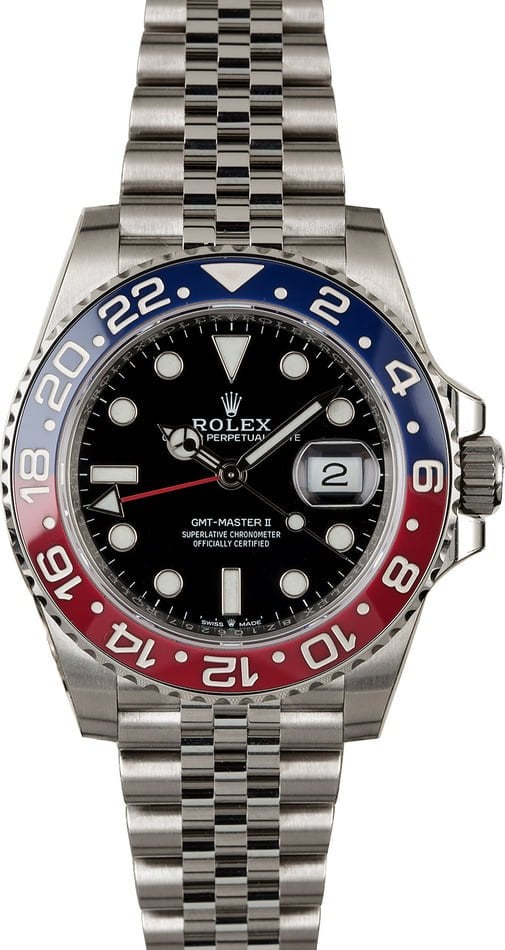 Pro tip:
get moving plenty early to La Réserve, where Phillips places its preview and the auction in a large tent on the front lawn of the resort, as there can be traffic and a shortage of Uber vehicles from downtown Geneva, where the other three auction houses locate their previews, before the auction. The other key aspect of arriving early is getting a seat as they often fill quickly and those without a seat are often told to go sit in the hotel to watch via a livestream or sit quietly for hours in the back of the room, neither of which will be as enjoyable as being able to sit for the multi-hour affairs.
Sunday, November 11: Antiquorum
Antiquorum has the most watches up for auction by far, as has typically been the case in recent years, with 571 lots and 123 lots are Rolex (over 21.5% of the auction), although some of these lots are Rolex tools and ephemera.
Lot 571:
Paul Altieri and I have a soft spot for Rolex Submariners with so-called "Explorer-style" dials with Arabic numerals at 3 o'clock, 6 o'clock, and 9 o'clock, whether Big Crowns (references 6200 and 6538 from the 1950s) or the slightly later examples of the reference 5512 and 5513 from the 1960s. This one is an example of the reference 5512 with an "underline dial" meaning it has a small line on the dial supposedly indicating the use of tritium instead of radium luminous material or "lume". Antiquorum states that this watch comes from the original British owner, and it is interesting to note that it seems almost all, if not all, of the reference 5512 and 5513 examples with Explorer-style dials originally went to the United Kingdom in the 1960s. Antiquorum decided to make this watch the last lot of the auction, but depending on timing it may end up coming up for sale during the Phillips session that evening, potentially causing some collectors to miss being in the room to bid and forcing them to bid online or by phone.
Estimate: CHF 80,000 to 140,000
Lot 570:
In terms of history, this Explorer reference 6350 is probably the most interesting Rolex coming up for auction, but it unfortunately has a repainted/refinished dial. The original user of this watch was Douglas Roland Otway Prior. According to Antiquorum, Doug "served with the advance party of the 1956 Royal Society Antarctic Expedition International Geophysical Year, and assisted, in no small part, towards the successful outcome of the Commonwealth Trans-Antarctic Expedition of 1955 to 1958 – the first crossing of Antarctica…  Amazingly, after the expedition Doug Prior sent the watch back to Rolex UK, as these watches were on loan only as a scientific experiment. As Rolex were generous, or were smart marketers, they sent the watch back as a gift, which is documented in the accompanying letter from Rolex UK that mentions the serial number. Furthermore it comes with its rare fitted box still bearing his address and name on it and photos of Doug including one where his trusty Rolex Explorer can clearly be seen. While it is unknown how many of these Explorers were given watches to test, at least one more is still in possession of another Explorer on this expedition, one can assume that between 5 and 10 only were given out for trials and this is the first of its kind to appear at an international auction. Apart from the Everest expedition, one can say that this is probably one of the most important expeditions on which early Rolex Explorers were tested making this watch a truly historical timepiece." Unfortunately, the repainted dial could hurt the final auction result of the watch by a six-figure margin, unfortunately, but it will be interesting to see how it does.
Estimate: CHF 50,000 to 70,000
Pro tip:
These Antiquorum auctions, given the number of lots, can stretch for hours and hours. I typically pick the lots I want to bid on, see which are the most important, and then determine a time of day they are likely to come up planning for 60 lots per hour (1 per minute). Antiquorum has an app so I can track what lot they are on through my iPhone, if I am not in front of my computer. For those outlier lots I want to bid on but are located in the catalog far from any other lots that interest me, I register to phone bid.
Monday, November 12: Christie's
Christie's has its Rare Watches auction on the Monday of the Geneva season, as has been the case for many years. The auction comprises 234 lots, with Rolex comprising 73 of those lots (over 31.1% of the auction).
Lot 98: Rolex for Pan Am Clock
Okay, so this isn't a wristwatch, but for me it is possibly the coolest Rolex item coming up for sale this Geneva season: A Rolex clock made for Pan Am. It even has a label that says "Property of Pan American Airlines, 804 17th Street, Denver Colorado" suggesting this clock was originally in the Pan Am office in Denver. These are very rare clocks and only a few are known. Of course, the Rolex-Pan Am partnership extended to the development of the GMT-Master, starting with the reference 6542 and its red and blue bezel and GMT function for use by Pan Am pilots, and the rest was history!
Estimate: CHF 10,000 to 15,000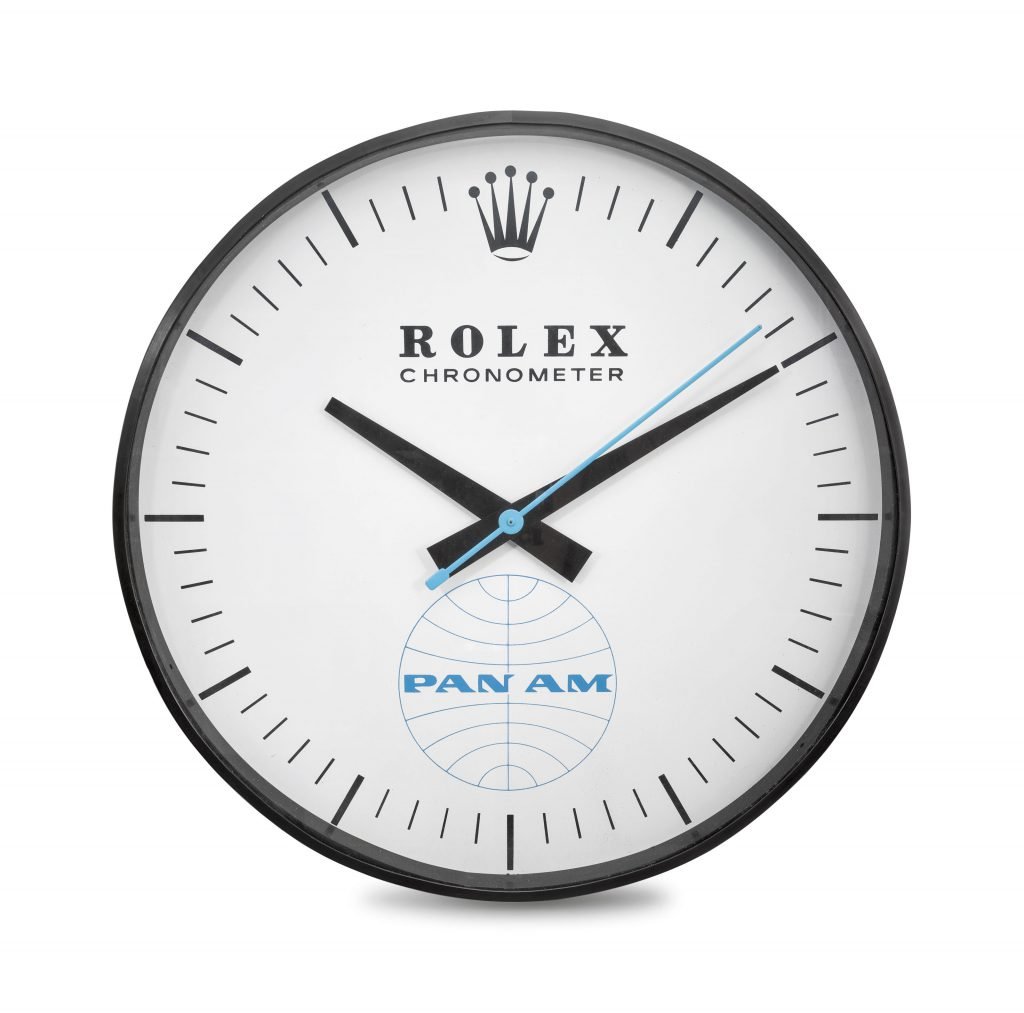 Lot 138: Rolex "Neptune Cloisonné Dial"reference 8382
Vintage watches with cloisonné enamel dials bridge the gap between watches and art, with the miniature enamel depictions on the dial being incredibly beautiful and mesmerizing. This is a rare version featuring Neptune, the god of the sea, being pulled by seahorses. I can't wait to see this one in the metal, as I always enjoy seeing the radiance of these dials in person.
Estimate: CHF 350,000 to 550,000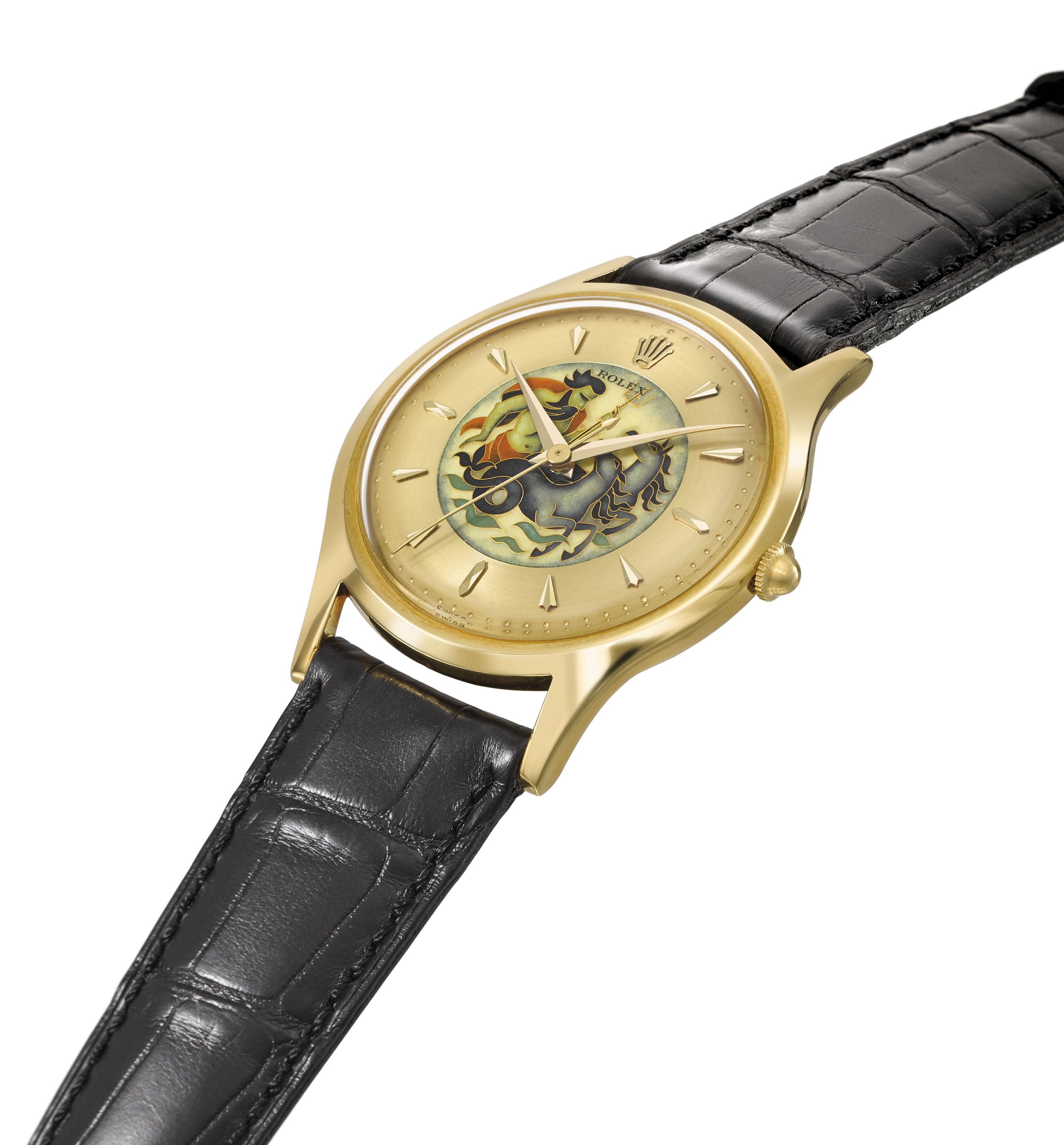 Pro tip:
I found that the Christie's auction preview would get very busy in the late mornings through mid-afternoons, so I generally encouraged people to try to either go right when the preview opened at 10:00 AM or in the later afternoon, otherwise they risked waiting for hours to see the watches they wanted.
Tuesday, November 13: Sotheby's
Sotheby's the last few "seasons" in Geneva has had the lowest sale totals by far of the four auction houses, but this auction definitely has more fireworks and will be interesting to watch. This also marks the move of Sotheby's to having its auction the day after Christie's rather than having it during the weekend, often overlapping with the Antiquorum auction on Sunday and drawing the ire of collectors and dealers who wanted to attend and bid in both auctions. The Swiss authorities also threatened Sotheby's with punishment for having their auction at the same time as Antiquorum, so Sotheby's had to adjust their auction time and date. Still, I think that this change will be a good thing for Sotheby's.
Sotheby's has 251 lots with 80 lots being Rolex (over 31.8% of the auction). If one auction house was to earn the title "Most Improved" award for the year, it would certainly be Sotheby's. Sam Hines started as their new International Head of Watches in January, having been lured over to Sotheby's from Phillips.
Lot 216: Rolex Daytona reference 6239 with "Pulsations" dial
The top Rolex lot for Sotheby's will undoubtedly be this Daytona with extremely rare "Pulsations" dial. This means the outer track has a scale for a doctor or nurse to use to measure a patient's pulse by starting the chronograph and stopping after counting 15 heart beats in the case of this dial. There are only a few Daytonas known with the pulsations track, with variations in terms of dial configuration, and this one is stated by Sotheby's to come from the original owner.
Estimate: CHF 500,000 to 1 million
Lot 209: Rolex GMT-Master reference 6542
The GMT-Master reference 6542, which was the first model of GMT-Master made by Rolex in connection with Pan Am for their pilots, is one of our favorite vintage Rolex models. This particular example appears to be preserved in very nice and honest condition. The dial has faded to a "tropical" caramel color from its original black, and although a bit splotchy and uneven in its color and texture, the watch has a lot of character.
Estimate: CHF 80,000 to 120,000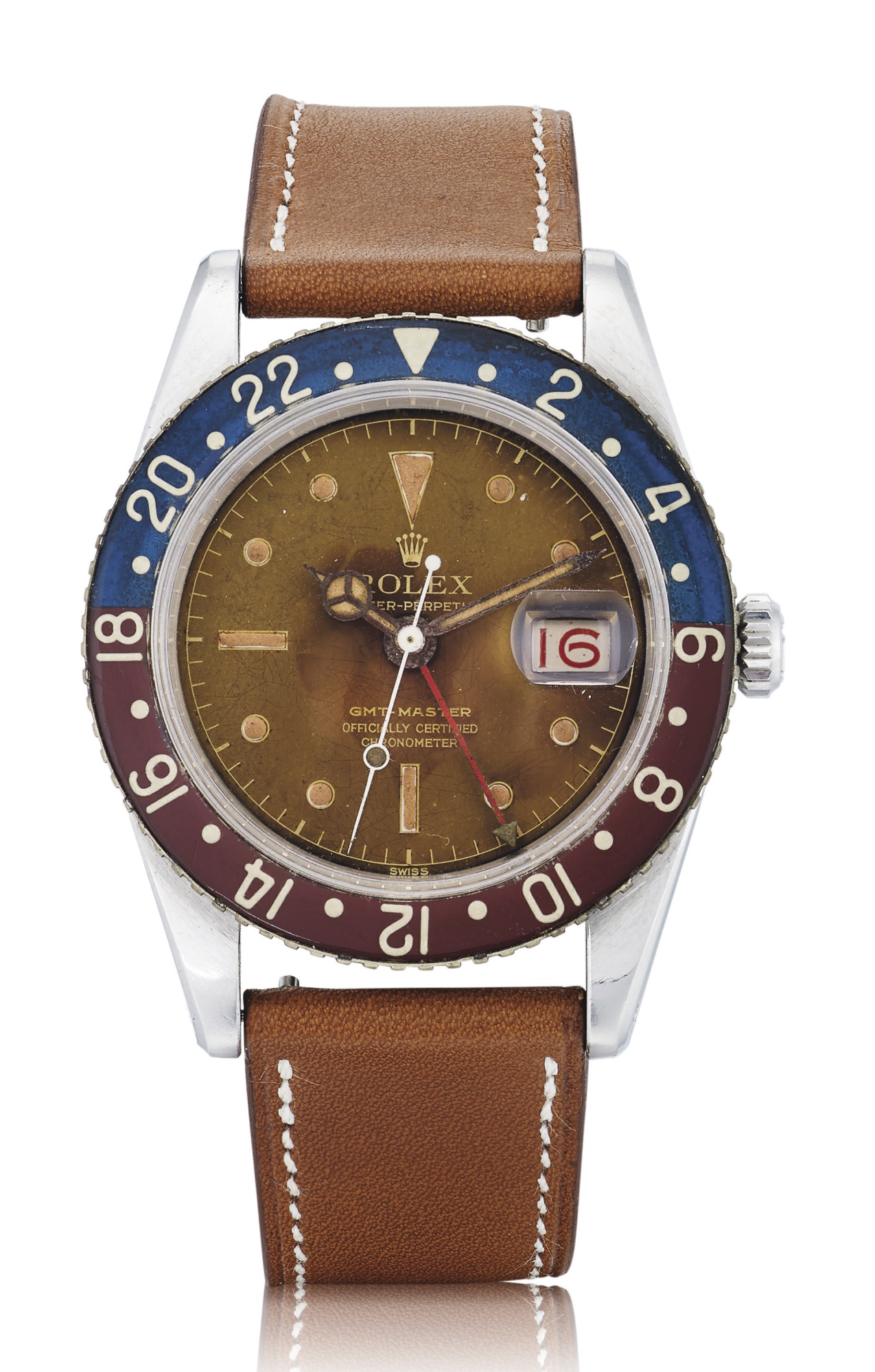 Pro tip:
Sotheby's generally has the much smaller and quieter preview room, so I often head to see their watches during the middle of the day when the other previews are more crowded. However, given the more exciting watches in this Geneva auction than some of the past few Sotheby's Geneva sales, I expect there to be more traffic to their preview than in the past.
Closing thoughts on the Geneva watch auctions:
There are a lot of watches coming up for auction over four days in Geneva, with a total of 1282 lots among the four auctions (although not all of these lots are wristwatches). If you get the chance to go to Geneva sometime, it is really a great experience to see and hold a wide variety of vintage watches. In Decmeber, watch collectors will also be able to have this experience in New York as there will be five watch auctions held over the course of two days: Wednesday, December 5 is Bonhams, Sotheby's, and Phillips while Thursday, December 6 is Fortuna and Christie's. I expect there will also be over 1000 watches available to see and handle then, with Christie's planning to have approximately 500 watches up for auction at that time between live and online auctions. I strongly recommend those interested in vintage watches spend time handling and trying on pieces to further hone their ability to understand condition and develop an idea of what watches they actually like to have on their wrist.
Eric Wind is the Founder and Owner of Wind Vintage.