Phillips, which has emerged as a true power player in the timepiece auction business with its stunning sales of rare sports watches in Geneva, is set to disrupt things once again with an eye-popping auction this November dedicated to the Jack Heuer Era. That's the period between 1962 and 1982 when the brand, now known as TAG Heuer and owned by LVMH, produced legendary watches like the Autavia, Carrera and Monaco that have become watchmaking legends.
Jack Heuer, An Inspiration
At the Nov. 11 sale Phillips in Association with Bacs & Russo will offer 49 exceptional pieces from Jack Heuer's heyday comprising the Crosthwaite & Gavin Collection, including an exceptional example of a first execution reference 2446 Autavia that;'s expected to bring in well over $100,000.
The collection comprises some of the rarest and most important Heuer models in existence, such as a Ref: 1133B "Steve McQueen" Monaco known as the "no lume"; and a new old stock example of one the coveted "Dark Lord" Monaco reference 74033N made in 1975.
There's also a reference 1163T 'Siffert Chronomatic' made in 1969, and expected to hit $80,000; an exceptionally rare Autavia reference 2446 'Seafarer' from 1963, retailed by Abercrombie & Fitch Co. and one of only three known examples; an extremely rare Carrera reference 2447S 'Yachting' with a unique tropical dial; and the very first example of a commemorative, limited edition Autavia model, commemorating the 55th anniversary of the Autavia's launch as well as Jack Heuer's 85th birthday, with proceeds going to charity. Another limited edition like the collaboration with Range Rover and Zenith, but that is for another day.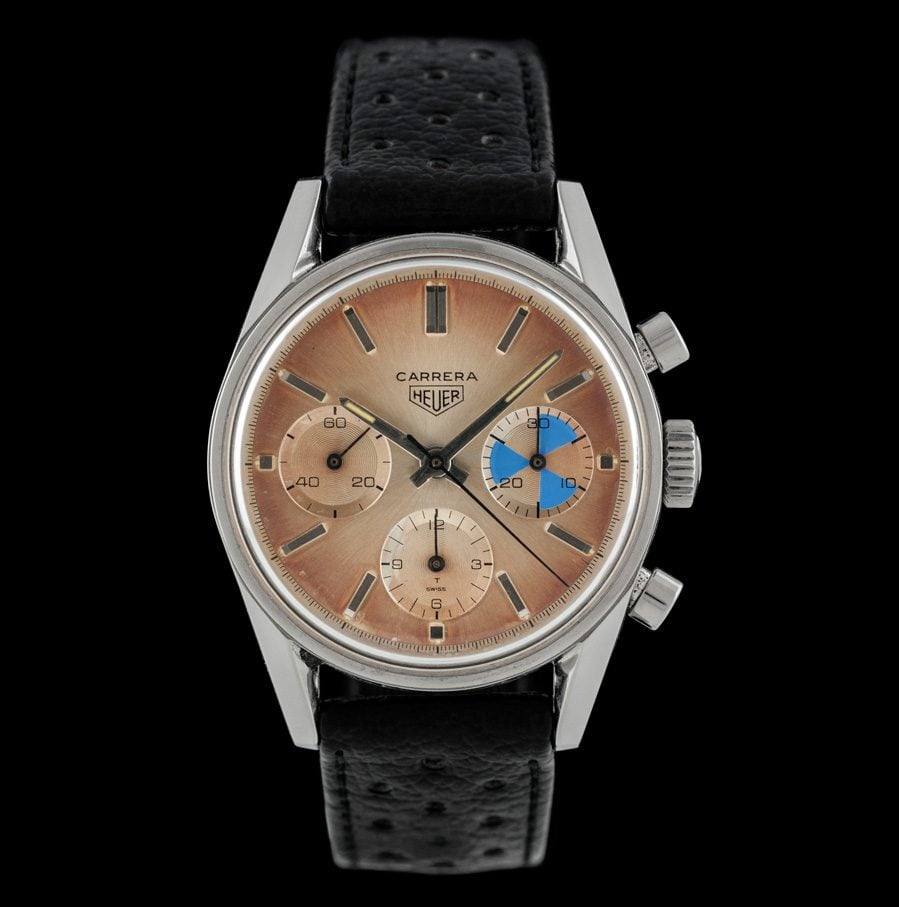 Phillips 2017 Will Set The Bar
"It is my absolute pleasure to offer what is, without any doubt, the finest collection of vintage Heuer watches to come to the market in recent years," notes Aurel Bacs, Senior Consultant. "Comprised of some of the rarest and best preserved examples of Heuer's iconic models, Richard Crosthwaite and Paul Gavin's superb taste, collecting discipline, and masterful curation are reflected brilliantly in the collection we are thrilled to present this fall." If you've been on the fence about buying vintage Heuers before now, hesitate no longer is our advice.