According to Antiquorum, a rare Rolex Sea Dweller Red Prototype officially sold for more than $514,000 — more than any other sports watch ever sold in history. The auction was featured as the Modern & Vintage Timepieces event in the town of Geneva, Switzerland on Sunday, November 11. The buyer was a Japanese collector seeking to own one of the rarest Rolex sports watches on the market.
Rolex Sea Dweller Red Prototype
The 1967 Single Red Prototype Rolex Sea-Dweller Submariner 1665 is self-winding and water-resistant up to 500 meters. Additionally, the timepiece comes equipped with signature Gas Escape Valve, helium escape valve, graduated bi-directional revolving bezel, and winding crown. The watch was released to market after several revisions and iterations, making the earliest versions extremely valuable. Amazingly enough, the watch auctioned in Geneva may be only one of two known "Single Red" models that include an escape valve.
Here are a few Rolex Sea-Dwellers that might be worth a look as well:
Rolex sea dweller
Rolex sea dweller deep sea
Rolex sea dweller submariner 2000
Rolex submariner 50th anniversary
In keeping with the Submariner's classic styling, the Rolex Sea-Dweller 1665 includes a handsome black face with white luminous round, triangular and baton indexes. In red lettering, the words "Sea-Dweller Submariner 2000" indicate the unique Rolex's rarity. The watch was originally developed in collaboration with both diving professionals and government agencies to offer professional divers and submarine operators a durable watch that can withstand the pressures associated with great depths.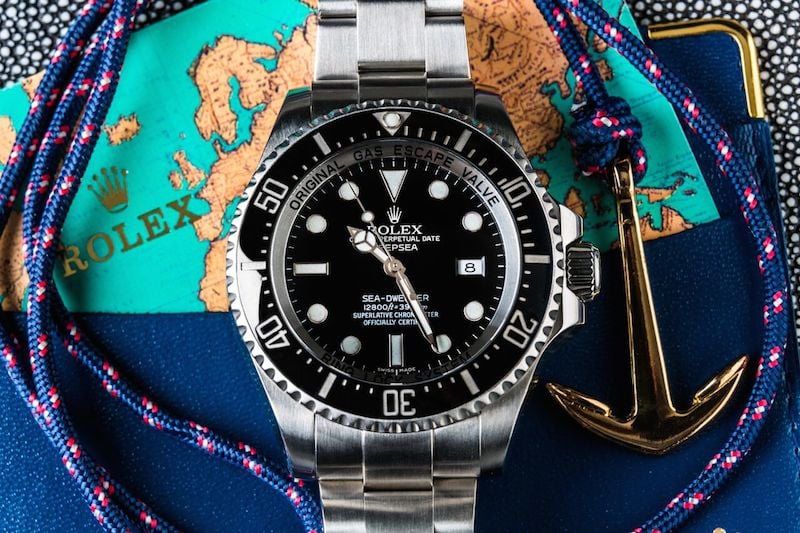 The Rolex Sea-Dweller sold at auction features a rough, rather than polished dial. This is due to the fact that it is a prototype. Beyond the watch's rare appeal, its sense of history is palatable being that the Sea-Dweller's contributions in the 1960s make it extremely important to the world of professional diving.
Without a doubt, the auction has turned the heads of Rolex collectors around the world – revealing the value that rare vintage Rolex watches hold in the eye of the beholder.