Bouncing around the dial like sparkly tennis balls or bedazzled pucks, the signature loose diamonds of the Chopard Happy Sport revolutionized ladies luxury watches. Never before had a stainless watch – which 25 years ago was seen as simply utilitarian – been given such a glamorous, and creative, upgrade.

Granted, the idea wasn't new. Designer Ronald Kurowski introduced 'Happy Diamonds' to the market back in the mid-1970's, setting the precious stones between two sapphire crystals so they floated above the dial.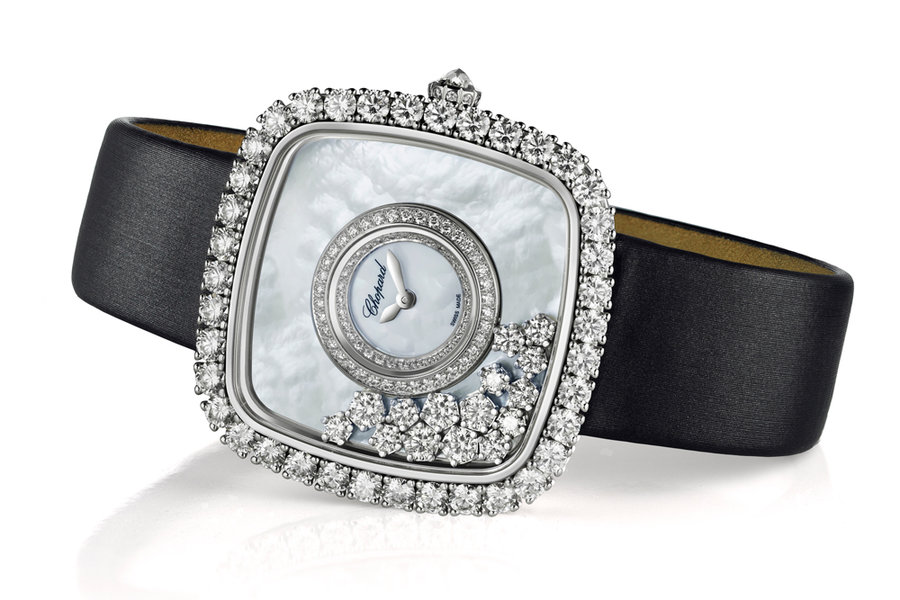 But, when artistic director Caroline Scheufele introduced this idea to a stainless steel watch it totally changed the game. The brand explaining, "True to the spirit of Happy Diamonds, these gems dancing freely between two sapphire crystals soon became a symbol of Chopard and feminine watchmaking."Today, the Happy Sport is one of Chopard's best-selling ranges and one of the world's most iconic women's watches. Now, the company is paying homage to the watch's history with the release of the colorful and mechanically impressive 25th anniversary edition.
A new take
While the diamonds are dazzling, we have to take a look past the dial to the brand new Chopard movement, the self-winding Chopard Manufacture 09.01-C. Yes, behind this stunning timepiece is an actual mechanical movement — none of that quartz stuff. The movement is automatic, meaning it will self-wind as it's worn and making it the perfect everyday watch. Not only will it transition seamlessly from day to night, but a stainless case and waterproofness make it totally practical, too. The New Happy Sport mechanism also boasts a 42-hour power reserve and 27-jewels, making you realize you can have it all, ladies.
Whatsmore, the new 36mm Happy Sport is smaller than previous models, emphasizing it's sheer elegance and mechanical feat.  It's like Chopard is showing off a little, isn't it? A smaller case and a new in-house movement? Impressive to say the least — and the attention, it's well deserved.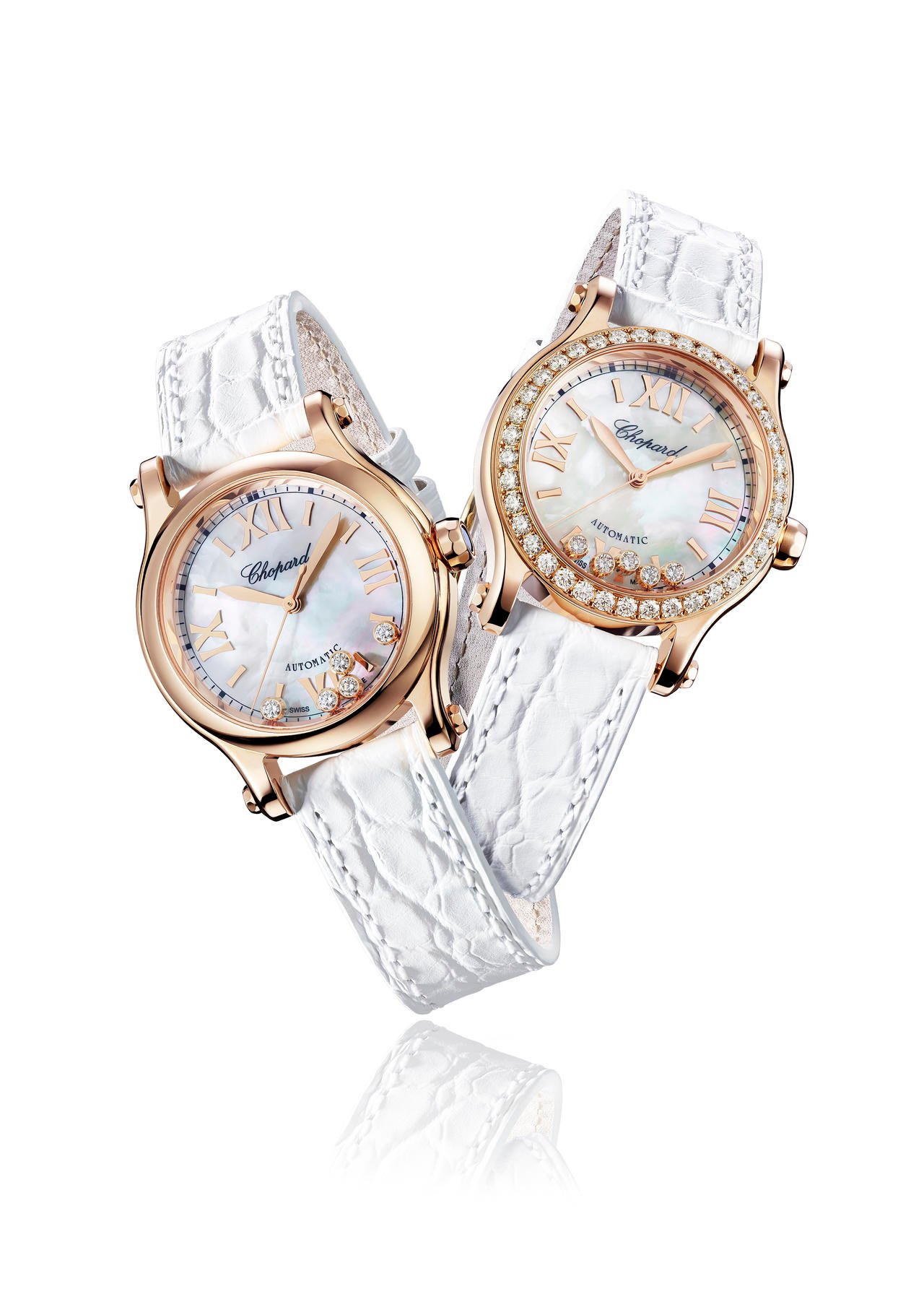 Okay, let's get up close and personal with the new Happy Sport. To celebrate, Chopard is releasing four incredibly feminine models: a pink dial with a steel and 18-carat rose gold case; a blue dial with a gem-set steel case; a white dial with an 18-carat rose gold case; and a white dial with a gem-set 18-carat rose gold case. And no matter the color, each model is outfitted with an iridescent, rare and mesmerizing mother of pearl face.
Chopard is really setting the bar high for their 25th anniversary edition. We can only imagine what another big anniversary edition, like the 50th, will hold. Until then, we'll be here admiring the diamonds dancing across the pastel watch-face's here, forever eye-catching and iconic.