If you look at the catalogs from various luxury watch manufacturers, you will notice a few common themes. Complex watches often cost more than simple ones, diamonds and gemstones always come at a premium, and gold watches typically cost less than their platinum counterparts. None of this really comes as a surprise anymore, and these trends remain more or less consistent throughout the industry, regardless of the specific manufacturer or the type of watches they produce.
The value of a watch will always be greater than the value of the raw materials that comprise it. However, something that often gets forgotten is that the precious metals used in the construction of luxury watches actually have their own market prices. Additionally, the prices for these precious metals are actually global exchange rates that are influenced by a number of different factors operating entirely independent from the luxury watch industry. However, this does not mean that the demand for precious metal watches is not in some way influenced by the current prices of the materials used in its construction.
History of Gold Prices
Gold is humankind's original currency and when you examine the properties of this remarkable element further, it becomes apparent why humans gravitated towards it as the universal medium of exchange for our species.
In order for a commodity to effectively function as a currency, it must meet a few basic requirements. First and foremost, its composition must be easy to define. Additionally, it should also be relatively immutable, but not so inert that it cannot be purified into a form that is acceptable as an asset. Lastly, the commodity should be rare enough to be valuable but not exist on such a small scale that it is near impossible to find.
Gold meets all of these requirements, but what is most surprising is that virtually no other element on earth is able to take its place. Some materials are too rare to function as a medium of exchange, others are not durable enough to function as a tangible currency, and some elements like platinum that would otherwise be solid candidates are simply too difficult to shape. In the case of platinum, it is the materials extremely high melting point of 3,215 degrees Fahrenheit that prevents it from easily being refined or worked into shapes.
Over the course of the last decade, the price of gold has fluctuated quite a bit. At its lowest point (near the end of November 2015), an ounce of gold cost approximately $1,067. At its highest point (around the beginning of August 2020), the price of gold was about $2,071 per ounce. Additionally, even within the last year, the price of gold has increased significantly. Back in September 2019, an ounce of gold was hovering around the price of $1,500. Today (at the time of writing), the price of gold has increased to more than $1,942 per ounce, and this change has ultimately had an impact on the demand for gold watches within the luxury watch industry.
Most Popular Gold Rolex Watches
Without a doubt, Rolex is the world's most famous luxury watch manufacturer and as one might expect from a brand that holds this prestigious title, Rolex's catalog is packed full of gold watches. Despite getting its start as a manufacturer of high-end tool watches, Rolex actually has a long history of producing timepieces with solid gold cases.
Gold has never been an inexpensive material; however, decades ago, it was chosen for watch cases largely due to its corrosion resistance. Half a century ago, steel alloys were not nearly as advanced as they are today, and many manufacturers chose gold as the material for their cases, largely due to its superior ability to resist pitting and corrosion.
Today, the number of solid gold watches in Rolex's portfolio is greater than ever and the brand even offers models in all three different shades of 18k gold – yellow, white, and Everose (Rolex's proprietary pink gold alloy). With that in mind, here are a few of the brand's most popular collections that contain gold Rolex watches.
Rolex Day-Date
Current Collection Key Features:
Case Diameter: 36mm; 40mm
Functionality: Time + running seconds; day of the week; date display
Bezel: Smooth; Fluted; Gem-set
Water Resistance: 100 meters / 300 feet.
Movement: Caliber 3255
Strap/Bracelet: President Bracelet
Click here for our complete Rolex Day-Date Buying Guide.

Rolex Daytona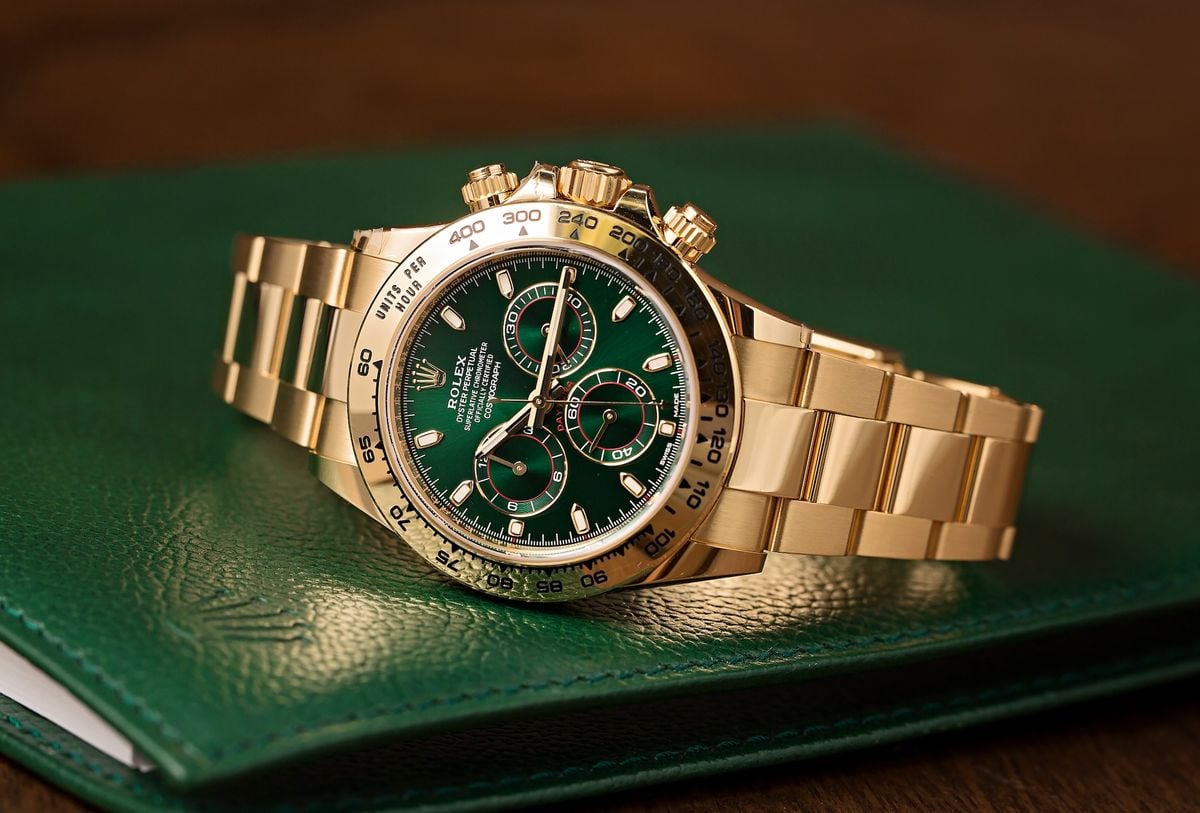 Current Collection Key Features:
Case Diameter: 40mm
Functionality: Time + running seconds; 12-hour chronograph
Bezel: Tachymeter
Water Resistance: 100 meters / 300 feet.
Movement: Caliber 4130
Strap/Bracelet: Oyster Bracelet; Oysterflex Bracelet
Click here to learn more about the history and evolution of the Rolex Daytona.

Rolex Sky-Dweller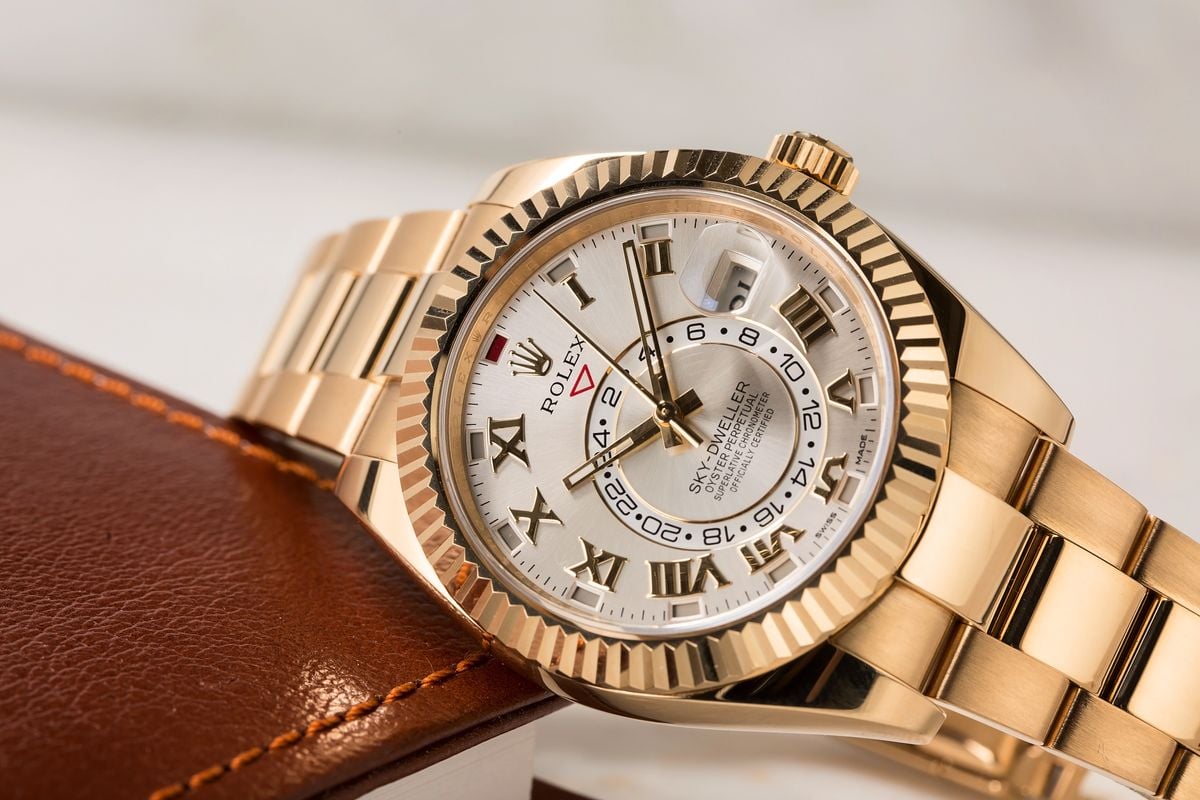 Current Collection Key Features:
Case Diameter: 42mm
Functionality: Time + running seconds; dual-time display; annual calendar
Bezel: Ring Command (Fluted)
Water Resistance: 100 meters / 300 feet
Movement: Caliber 9001
Strap/Bracelet: Oyster Bracelet; Oysterflex Bracelet
Click here to learn how to set the annual calendar on the Rolex Sky-Dweller.

Gold Watch Prices vs. Platinum Watch Prices
Over the years, it has become commonly accepted within the watch industry that platinum watches simply cost more than their gold counterparts. Both platinum and gold watches typically cost quite a bit more than similar stainless steel models, and when you look at the different prices associated with the various metals, the additional cost simply makes sense.
On average, a solid gold watch will cost several times more than an otherwise-identical stainless steel one, and a platinum model will cost anywhere between 15% and 100% more than the same model in 18k gold. As a point of reference, a stainless steel Rolex Daytona from the current generation retails for $13,150. Should you want the same watch in solid gold, expect to pay around $36,650 for the yellow gold one and $39,350 for either the white gold or Everose gold versions.
With that in mind, there is not more than $20,000 worth of gold in a modern Rolex Daytona. Most luxury watches (including Rolex) typically use 18k gold, which means that only 75% of the alloy is actually pure gold. The other 25% consists of other metals used to make the gold alloy more durable, so even if you were to take your watch apart and weigh all of the gold components, the actual value of those gold parts would only be 75% of their total weight. What you are really paying for when you buy a gold watch is the additional costs associated with working with gold, along with a significant premium for the exclusivity factor.
All of that being said, the solid 950 platinum Rolex Daytona retails for around $75,000, which is nearly twice the price of a solid yellow gold Rolex Daytona from the same generation. 950 platinum is 95% pure platinum with the remaining 5% consisting of other metals. Despite the 20% difference in purity levels, based on Rolex's retail pricing information alone, you'd be forgiven for thinking that platinum costs significantly more than gold, but this could not be further than the truth.
Back in 2008, the price of platinum was roughly twice the price of gold, but that has more-or-less been reversed over the course of the last decade. For some folks, it may come as a surprise to learn that the price of gold has been significantly higher than the price of platinum for a number of years. At the present time, the price of gold is $1,942 per ounce, while the price of platinum is $905 per ounce. Despite gold selling for more than twice the price of platinum, a gold Rolex watch will still cost about half the price of an otherwise identical version in solid platinum.
In truth, the actual cost of the materials used in a luxury watch's construction have relatively little to do with its final retail price. Instead, the retail price of a watch is largely determined by the brand's total costs associated with manufacturing the piece, along with the exclusivity factor (which is more-or-less what the brand believes that it will be able to charge for the watch).
These days, platinum may cost half as much as gold, but that doesn't mean it is actually less expensive for manufacturers to use this highly noble metal. Platinum watches aren't just exclusive because the material itself is rare; they are produced in relatively small numbers because machining platinum is both difficult and expensive on a large scale. One of the reasons why gold watches cost less than platinum watches is because the material itself is easier to shape and refine, not because gold is any less rare or valuable.
How Gold Prices Influence the Price of Gold Watches
While the price of the raw materials used in the construction of luxury watches is hardly the sole factor that dictates their retail prices, this in no way means that open market prices and public demand are immune from changes in the market price for certain precious metals. Throughout history, significant changes in gold prices have affected both the demand and the price for certain gold watches on the secondary market.
A Rolex President is (quite literally) worth more than its weight in gold. You will always make more money selling a Rolex Day-Date as a watch than melting it down for its precious metal components. However, this is not the case for all timepieces, and there are certain vintage watches – and this is especially true for pocket watches – where the value of their gold components are worth more than the value of them as a watch. Consequently, many of these timepieces are no longer in existence due to periods throughout history where high gold prices resulted in people scrapping them for their precious metals.
On the other hand, for desirable precious metal watches like a gold Rolex, where their value as a watch will always be worth more than the value of their raw materials, changes in gold prices have the ability to significantly alter demand, both at a retail level and on the pre-owned market.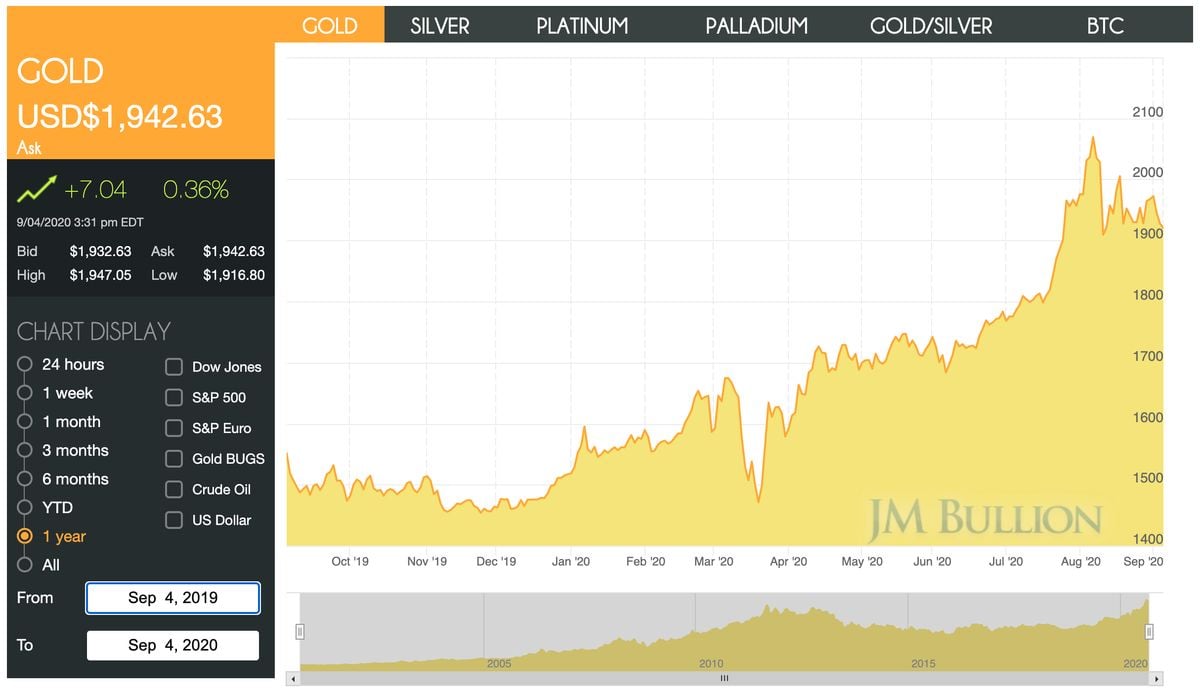 The retail price of a solid 18k yellow gold Rolex Day-Date President ref. 128238 is $33,150. Between January and September of 2020, that has not changed at all. However, between January 2nd and September 2rd of the same year, the price of gold increased from $1,530 to $1,942 per ounce. While the price you pay for that watch is no different should you buy it in September instead of January, the additional markup you pay above the raw material cost of the watch decreased by more than $400 for every ounce of gold in it.
On the pre-owned market, this type of "savings" can be even more appealing to buyers. Let's say that a 18k gold Rolex President from the previous generation costs around $15,000. Buying the watch in September relative to January still results in the same $400 savings for every ounce of gold in it (relative to the raw material cost of the watch), and when you factor in the lower price paid for the watch, this type of change in the price of gold can make buying a gold Rolex a much more compelling purchase.
We have definitely seen the demand for gold watches rise throughout the year as market prices for gold have also increased. Although all of the modern gold Rolex watches use 18k gold, regardless of whether they feature yellow, white, or Everose gold, it has been the yellow gold models that have seen the biggest increase in demand. Many of the more popular models available in yellow gold, such as the Day-Date 40, Submariner, and Submariner have been selling incredibly quickly once they get added to our site, and some sell within the first few hours after they get listed.
While today's high gold prices do not actually change the price that you pay for a gold watch, they do significantly alter the value of what you receive for your money. If you've been thinking about adding a gold watch to your collection, today's high prices might just be the thing that makes this the time to invest in one.