While Rolex has been busy giving out Daytonas at Le Mans, Omega awarded some custom watches of its own. The other day, the winners of this year's Stephen Hawking Medal for Science Communication at the Starmus Festival in Trondheim, Norway were hand picked by Hawking himself. Winners including astrophysicist, author, and scientist Neil deGrasse Tyson, musician Jean-Michel Jarre, and the creators and cast of the hit television comedy series The Big Bang Theory were gifted a new and unique 42mm 18K yellow gold Speedmaster Moonwatch Professional Chronograph.
The caseback of the bespoke pieces bears the words "Winner of The Stephen Hawking Medal for Science Communication" along with a laser engraved medallion mimicking the design of the medal itself.
Omega and Stephen Hawking
This golden Omega Speedmaster Professional has a few details to look at. The black dial features 18K yellow gold hands and indexes and the watch comes presented on a black leather strap. It's driven by Omega's renowned calibre 1861, virtually the same movement in the original moon watch. The unique timepiece is made all the more valuable by the fact that it is not for sale, though we wouldn't rule out some sort of science edition down the line.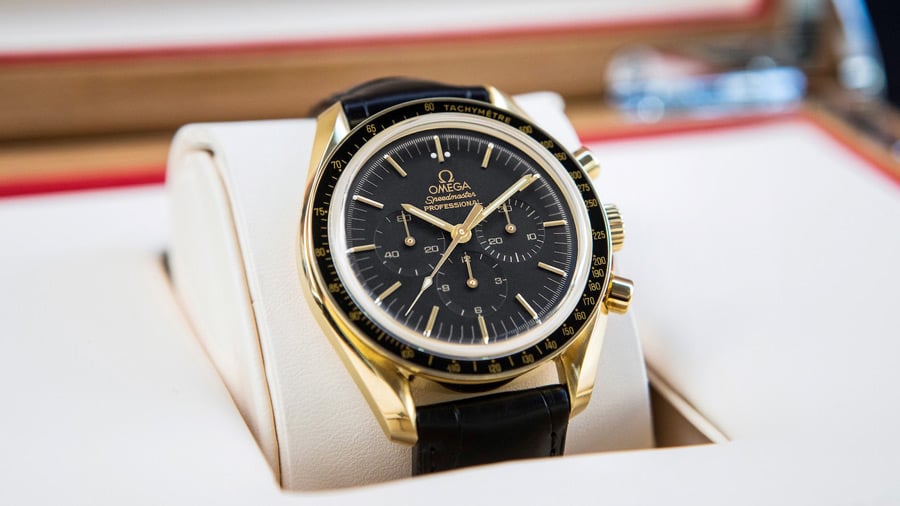 Omega has a partnership with the Starmus Festival, a combination of science, art and music aimed at helping the general public understand and appreciate science, founded in 2011. The Stephen Hawking Medal for Science Communication, is awarded to those who promote science through four different disciplines: science writing, films, music, and art. A watch that is truly earned like the Rolex Daytona 116500 at Le Mans.
Omega recently celebrated the Speedster's 60th anniversary with a glitzy party in London headlined by brand ambassadors George Clooney and Buzz Aldrin. Aldrin, who as part of Apollo 11 in 1969 stepped onto the lunar surface making his Speedmaster the first watch ever worn on the moon, is the greatest living testament to the iconic watch's prowess. Held at the Tate Modern museum, the fete incorporated a high-tech sound and light show along with a stunning display of 60 important Speedmaster models from 1957 to 2017. The first watch in the world to feature a tachymeter scale on the bezel, Speedmasters have been worn by astronauts, Air Force pilots, explorers, athletes, and actors. Bought or won, they're a damn fine thing to have on your wrist….