"Omega's Moonwatch Enters the Stratosphere" blared a recent headline in the New York Times. The accompanying article goes on to declare that "prices for the most sought-after vintage Speedmasters have taken a trip into orbit, fueled by a booming market for vintage watches and a cult following on social media."
While this might not exactly seem like breaking news to longtime Speedmaster enthusiasts, the Times correctly noted that recent hype over the 50th anniversary of the Apollo 11 Moon landing – much of it emanating from Omega's own PR department – has given some extra heat to the iconic watch, and helped lead to what many see as the inevitable maturing of the vintage Omega Speedmaster market.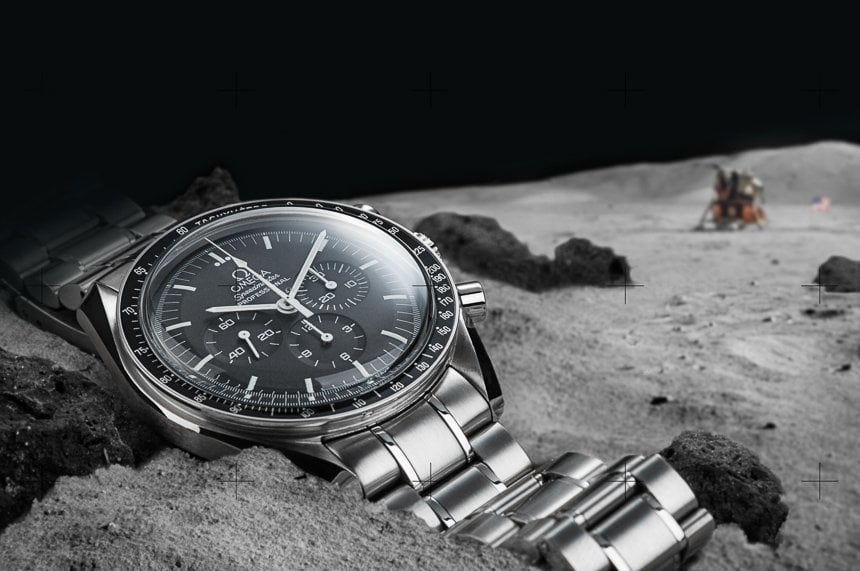 A Maturing Market
The Speedmaster's history is indeed among the most interesting and prestigious of any sports watch. While vintage Rolex Daytona prices have been astronomic for a number of years, the vintage Speedy market has been much slower off the mark.

That all changed last year, as the Times notes, when a first-generation Omega Speedmaster from 1958 sold for almost $410,000 at a Phillips sale in Geneva. Put that down to Aurel Bacs, the co-founder of Phillips's international watch department and the man who famously sold Paul Newman's personal Daytona for almost $17.8 million.
GQ recently called Bacs "the man who sparked the vintage watch boom," and his preference for, and lucrative salesmanship of, watches with interesting and important provenance, heritage and original condition have indeed led to skyrocketing auction returns.
Omega Speedmaster Prices
"The Speedmaster is a true icon and prices for the most coveted examples have been lagging behind for some time," notes Bob's Watches founder, Paul Altieri (also one of the world's top watch collectors). "And with vintage Rolex prices skyrocketing, the market needs something else to focus on with room to create value. While $50,000 for a pedigreed Speedy might have seemed expensive just a few years ago, it now looks like a bargain. Those of us who had the foresight to start collecting early on are looking at a major return on our investment. But I'm not planning on selling any of my best pieces just yet."
If you were one of the clairvoyant individuals who picked up the very best vintage Speedmaster references for five figures in years past, then allows us to express our admiration – and envy.