American adventurer, expedition photographer, and alpine climber, Cory Richards became the modern-day 'Sir Edmund Hillary' when he conquered Mt. Everest in 2016 – for the second time, but without oxygen – documenting the feat on social media along the way. His watch of choice, however, isn't a Rolex Explorer, but rather a Vacheron Constantin Overseas. And for his latest assault on the world's most famous mountain, the legendary Swiss watch brand created a special Overseas prototype. 
"One of Not Many"
Now, Richards didn't reach the summit this time – conditions proved too dangerous – however, the Overseas Dual Time prototype performed admirably. And Vacheron just honored the handsome adventurer and their most accomplished brand ambassador who embodies their motto "One of Not Many," at an event in New York City. 
His third assault on Everest took him along the North-East ridge in Tibet, which you could describe as the hard way. It took over a year just to prepare for the expedition. Vacheron says that both it and Richards are "driven by passion, the same openness to the world and taste for innovation, along with audacity and a desire to push existing limits," hence its desire to support him along with other "talents acknowledged for their expertise and their steadfast quest for excellence." 
And even though he was ultimately unsuccessful, Richards documented his audacious attempt with plenty of photos and video footage which Vacheron Constantin can now use for promotional purposes, starring the one-off Overseas Dual Time prototype specially created for the climb. 
Vacheron Constantin Overseas Prototype
Rather than a simple time-only watch like the Rolex that went to the top of Mt. Everest, the Overseas prototype is of the Dual Time variety and features a unique 22k gold oscillating weight engraved with a design based on one of Richards' Everest photos, making it truly one of a kind. The case of the 41mm timepiece is forged from titanium, with a tantalum (a rare, hard, blue-gray, lustrous metal that is highly corrosion-resistant) reinforcement beneath the bezel. On the inside, a soft iron casing ring offers the movement anti-magnetic protection.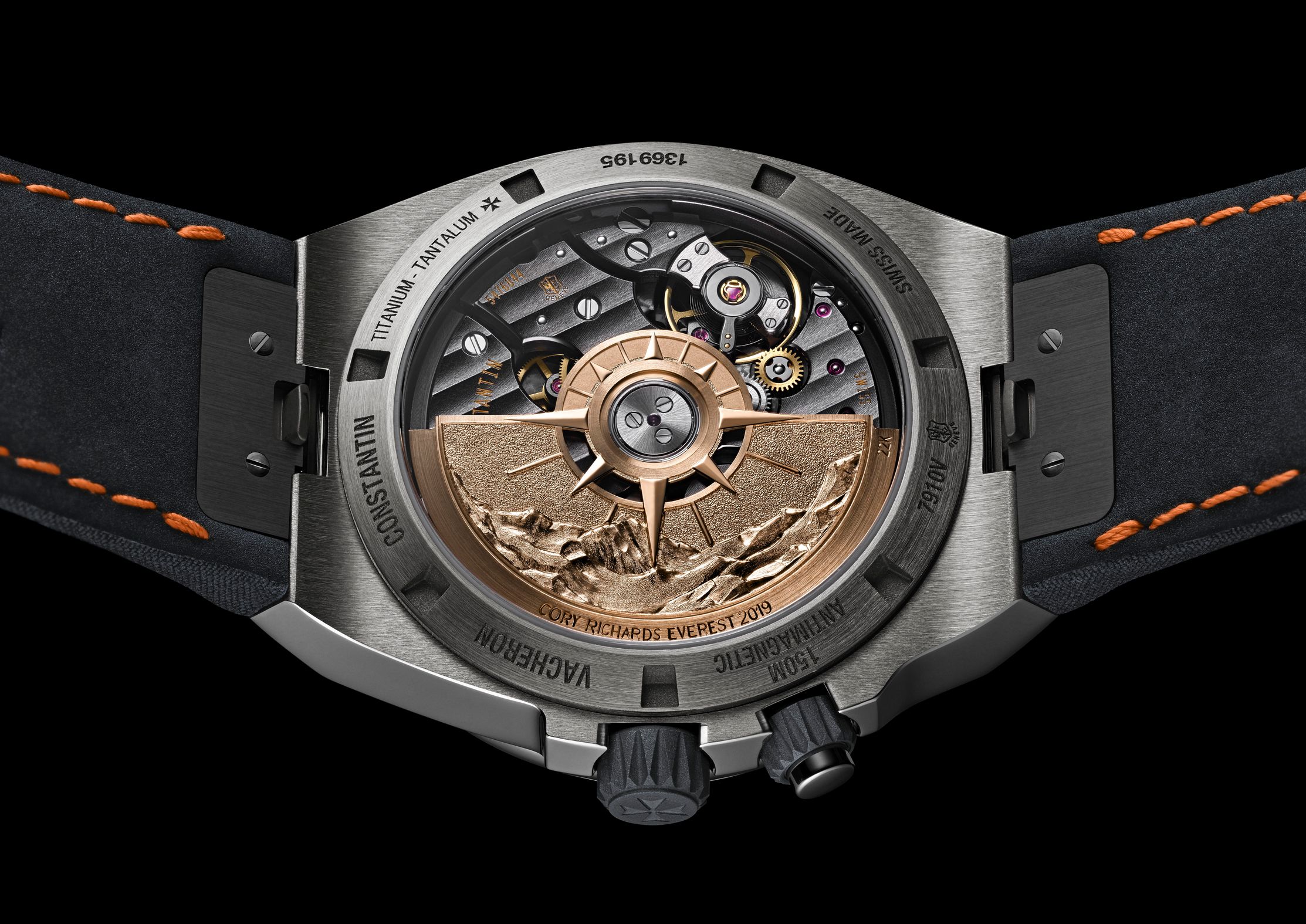 Protection for the winding crown and pusher is also reinforced by two titanium guards, making it one of the toughest Vacheron watches ever made. Additionally, it features an orange-accented grey blue frosted dial, an NAC-treated movement, and comes on an orange-stitched grey blue Ventile technical fabric strap for a sporty and modern overall effect. We'll have to wait to see if VC puts a version of the handsome watch into production, but it is certainly nice to see such a purpose-built sports watch coming from a brand that is traditionally celebrated for their elegant dress watches.