Watches and Wonders isn't over yet, but many of the participating brands have already unveiled their new luxury watches for 2021. More than thirty different companies are debuting their new releases on the Watches and Wonders Geneva digital platform this year and as you would expect, an incredibly wide variety exits among them.
Some brands produce sports watches, others create luxurious jewelry-oriented pieces, and while some fall into the category of what could be considered affordable luxury, others rank among the most expensive modern timepieces in existence. However, despite this diversity among the participating brands, there are definitely some common trends that can be seen across the new models launched at Watches and Wonders this year.
Click here for the new Rolex releases and discontinued models from Watches and Wonders.

Green Is the New Blue
Probably the most obvious trend from Watches and Wonders is the widespread use of the color green. Historically, green has been one of the more adventurous color options on watches, with most brands typically opting for some shade of blue whenever they want to add a slightly more adventurous color option to their lineup. However, in just the same way that we saw countless blue dial watches last year, this seems to be the year of the green dial and a significant number of the participating brands have decided to include the color somewhere among their new releases.
Probably the most headline-grabbing new release to feature the color green is the stainless steel Patek Philippe Nautilus ref. 5711 that is making a return victory lap. While the recently-discontinued model features a blue dial, the new model is fitted with a striking olive green dial. Rumor has it that Patek Philippe is only going to make this version of the Nautilus for about one year as a way to celebrate the fan-favorite reference 5711 that the brand announced ahead of Watches and Wonders was scheduled to be discontinued.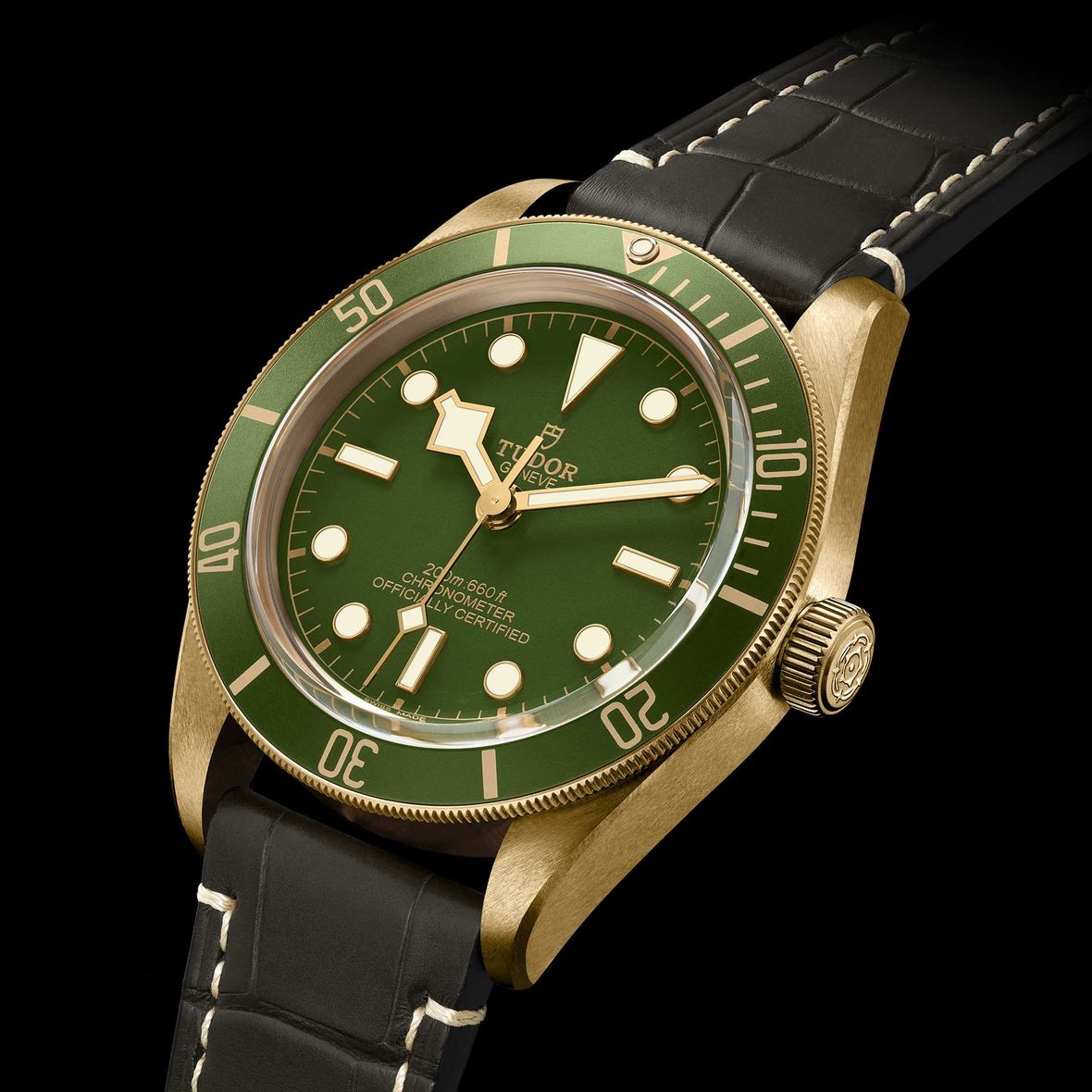 With that in mind, Patek Philippe was far from the only brand to lean into the green dial trend, and a significant number of other high-profile manufacturers chose to feature the color on their novelties for this year. Chief among these was Tudor who chose to showcase the color for its solid gold rendition of the Black Bay Fifty-Eight.
Green is not typically something you will find on Tudor watches since it is the company color of Rolex, its mega-famous sibling company. However, the brand obviously felt confident in this slightly unconventional hue to feature it on the most expensive watch (by a significant margin) in its current lineup. Crafted from solid yellow gold and fitted with both a green dial and a matching green bezel, the new Tudor Black Bay Fifty-Eight 18k is a true standout among the new additions to the Tudor lineup.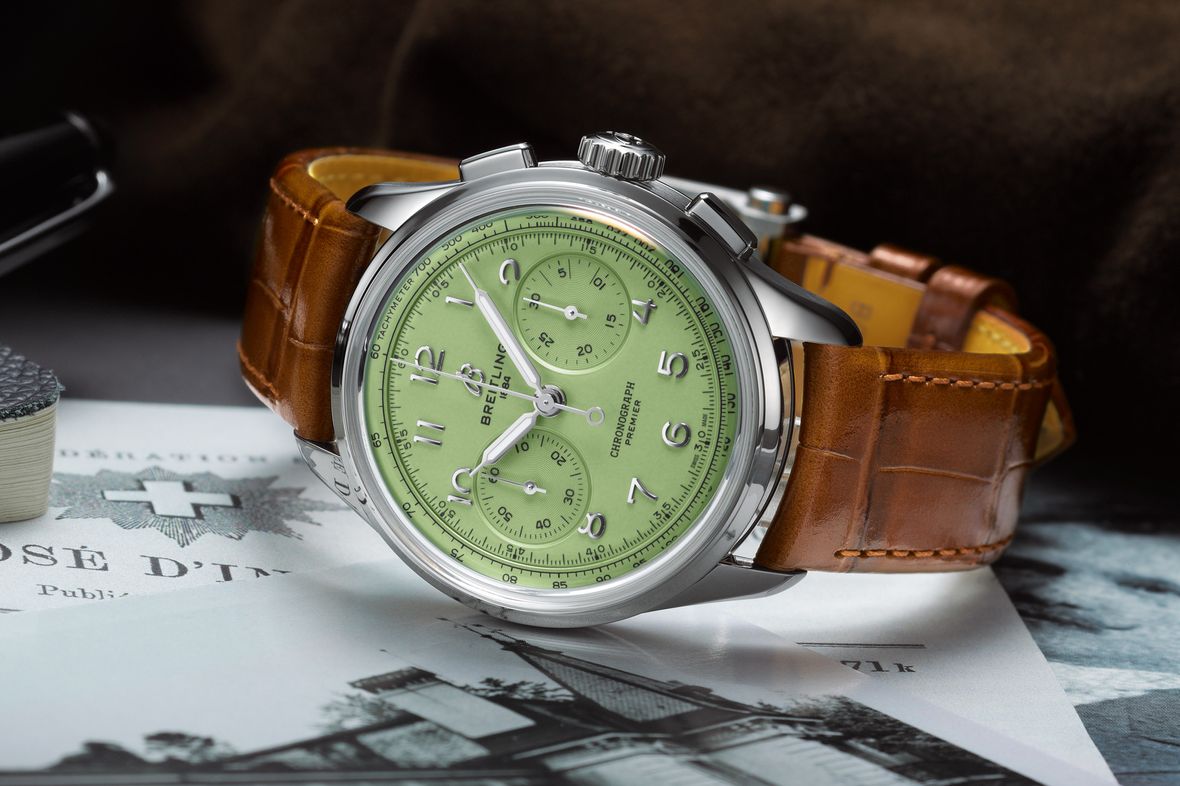 However, Patek Philippe and Tudor were far from the only brands to feature the color green on their new releases from Watches and Wonders. Panerai chose to feature the color on one of the variants of its new Luminor Marina eSteel model, and you will also find the color green on new models from Rolex, Cartier, IWC, H. Moser & Cie. Jaeger-LeCoultre, and Piaget (among many others).
Even Breitling, who was not listed among the official participating brands for Watches and Wonders still released a handful of new models to more-or-less coincide with the timing of the digital event. One of the variants of the new manually-wound Breitling Premier Heritage B09 Chronograph features a stainless steel case with unique two-register pistachio green dial with Arabic numeral hour markers that provides the watch with an inherently vintage overall aesthetic.

More Unconventional Colors
Another trend we noticed from Watches and Wonders – and one that seems to have carried over from last year – is brands continuing to add playful and unconventional color options to their respective lineups. Last year, we saw a whole fleet of brightly colored dials added to Rolex's updated Oyster Perpetual range, and these new models have become incredibly popular over the course of the last few months since they were announced.
This year, a number of other brands have also added some fun and seldom-seen dial colors. Among the most playful are the new Oris Divers Sixty-Five Cotton Candy models. The new watches feature 38mm bronze cases, bronze bezels, and are even available with the option of full-bronze bracelets. However, all-bronze watches are something that Oris has done before; the real talking point of these watches are their "Cotton Candy" pastelle dials, which are named sky blue, wild green, and lipstick pink.

Some brands, such as Breitling and IWC just introduced a one or two fresh colors to their lineups, but others such as Zenith and Cartier introduced a new model in several different unconventional color options. Cartier watches have been picking up a lot attention in the last year or two and one of the reasons why the brand is held in such high regard is because it has a number of historic designs (in particular the Tank and the Santos) that have remained largely consistent throughout the years. For Watches and Wonders Geneva 2021, Carrier has added three new watches to the Tank Must collection, with each one fully embracing a different color.
Available in either blue, green, or red, each of the new Cartier Tank Must watches features a leather strap perfectly matched to its dial color, creating a cohesive and fresh take on what is one of the world's oldest and most historic wristwatch designs. With stainless steel cases and quartz movements, these watches are intended to be more budget-friendly options compared to many of the brand's other offerings, and they are the perfect models for the person who already owns a more traditional Cartier Tank watch and likes the design but wants something distinct and colorful to add to the mix.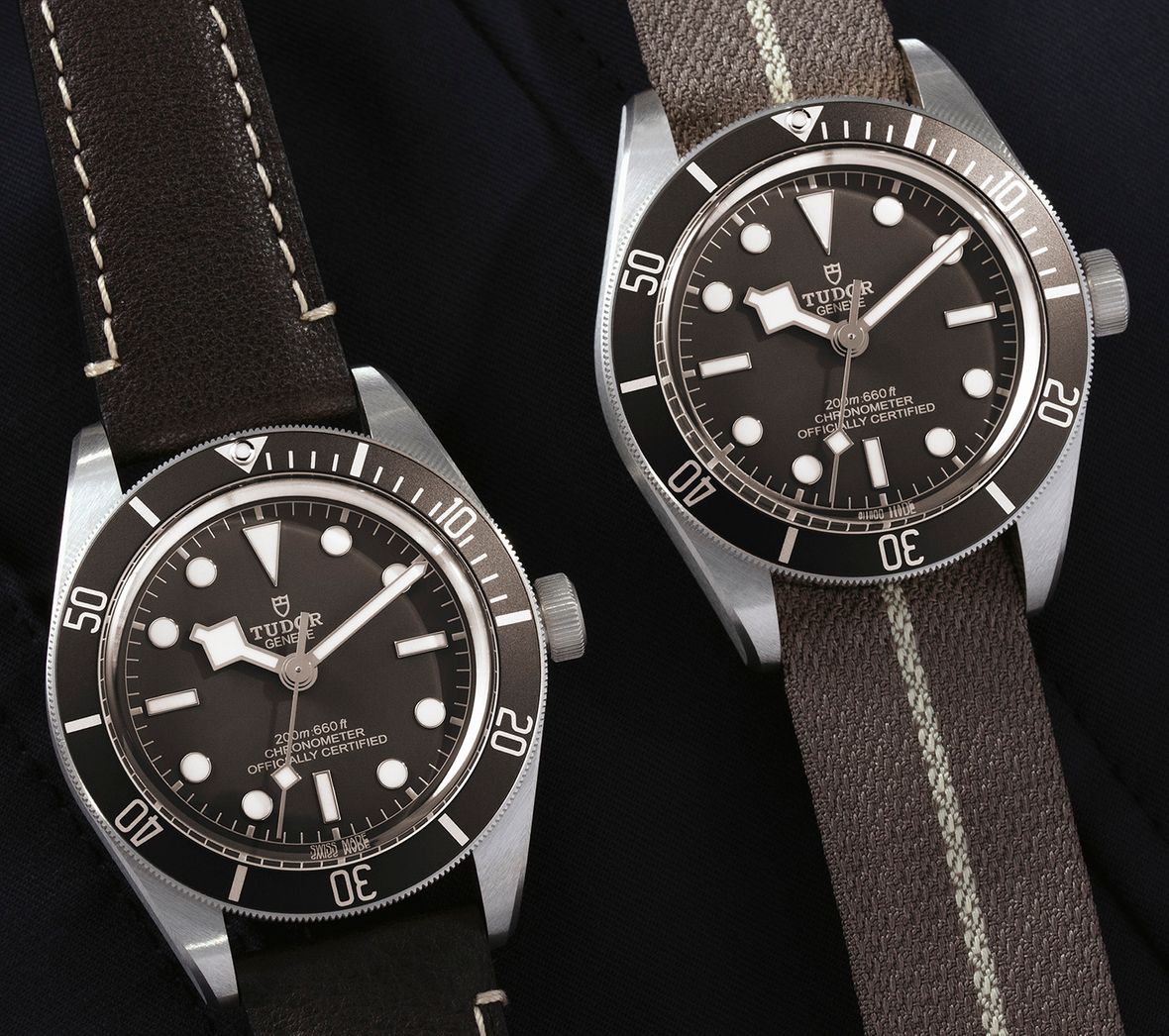 Additional Materials and Options
One of the major themes that can be seen throughout the luxury watch industry, but especially this year among the new models from Watches and Wonders Geneva is the addition of more options for customers regarding materials and the overall aesthetic of their watches. Panerai now offers a smaller version of its bronze-cased Bronzo and Tudor unveiled both a 18k gold and a sterling silver version of it's Black Bay Fifty-Eight dive watch, but even Rolex – a brand that is often regarded as having one of the most consistent and unwavering catalogs added a new metal option to its Explorer collection this year.
The fact that the classic Rolex Explorer has both returned to its historic size of 36mm is big news, but it is arguably far more surprising that the brand now also offers it in its signature steel and gold configuration, which is something that has never happened since the model was first introduced in 1953. Additionally, all three shades of gold Daytona watches are now available with meteorite dial on both the Oyster and Oysterflex bracelet models, while the Datejust collection has received a handful of new dials that showcase never before seen patterns on their surfaces.

Increased Focus on Sustainability
Sustainability is incredibly important, and as humanity continuously becomes aware of the impact that our actions have on this planet, an increasing number of brands across a variety of industries are taking measures to ensure that we take care of our home and preserve the Earth for future generations. Oris has a strong history of promoting environmental conservation efforts and each year, the brand produces a handful of limited edition watches that bring awareness and support a different project that improves our planet and the lives of the people that inhabit it.
The new Oris Aquis 'Dat Watt' Limited Edition is the latest limited edition model and it aims to help save the Wadden Sea – the world's largest unbroken tidal flat system, which is located directly above the Netherlands and is a UNESCO World Heritage Site. However, far beyond the new limited edition watch, the model simply represents the first effort in what will be a three-year agreement between Oris and the Common Wadden Sea Secretariat (a Netherlands-based organization) that will promote awareness and conservation efforts for the Wadden Sea, complete with events that will take place throughout the duration of the agreement.
Panerai is no stranger to innovative materials, and in addition to traditional options such as stainless steel, titanium, and ceramic, the brand also experiments with a number of other modern proprietary case materials that you won't find anywhere else such as Carbotech and BMG Tech. However, for Watches and Wonders 2021, it seems that Panerai has turned its material science division towards sustainability, and arguably one of the strongest themes among the brand's new releases is an emphasis on recycled materials and showcasing how their use can be integrated into a premium product that offers serious performance metrics.
The new Panerai Luminor Marina eSteel watches consist of 58.4% recycle-based materials (by weight), while the Panerai Submersible eLAB-ID is constructed from the brand's EcoTitanium and is manufactured from 98.6% recycled-based materials. On the Submersible eLAB-ID, even the Super-LumiNova on its dial and hands is 100% recycled, as is the silicon used for its escapement. Produced as a limited run of 30 units and accompanied by the whopping retail price of $60,000, the primary purpose of these new eco-friendly Panerai Submersible watches is to showcase the material suppliers and showing how it is possible to make a high-performing luxury sports watch out of almost entirely recycled materials.