It can be a little hard to believe but there are still several Rolex models that can be described as undervalued. If all you are used to looking at are the latest versions of pieces such as the Submariner, Daytona, or GMT-Master II, we can see why you would be skeptical, but it is true. Delving into the archives, there are hosts of used Rolex watches that, for one reason or another, have remained relative bargains. It could be because they have never been among the most well-known names and so have only appealed to a more niche group of fans, or it was a version in production for so long there are numerous examples of them on the market, or it could be something else completely.
However, one thing we are fairly sure of is that they are unlikely to stay undervalued forever. The vintage Rolex industry just gets stronger and stronger each year, with collectors always seemingly on the hunt for the more obscure pieces for their exclusivity factor. Today's underappreciated model could well be tomorrow's next big thing. Below we look at three used Rolex watches that are currently undervalued on the pre-owned market. If you have been eyeing one of these models for a while, then it might be wise to add it to your collection sooner rather than later.
Rolex Air-King ref. 5500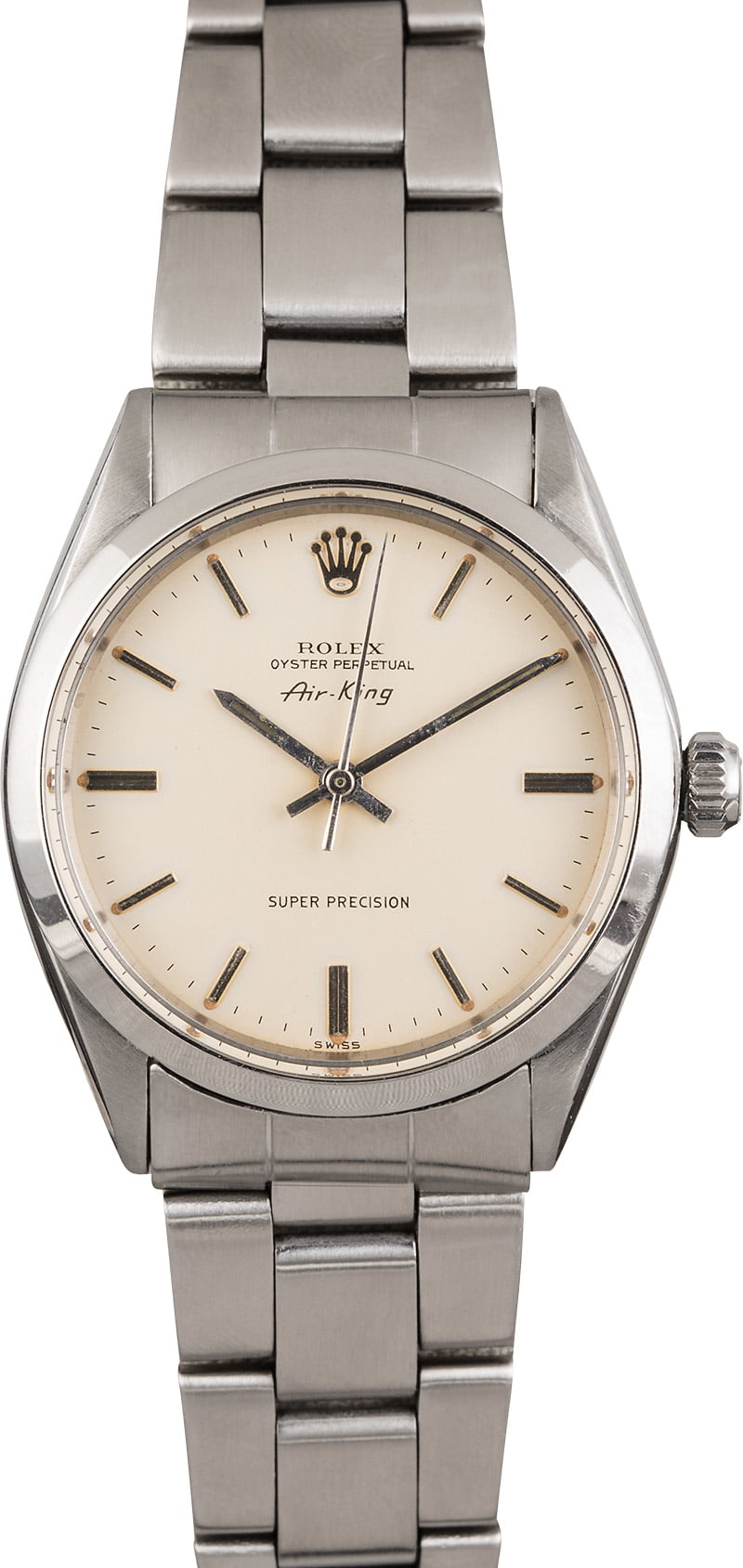 Perhaps the most obvious example of an undervalued model, the Air-King ref. 5500 easily meets two of the most important criteria. It lives amongst those watches sometimes referred to as the 'forgotten Rolex' and it remained in production for an incredible 37-years. That means you will find plenty of them for sale, and often at extremely reasonable prices.
The fourth generation of the Air-King range, it was originally released in 1957 and is the one that cemented the classic look of the watch – a 34mm steel case, with an aesthetic that is simplicity itself. Dial colors kept to the conservative end of the spectrum; white, black, silver, blue, and grey, with plain stick hands and baton indexes. Not even a date function interrupted the symmetry.
During its near four-decade run it was issued with two different calibers, the Cal. 1520 and Cal. 1530. As neither was COSC-rated, you won't find a ref. 5500 with the usual 'Superlative Chronometer Officially Certified' text on the face. Instead, they are marked with 'Precision' or 'Super Precision' in the usual space below the hands.
The biggest draw of the ref. 5500 has always been its cleanness. This is old-school Rolex, the type of watch they rarely make anymore. Solid and robust, yet still starkly elegant, it is a model that will serve a lifetime and look at home anywhere, in a size that makes it ideal for both men and women. Best of all, prices for an example of this historically fascinating model are among the lowest of any used Rolex watches, vintage or modern, making it definitely one to consider.
Rolex Submariner ref. 16610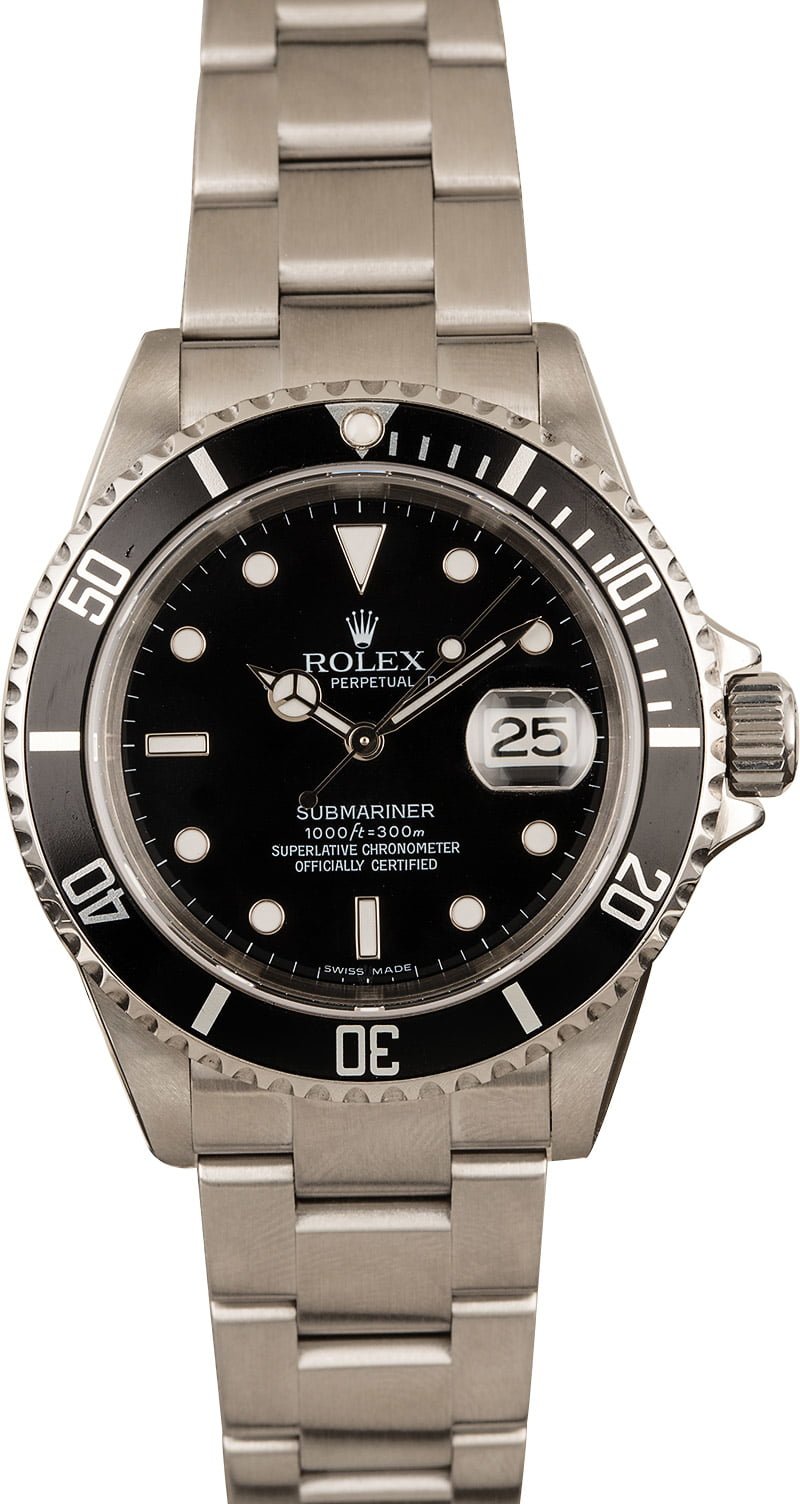 The Rolex Submariner is undoubtedly the most iconic luxury dive watch ever made, and the ref. 16610, from the generation preceding the current one, is routinely described as the 'last of the best'. It was the final reference to have the classic profile, its lines having barely changed in roughly 50 years before the beefed-up 'Super Case' made its appearance on the stainless steel Submariner in 2010.
So we have a legendary Rolex tool watch, in stainless steel, swamped in the kind of nostalgia beloved by all vintage collectors. By rights, that should command insane pre-owned prices, but for some reason the ref. 16610 remains undervalued and in a big way. In fact, it is the cheapest steel Submariner Date that you can buy, and it represents one of the best buys among all used Rolex watches.
It certainly isn't because its technology is lacking in any way. Launched in the late 1980s, it is powered by the same Cal. 3135 movement as the current model (at least at the time of writing). That caliber is among the longest and widest serving movements the brand has ever built, an absolute workhorse that will be ticking away long after we're all gone. Those produced post-2000 also benefit from the manufacturer's own blue Parachrom hairspring, granting even more shock protection and resistance to temperature fluctuations.
The case, similarly, is forged from the brand's robust 904L stainless steel, a practically indestructible metal that also holds a shine like no other. Even better, for fans of all things retro, the bezel insert is still made from aluminum. Modern Rolex sports watches have graduated to inserts made from the brand's proprietary Cerachrom ceramic, a revolutionary material that is especially resistant to scratching and fading. While Cerachrom is superior from a longevity perspective, it robs the watch of the chance to pick up any character over the years, the odd knock or color change that tells its own unique story and which is especially prized by the purists.
Again, the reason for its attainability is probably due to its relative lack of rarity. In production for over twenty years, there are plenty of examples on the used Rolex market, which helps to keep prices down. That, of course, won't always be the case. Examples in good condition will get scarcer and as they do, they will become ever-more valuable. If you fancy one, don't hang about.
Rolex Milgauss ref. 116400
We used to be able to put the Rolex Milgauss, a watch specifically designed for scientists and engineers, in the same category as the Air-King – among the less fashionable models from the brand's second tier. More recently though, its refreshed looks, impressive antimagnetic abilities, and the fact it is one of those watches that has stuck more or less to its roots have attracted an increasing number of admirers.
First produced in that company heyday of the 1950s, the Milgauss was created in the same era as the Submariner, GMT-Master, Explorer, and Day-Date. As a result, it has traditionally been left in their collective shadow, so much so that it was actually discontinued completely in 1988, ending with the ref. 1019 (another model well worth looking at as a possible investment). Many people thought we would never see the Milgauss again, but in 2007, and to coincide with the opening of the Large Hadron Collider at CERN, Rolex reintroduced the watch with the ref. 116400.
Now with a case diameter of 40mm for the first time, the current-production Milgauss benefits from a number of colorful modern touches, yet it retains its party piece of being resistant to electromagnetic fields of up to 1,000 gauss (from where it initially took its name, with mille being the French for one thousand). The update was originally issued in three versions: black and white dial editions were fitted with a standard clear sapphire, while a second black dial piece (the ref. 116400GV, with 'GV' standing for Glace Verte) was given a green-tinted crystal. All three proved especially welcome with fans and started the Milgauss's climb towards its current popularity, with the GV model really capturing the imagination.
In 2014, Rolex retired the white and black dial versions fitted with clear sapphire crystals (something which is likely to push their pre-owned prices even higher in the future) and replaced them with a second green sapphire model, this time with an electric blue dial. Named the Z-Blue dial, its mix of colors, including a bright orange lightning bolt seconds hand and minute track, leaves it as one of the liveliest-looking watches across the whole Professional Collection.
Unlike the other two used Rolex watches on our list, the ref. 116400 is still in production (excluding the versions with clear crystals), but there are rumors of an imminent facelift on the horizon. When and if that happens, you can expect demand for the current reference to increase, and probably across all versions. Until then, it continues to be undervalued on the pre-owned market, a fantastic watch with some wonderful eccentric touches, and available at a relative bargain compared to most other contemporary used Rolex watches – at least for now.