Ho, ho, ho! The holidays are fast approaching! Although we have yet to cut the turkey and give thanks for the people and things that we're grateful for, it probably isn't too early to start practicing your best "thank you face" – just in case your friends or family gift you with a beautiful luxury watch this holiday season.
We always say that luxury watches make the perfect gifts. That's why we have put together the ultimate holiday gift guide to aid you in your search for the perfect watch to give this year. To help keep things simple, we've narrowed down the options to seven distinct categories based on different types of lifestyles and personalities. Suggestions range from the most iconic pieces that the industry has ever produced to lesser-known gems hiding just off the beaten track. As always, we have mixed in a little bit of something for everyone, so you can find that perfect watch that strikes a chord with your timepiece-adoring loved ones.
The Best Holiday Gift Watches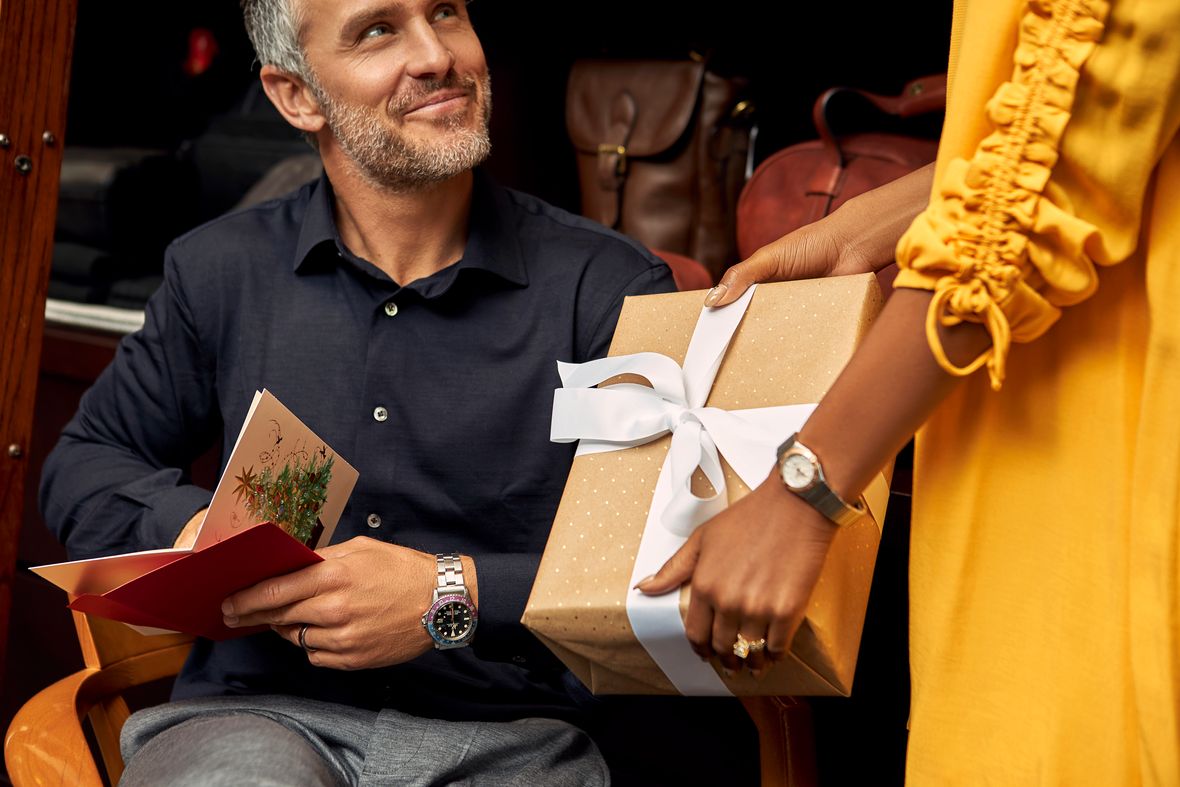 Watches for The Jet-Setter
For all of the air-mile hoarding, wanderlust-ridden, itchy-footed globetrotters, we have assembled a hanger full of options to help you navigate your way towards a purchase.
In the Jet-Setter category, you'll find all of the usual suspects that never seem far from seasoned travelers' wrists, as well as a host of nuanced options that work just as well for the experienced collector or the industry neophyte looking to set themselves apart from the pack.

Watches for the Driver
It is pretty common for those who have an interest in watches to also have at least a passing interest in automobiles. Given the significant differences in terms of size and functionality, there would initially seem to be very little overlap between watches and cars, but the cross-appeal of these two items doesn't really come down to cost at all – it's all about the mechanics, intricacy, and artisanship of both disciplines. And if your loved one is a closet motor-head, why not drag them out into the light with a motor-sport-themed timepiece?
On the track, a fine wristwatch can be used to time a car's performance and while off the track, it becomes an ever-present companion on long drives to nowhere. Both cars and watches are known for pushing the boundaries of what is possible in pursuit of incremental gains in speed or accuracy – and as such, the wealth of options available in the Driver category is vast.

Watches for the Collector
Buying watches is not necessarily the same as collecting watches. Certain types of watches, typically those with immense provenance rooted in history, appeal most to those looking to build a collection that focuses either on a particular style of watch or attempts to assemble an assortment that collectively gives an overview of the entire industry.
At the very highest echelon, watch collecting may not even be about wearing a piece, and so the regular considerations that run through the minds of would-be purchasers may not always apply. In the Collector category, we put forward a selection of luxury timepieces that takes these niche desires into account, and zeroes in on the rare and important pieces that collectors frequently aim to add to their watch boxes.

Watches for the Pilot
Not many of us can take to the skies in the cockpit of a plane and have the controls at the mercy of our fingertips; however, for some people, this is a regular daily occurrence. And for others with a keen interest in aviation and its history, pilot's watches and other models inspired by those who live above the clouds make for the perfect everyday timekeeping companions.
Known for large, highly legible dials and simple cases with large and easily-operated crowns (for use while wearing gloves), the pilot watch genre is one of the fastest-growing within the luxury watch industry. Some of the most advanced models in the Pilot category are fitted with travel-ready features such as chronograph complications or even the ability to simultaneously display multiple time zones.

Watches for the Classic Man
The idea of what it means to be a man is changing, but how a gentleman chooses to outfit himself has remained remarkably constant over the years. Classically-sized watches (those with smaller diameters and slimmer profiles) have enjoyed a renaissance recently – and that is good news for the dapper man looking to add a vintage or heritage-inspired piece to his collection.
In the Classic category, dressier styles and precious metals become a common theme, and watches that look more at home with a finely tailored suit than board shorts and sneakers are the order of the day. In terms of aesthetic longevity, it is (and always has been) hard to beat the timeless aesthetic of a traditional wristwatch.

Watches for the Athlete
Sports watches are an extremely popular category of timepieces due to their dynamic styling, robust cases, and highly-capable movements. Models from this genre of wristwatches tend to be made for active use with grittier designs, a function-first mindset, and reliable workhorse calibers. While only a few professional athletes wear luxury timepieces while competing, those that pursue extreme sports often find themselves in need of a mechanical companion to go along with their regular electronic kit.
The Athlete category encompasses both the watches the modern-day adventure would wear en route to the summit of Everest, alongside the vintage models used by explorers of the past. This includes contemporary tool watches that offer the latest and greatest technologies and also the early dive watches that Jacques Cousteau can be seen slipping onto his wrist before strapping on an air tank and descending into the depths of the ocean.

Watches for Him and Her
With more women than ever interested in luxury watches and the craft of traditional mechanical watchmaking, an increasing number of brands are now producing horologically-interesting models that can be comfortably worn (and look great) on any wrist, regardless of size or gender. The His & Hers collection consists of amazingly versatile watches with appealing designs and versatile case sizes that can effortlessly be worn by both members of any couple.