Breitling is always an interesting talking point, as the brand has had its share of ups and downs when it comes to how it gets viewed by the collecting community at large. That said, it's also one of those larger brands that – while we don't necessarily love everything they've ever made – we always seem to find pieces here and there that we think are worthy of attention.
Thanks to these ups and downs, as well as the brand's occasional penchant for making massive flashy pieces (some of the Bentley models, in particular), a good number of Breitling watches have unfairly taken a hit on the secondary market. This means that if you know what you're looking for, that you can get a whole lot of watch for relatively little money on the secondary market – all from a longstanding legacy brand that's still going strong to this day. We've gone through our own archives, cherry picking a collection of models from the brand's modern history that we're especially fond of and think are worthy of a closer look.
Breitling Avenger Chronograph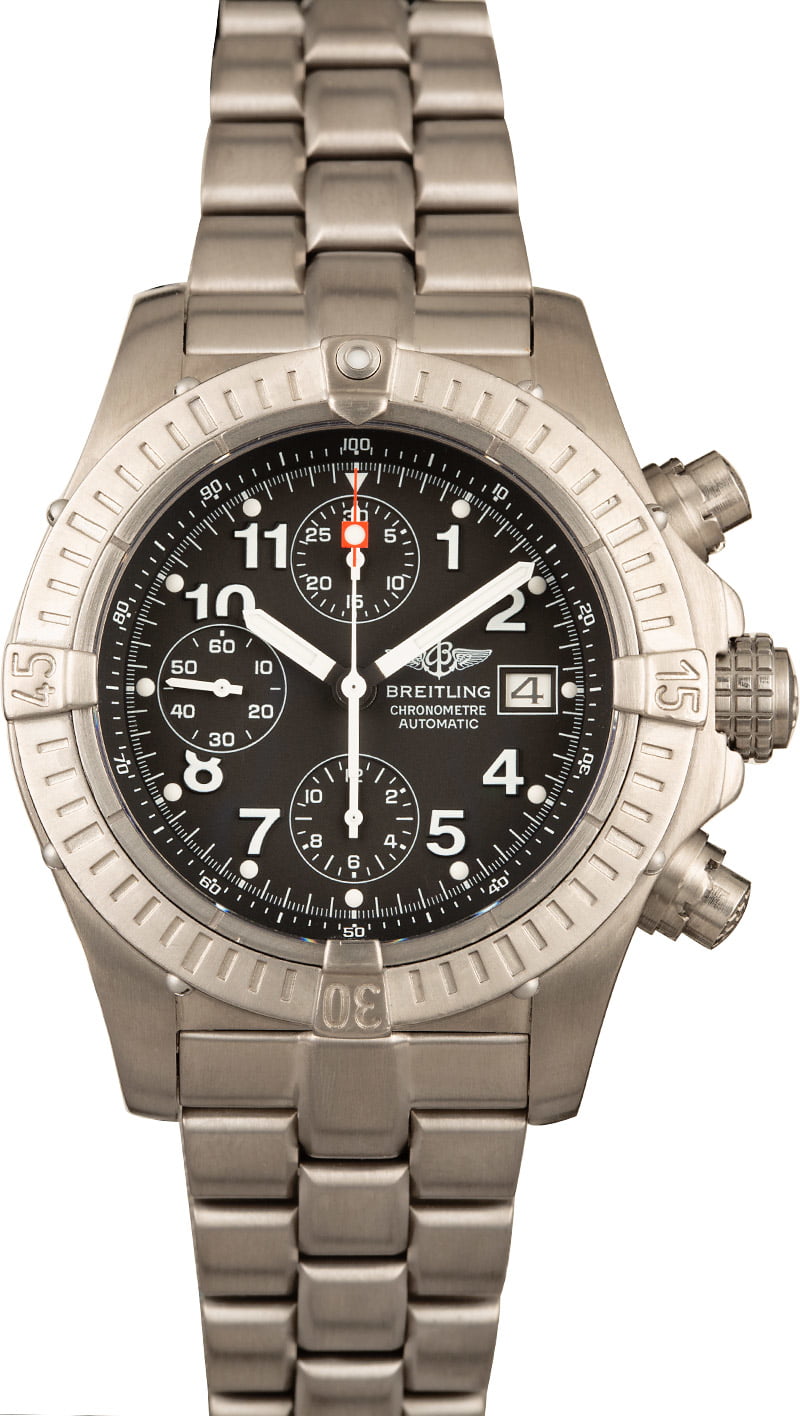 This Avenger chronograph is a quintessential example of the rough and rugged pieces from Breitling that we've always loved. A 44mm titanium case and matching bracelet with a matte brushed finish, paired with a matte black dial with bright white contrasting indices and red-tipped chronograph seconds hand. This is peak tool watch design at its finest.
Its timing bezel is engraved and also brushed, devoid of the flash that comes with modern ceramic bezel inserts. That said, it is still fitted with a luminous pip to allow for proper timing during low-light situations. It runs the Breitling Caliber 13, which is effectively a reworked Valjoux 7750, but that's certainly not a bad thing. It's also part of the reason you can get into a badass titanium chronograph for under $4k.
Breitling Cockpit B50
We will be the first to admit that we can all sometimes be a bit of a 'Quartz Snob' when it comes to the watch industry, but Breitling's B50 (as well as its other Superquartz siblings) have always been a bit of an exception to the rule. In this instance, the watch's quartz movement is not a cost-cutting measure in any way, but rather something that unlocks a whole host of features and complications that would not be possible with a mechanical timepiece.
The combination of a highly accurate caliber, loaded with a good number of practical complications (time zones, chrono, timer, alarm, etc), all packed into a proper Swiss made case – titanium in this instance – makes for another practical home run. It's basically the seriously upgraded G-Shock you never knew you needed.
Launched in 2018, it took less than a year for Breitling to rebrand this collection as the Aviator 8, and rightfully so. Cool as these pieces are, the Navitimer is a very distinct and historically significant model range that should never have been diversified.
Nomenclature aside, this Breitling Navitimer 8 chronograph is a fantastic watch. It's powered by the brand's in-house automatic chronograph caliber, measures a very versatile 43mm across, and it features a brushed steel 12-hour bezel insert that can be used either as a second time zone, or as an additional timing mechanism.
Breitling Superocean Heritage
When people think of Breitling they'll first think of aviation/pilot watches, and then maybe the brand's long standing collaboration with Bentley Motors. Somehow, the fact that the brand also produces dive watches is known, but they're often overlooked simply because it's never been the brand's specialty or raison d'etre.
In reality, no, they aren't on the same level of Rolex, Omega, or Blancpain when it comes to dive watch legacy, but the Superocean divers are still extremely well made and distinct in design. If you've had a dive watch on the brain but want something outside of the usual suspects, they're definitely an option worth considering.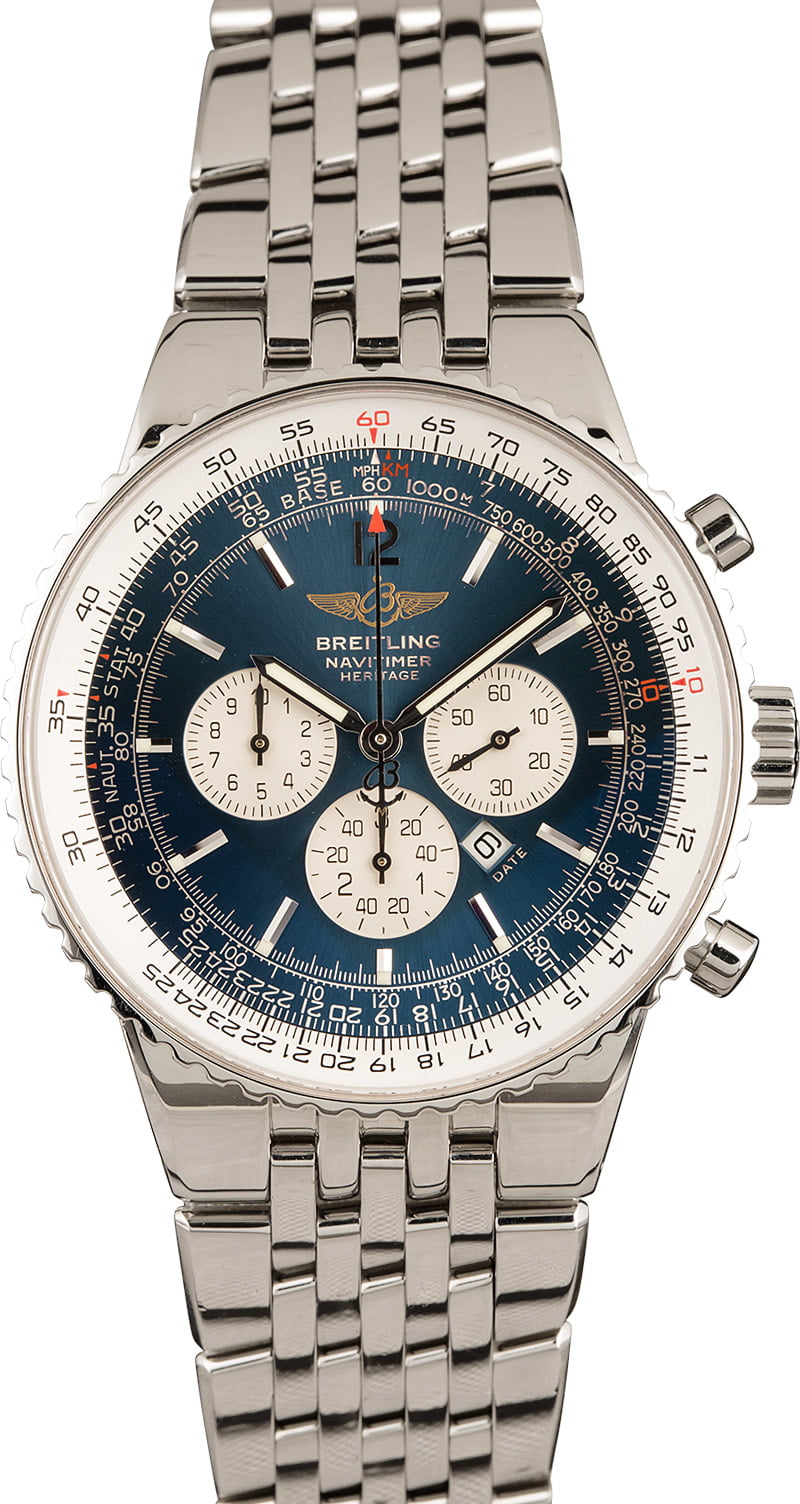 Of course a Navitimer had to be on this list. It's one of less than a dozen watches on the market that have semi-mainstream 'icon status' and a watch that is a true pillar of the Breitling existence. If there is one watch that is synonymous with the Breitling brand, it would be the Navitimer.
In this case, we mixed things up a bit. We opted for a blue dial rather than the more common black, a 42mm case size rather than the oversized 46, and a bracelet over a leather strap. It's the kind of combination that still stands out as obviously being a Navitimer, but also a variant that will make people stop and say "hey, you don't see them like that very often."