Rolex has always been at the top of the watchmaking pyramid in terms of quality, but not every creation that leaves its doors will have to cost you an arm and a leg. While more in-demand pieces like the Daytona and most recent Pepsi bezel GMT-Master II are still commanding a steep premium, there are others that can be had for a relative bargain. This is something you may want to consider when shopping Rolex price points.  That in mind, we're looking at four price categories in the Rolex spectrum, and what watches can be had for under $5k, $5-$10k, $10-$20k, and over $20k.
Under $5k
Even under five grand, you can find an interesting selection of pre-owned and vintage Rolex watches. They'll be cased in steel, and more often than not, these watches will be a bit more on the compact side (often 34-36mm case diameters).
Rolex Datejust ref. 1603
This late '70s Rolex Datejust is a quintessential example of what can be had in the sub-$5k price category. The reference 1603 is 36mm in diameter, and powered by the 1570 automatic movement. A clean example on a Jubilee bracelet like this one will still come in at a relative bargain, and what's more, during this era there were quite a few interesting and out-of-the-ordinary dial colors/textures, so you will have plenty of options to choose from.
Rolex Oyster Perpetual ref. 114200
This Rolex Oyster Perpetual is an odd one, but totally worth considering. The 34mm gem is effectively a strange hybrid of a modern Oyster Perpetual and an Explorer, in the best possible way. It's also one of the very few modern watches from Rolex that slides in under the $5k mark.
Rolex Air-King ref. 14010
Over the years the Air-King got a little weird, but this late '90s model is right up at the pinnacle. The 34mm steel piece has a unique style of an engine-turned bezel that helps set it apart from similar references fitted with more traditional smooth or fluted bezels. The addition of both applied block markers and Roman numerals on the dial helps make it especially distinct from its siblings too.
$5k – $10k
Once you get north of $5k, a good number of Rolex classics are in the running. Your options significantly expand to include those with larger case sizes (39+mm), and occasionally you'll see two-tone models in the running, in addition to those with stainless steel cases.
Rolex Datejust 41 ref. 116333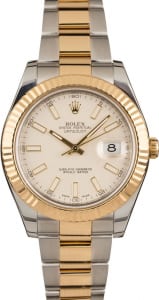 The Datejust II was a welcome addition to the Rolex line in 2009, as it bumped up the available case sizing of the Datejust to 41mm – more in line with contemporary preferences. This example comes in a classic color combo, but in a size that those with larger wrists will appreciate.
Rolex Explorer ref. 214270
As we mentioned, some of Rolex's modern classics come in well under $10k, including the current edition of the Explorer. In its latest guise, it is powered by the Caliber 3132 movement. In this form, you're looking at a 39mm steel case and bracelet, with the classic oversized 3-6-9 Arabic numerals that both the brand and collection have long been known for.
Rolex Submariner ref. 16610
Submariner watches continue to spike in value, however, certain references are still available in the $5-$10k range. The Rolex Submariner 16610 is the last of the pre-ceramic subs, and this example comes from the tail end of production (card dated to late 2007). For some, the matte finish of an aluminum bezel insert has more appeal than the ceramic option, making this piece an ideal option.
$10k – $20k
Once you get north of $10k even more options open up, including a few pieces that are in especially high demand in the market these days.
Rolex Sky-Dweller ref. 326933
Currently holding the title of the most complex Rolex model on the market, the Sky-Dweller is a unique spin on the classic GMT complication in a more dressy package than its tool watch siblings. At 42mm, it's also one of the larger Rolex watches on the market.
Rolex GMT-Master II ref. 126710BLNR
The Batman GMT on Jubilee bracelet is a future classic, and even in prior Oyster bracelet configuration, it can be difficult to come by. Sure, some are still hooked on the Pepsi bezel version of the GMT-Master II, but the Batman offers a slightly more versatile color profile.
Rolex Day-Date ref. 118238
It may come as a surprise, but the Rolex President in solid gold can still be had for under $20k. This yellow gold model fitted with a champagne dial is reminiscent of the earliest versions of the Rolex Day-Date, and it will remain timeless for decades to come.
Over $20k
Once you get north of $20k, things start to get interesting, as you start to not only see the best of the brand's modern offerings but classic vintage collectibles as well.
Rolex GMT-Master ref. 1675
Rather than chasing the new modern Pepsi GMT, it's time to get on the vintage bandwagon, as pieces like this '60s GMT-Master continue to appreciate in value. It's not a bakelite bezel GMT, and it pre-dates the quick-set date and independently adjustable hour hand, but this example is a vintage classic in pristine condition.
Rolex Daytona ref. 116500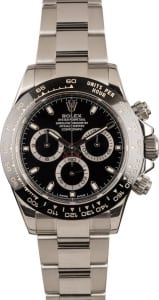 Of course, the modern Daytona had to be on this list. These consistently trade hands north of $20k, and remain damned near impossible to get your hands on via an authorized Rolex dealer. The combination of the modern Rolex Caliber 4130 and Cerachrom ceramic bezel continue to make this Daytona "the one to have" among collectors around the world.
Rolex Day-Date ref. 228206
Last but not least, you can't get much more of a statement piece than a platinum Day-Date. Its textured ice blue dial is unlike anything else in the Rolex catalog, and this version is fitted with the brand's new-generation Caliber 3255 automatic movement. For more information on this ultra-premium luxury timepiece, watch our YouTube video on the history of the Rolex Day-Date President right here.