We get a lot of exciting luxury timepieces coming into the Bob's Watches vault each week. Recently, we received a couple Rolex Submariner watches with diamond and sapphire 'serti' dials that you just don't see all that often these days – especially because they are no longer an option for the collection.
These watches are unapologetically luxurious while still remaining entirely sporty and great fun to wear. Rolex has been known to make small numbers of gem-encrusted versions of the Submariner; however these watches are not actually part of Rolex's regular lineup. So, it got us thinking – and digging through the vault to find some of our favorite and most luxurious, standard-production Submariner watches. We hope you enjoy them as much as we do!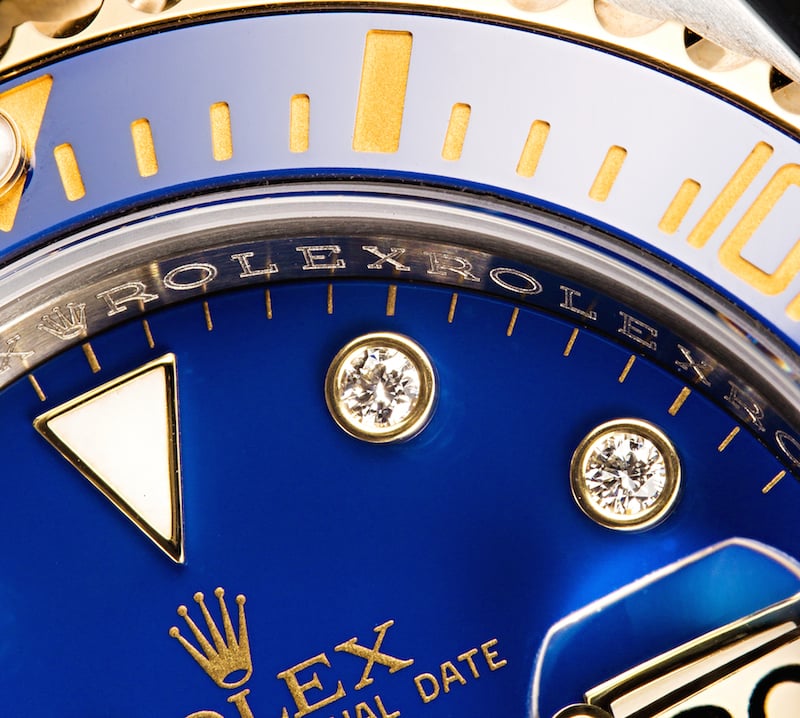 The Most Luxurious Standard-Production Rolex Submariner Watches
Diamond and Sapphire 'Serti' Dial
These are the serti dial Submariner watches that really inspired us to write this piece. It's not often you see a dive watch outfitted with glitzy, glittery stones, and we just love how the diamonds and sapphires still retain the different shapes of the hour markers on the classic Submariner dial. These luxurious serti dials can be found in either champagne or slate, and on two-tone and solid gold Submariner watches with either black or blue aluminum bezels.
Solid Yellow Gold Submariner
This solid 18k gold Rolex Submariner ref. 116618LN is the epitome of a luxury sports watch. It has all the same tool-watch features of the stainless steel model, such as a Cerachrom ceramic bezel and a water resistance rating of up to 1,000 feet, making it just as capable as it is stylish and luxurious. Just like the two-tone version, you can have the choice of a black or blue dial, and that black dial with yellow gold outlined luminous plots will look just as good on your wrist at an event as it would while diving on your next adventure.
Solid White Gold "Smurf"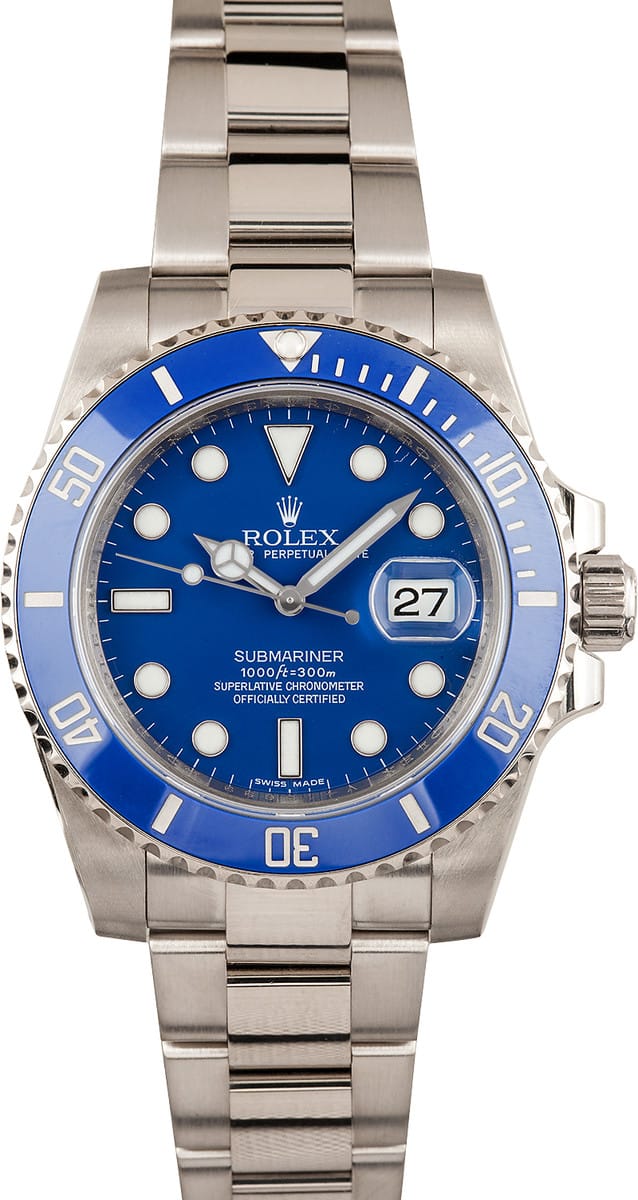 Just like the ref. 116618LN we listed above this reference 116619 is from the current generation of Rolex Submariner watches, and is crafted from solid 18k gold. However, instead of yellow gold, the reference 116619 is constructed entirely from white gold, which comes at an additional premium in price. Additionally, while you have the option of either black or blue with the yellow gold model, the white gold Submariner 116619 is exclusively offered with a flat blue dial (rather than sunburst) and matching blue Cerachrom ceramic bezel, which has earned it the nickname the "Smurf" among collectors.
Ceramic Bezel and Diamond 'Serti' Dial
The introduction of the ceramic bezel to the Submariner collection was accompanied by a number of other changes to the case and bracelet. The new two-tone Submariner ref. 116613 watches were still offered with the option of 'serti' dials; however they no longer featured sapphires at the 6, 9, and 12 o'clock locations, and instead and traditional luminous hour markers, alongside the diamonds at the remaining locations. While this generation of serti dial Submariner watches lost 3 sapphires on its dial, it picked up a completely redesigned bracelet with solid 18k gold center links, a new case with thicker lugs, and Rolex's proprietary Cerachrom ceramic bezel.
Vintage Exclamation Glossy Gilt Dial
This vintage Submariner ref. 5512 boasts such a high value because of its uniqueness and rarity, rather than its outright luxurious appearance or construction. Dating all the way back to 1961, this watch is oozing with history and unique characteristics. It features exciting details like a glossy gilt dial, as well as a rare exclamation mark (an incredibly rare trait indicating the switch in luminous material) – which you can see with the rectangular hour marker at six o'clock and the circular plot underneath it. The age, along with all of these vintage and rare features, makes this one of the most sought-after, expensive, and therefore luxurious standard-production Rolex Submariner watches you can own today.