The legendary watchmaking goliath now known as Patek Philippe has been in existence in one form or another since 1839.
Initially headed up by a Polish cavalryman named Antoine Norbert Patek de Pradwdzic, he joined with the French horologist, Jean Adrien Philippe in 1845, becoming partner in the new firm of Patek, Philippe & Cie in 1851. (It took until 2009 for them to drop the comma, becoming simply 'Patek Philippe').
Owned in its entirety by the Stern family since 1932, Patek Philippe is now regarded as one of the 'Holy Trinity' – taking up a third share of the most prestigious timepiece manufacturers that Switzerland has to offer, alongside Vacheron Constantin and Audemars Piguet.
As you might expect, a manufacturer that has been in the game for more than 180-years will have made plenty of changes to its creations over all that time. Some of the watches that Patek still builds today have been in its collection for generations, gradually progressing and evolving as times and technologies advance.
So, we have put together this historical guide to document just what form these transformations have taken, and to see the differences between the earliest and most recent examples of some of the finest watches in the world.
Click here for our Ultimate Buying Guide on Patek Philippe.

About The Patek Philippe Catalog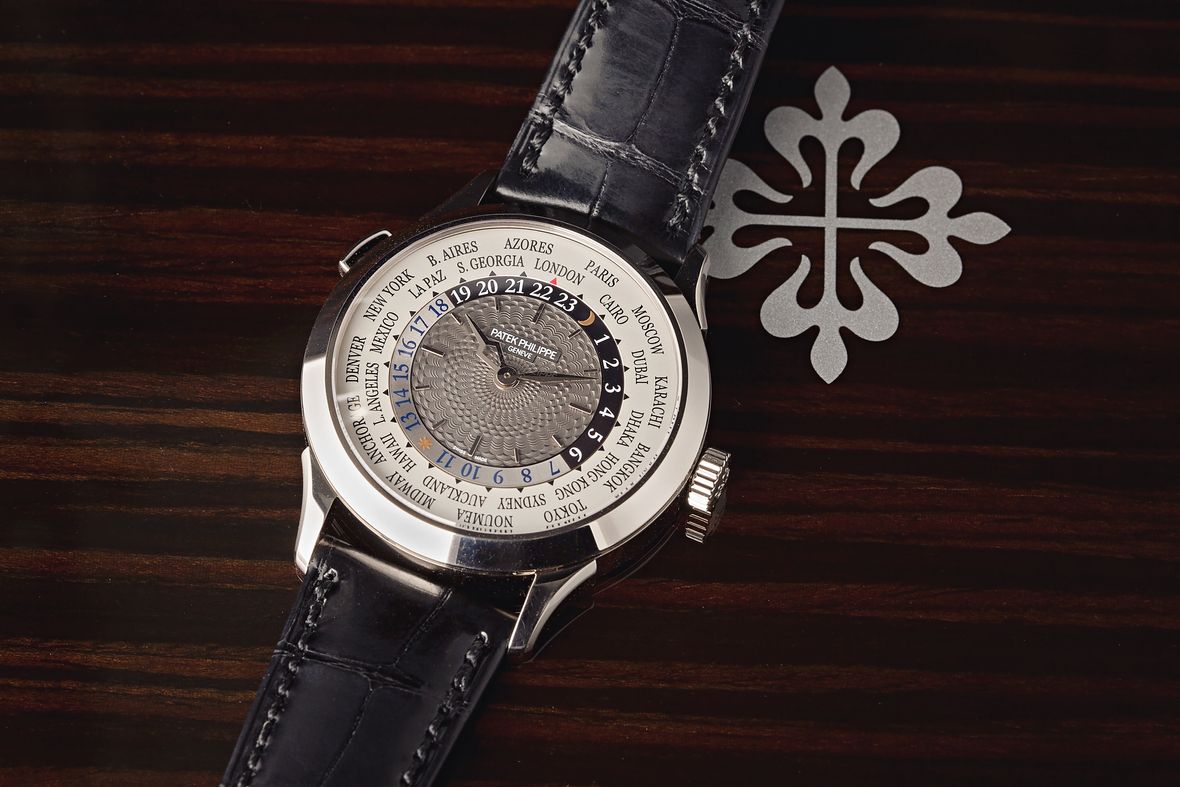 Patek Philippe Watches
The current catalog of Patek Philippe wristwatches comprises eight individual families. Within them, you will find everything from the simplest two-handers ranging through to some of the most complicated models in the entire watch industry.
The oldest model name in the portfolio, the Calatrava, has been there since 1932 when the Stern's took control. Meanwhile, the latest addition, the Twenty~4, joined the lineup in 1999. However, the Complications and Grand Complications collections include pieces that can trace their lineage back even further; Patek unveiled its first-ever minute repeater, for example, as early as 1916.
Below, we take a look at each specific group in turn.
Patek Philippe Calatrava
If there was a dictionary definition for the term 'understated elegance' it would simply be a picture of a Patek Philippe Calatrava.
Minimalist, bordering on the humble, the Calatrava has been the brand's most commercially successful offering for decades thanks to its combination of flawless aesthetics, faultless engineering, and (crucially) its availability. In the same way that a Rolex AD usually has a Datejust in the window (and little else) the Calatrava is Patek's most accessible model.
It all started in 1932 with the introduction of the Reference 96. Dreamt up by Jean and Charles Henri Stern upon gaining a controlling interest in the financially fraught Patek, Philippe & Cie, the brothers knew they needed something a little more mainstream than the brand's usual models in order to get some much-needed funds into the company.
The David Penney-designed Reference 96, with its sumptuously rounded 31mm case and form-following-function, Bauhaus-derived styling quickly became the blueprint for what a gentleman's wristwatch should look like, in an era where the pocket watch was still very much the norm.
As a result, it stayed in production all the way up to 1973 and gave birth to a myriad of variations. While the original had a small sub-dial for the running seconds, other versions of the ref. 96 had either a central seconds hand or even no seconds indication at all. Different dials included a pilot's model with extra-large numerals, along with sector dials that were divided into inner and outer concentric circles.
Through the years, almost every Patek Philippe Calatrava model has followed the basic visuals of the Reference 96 because, well, why wouldn't they? Case sizes have fluctuated, some even getting up to 40mm+, with the occasional subtle difference, such as the more angular, sporty Reference 565.
Other standout references include:
– Ref. 2526, the first Calatrava with an automatic movement (1953).
– Ref. 3520, the first appearance of the iconic Clous De Paris hobnail bezel.
– Ref. 3960, made to commemorate Patek's 150th anniversary in 1989 and was the first Officer style Calatrava with straight lugs, turban crown, and Hunter-style hinged caseback.
As for the modern range, it contains a mix of some of the best historic models, given modern-day updates. The ref. 5196-001 is a virtual carbon copy of the debut piece, albeit in 37mm, available in either yellow, rose or white gold.
The ref. 6119-001 features the guilloche bezel of the vintage ref. 3520, while the ref. 7200R-001 is a reimagining of the anniversary Office style model, this time without the hinged back. The top of the range is the ref. 5088/100P, a stunning platinum piece, with a hand-carved black enamel dial decorated with interlacing arabesque scrolls.
Buying a Patek Calatrava
Highly renowned or not, the Calatrava remains one of the most affordable models in Patek's arsenal.
Pre-Owned Vintage Examples
Approx. Starting Price:
– Ref. 96—$10,000+
– Ref. 2526—$35,000+
– Ref. 3520—$10,000+
– Ref. 3960—$25,000
Current Range Examples
Retail Price:
– Ref. 5196J-001—$24,600 (Starting pre-owned price—$24,000 approx.)
– Ref. 6119-001—$30,500 (Starting pre-owned price—$34,000 approx.)
– Ref. 7200R-001—$31,500 (Starting pre-owned price—$22,500 approx.)
– Ref. 5088/100P—$102,500 (Starting pre-owned price—$108,000 approx.)
Patek Philippe Nautilus
One of the most important timepieces ever made, the Patek Philippe Nautilus emerged in 1976. A retaliation to the Audemars Piguet Royal Oak launched four years earlier and designed by the same man, the Nautilus joined the newly conceived genre of the luxury sports watch.
The brainchild of the legendary Gerald Genta, recognized as arguably the greatest watch designer of all time, the Nautilus took its name from the ship in Jules Verne's classic '20,000 Leagues Under the Sea' and its inspiration from the look of an ocean liner's porthole; the angular case forged into its integrated bracelet, finished off with a horizontally grooved dial resembling the teak decking of a lavish sailing yacht.
The debut piece, the 42mm ref. 3700-1A, was possibly the most disruptive watch that Patek Philippe had ever made. A brand that is known for its conservative elegance and almost exclusive use of precious metals, unleashing a stainless steel octagonal sports watch with strange 'ears' on either side, caused an uproar. Doubling down on the controversy, they then topped it off with a price tag usually reserved for solid gold dress pieces. 'One of the World's Costliest Watches is Made From Steel' trumpeted the unrepentant ads.
However, with the AP Royal Oak paving the way, taking much of the sting out of the shock of the new, the Nautilus hit the ground running. The ref. 3700 stayed in production until 1990 and, like the Calatrava ref. 96, went through plenty of editions. Yellow or white gold versions appeared, as well as two-tone gold and steel models.
The 1980s saw the smaller 37.5mm ref. 3800 arrive, as well as two quartz models; the 33mm ref. 3900 and the ladies ref. 4700, measuring just 27mm. After that, the Nautilus received its first complication in 1998 with the ref. 3710, complete with power reserve indicator.
Today, the Patek Philippe Nautilus collection is some 31 models strong, more than half of them simple time-and-date watches, while the remainder includes moonphase, chronograph, travel time, and perpetual calendar examples.
Buying a Patek Nautilus
The esteem in which the Nautilus is held, coupled with the extreme lack of availability (current waiting lists for the most in-demand models are rumored to be around 10-years) means that prices for this slice of horological celebrity often reach the absurd.
Pre-Owned Vintage Examples
Approx. Starting Price:
– Ref. 3700-1A—$80,000-$450,000+
– Ref. 3800—$35,000-$300,000+
– Ref. 3900—$30,000-$40,000
– Ref. 4700—$10,000-$45,000
Current Range Examples
Retail Price:
– Ref. 5711/1A—$35,200 (Starting pre-owned price—$100,000 approx.)
– Ref. 5726/1A—$50,270 (Starting pre-owned price—$120,000 approx.)
– Ref. 5990/1A—$59,140 (Starting pre-owned price—$140,000 approx.)
Patek Philippe Aquanaut
Although the Nautilus may have been groundbreaking and radical on its release, over the ensuing 45-years it had become so ubiquitous that it was starting to be seen as a watch only for the seasoned collector. It lacked the freshness and pioneering spirit that had made it famous in the first place and Patek was in need of something to bring in a younger, hipper audience.
Enter the Aquanaut. Described in some circles as the Nautilus Junior, the Aquanaut was unveiled in 1997 and brought a modernized aesthetic to the idea of the luxury sports watch, keeping many of the best design cues of its bigger brother, while introducing pleasing quirks of its own. So, while the case was still a rounded octagon, the hinged ears were dispensed with and the original references were fitted on a rubber strap featuring a raised pattern that was mirrored on the dial to give the whole thing a sense of cohesion.
The first model, the ref. 5060A, measured 35.6mm. Smaller than the equivalent Nautilus of the time, it was nevertheless a robust and trendier proposition. Additionally, with its screw-down case back giving it 120m of water resistance, and that rubber strap constructed of more than 20 different materials to give it the ultimate protection against deterioration in saltwater or UV light, it was also a far more practical sports watch than its older sibling.
Following on from the debut model, in 1998 Patek Philippe released the quartz-powered ref. 5064, at an even smaller 34mm, along with a ladies version, the ref. 4960. That year also saw the ref. 5065 released, in the largest yet 38mm guise.
Since then, the Aquanaut has continued to grow, both physically and in popularity. The modern range has 13 pieces, all but one sitting on the rubber 'Tropical' strap, and the majority coming in at 40mm+. Mainly time-and-date models, there are also a handful of chronographs and travel time references.
Buying a Patek Aquanaut
Theoretically, the Aquanaut series is one of the most affordable of all Patek's collections. The cheapest, the steel ref. 5167A, retails for around $21,650 for example. However, just as with the Nautilus, availability has become extremely limited and so preowned prices are skyrocketing.
Pre-Owned Vintage Examples
Approx. Starting Price:
– Ref. 5060A—$38,000
– Ref. 5064A—$27,000
– Ref. 5065A—$42,000
Current Range Examples
Retail Price:
– Ref. 5167A—$21,650 (Starting pre-owned price—$72,000 approx.)
– Ref. 5164A—$39,030 (Starting pre-owned price—$90,000 approx.)
– Ref. 5968A—$49,680 (Starting pre-owned price—$150,000 approx.)
Patek Philippe Complications
As the manufacturer to bring us the first-ever perpetual calendar and the first-ever annual calendar wristwatches, Patek Philippe has long been at the forefront of industry innovation.
What may come as a surprise is that the brand's perpetual calendar, the more complex of the two, emerged in a wristwatch for the first time in 1925, while Patek Philippe didn't produce its debut annual calendar until 1996.
Over the years, the Patek Philippe name has become synonymous with highly intricate timepieces, and they have continued to lead from the front. The manufacturer brought us the very first annual calendar chronograph (the ref. 5960) in 2006 and that piece is still in the lineup today.
Many of Patek's earliest complicated models, such as the ref. 2523 from its now-highly celebrated World Timers range, shoehorned the additional mechanisms required into Calatrava cases. That is also true of the contemporary series. The majority of the 35 watches in the collection have the signature gracefully rounded form in varying sizes.
As for the complications themselves, you can take your pick from Weekly Calendars, Flyback Chronographs, Pilot Travel Time (dual time zone watches), and a range of modern World Time and World Time Chronograph pieces, all in a selection of metals that range from steel to platinum.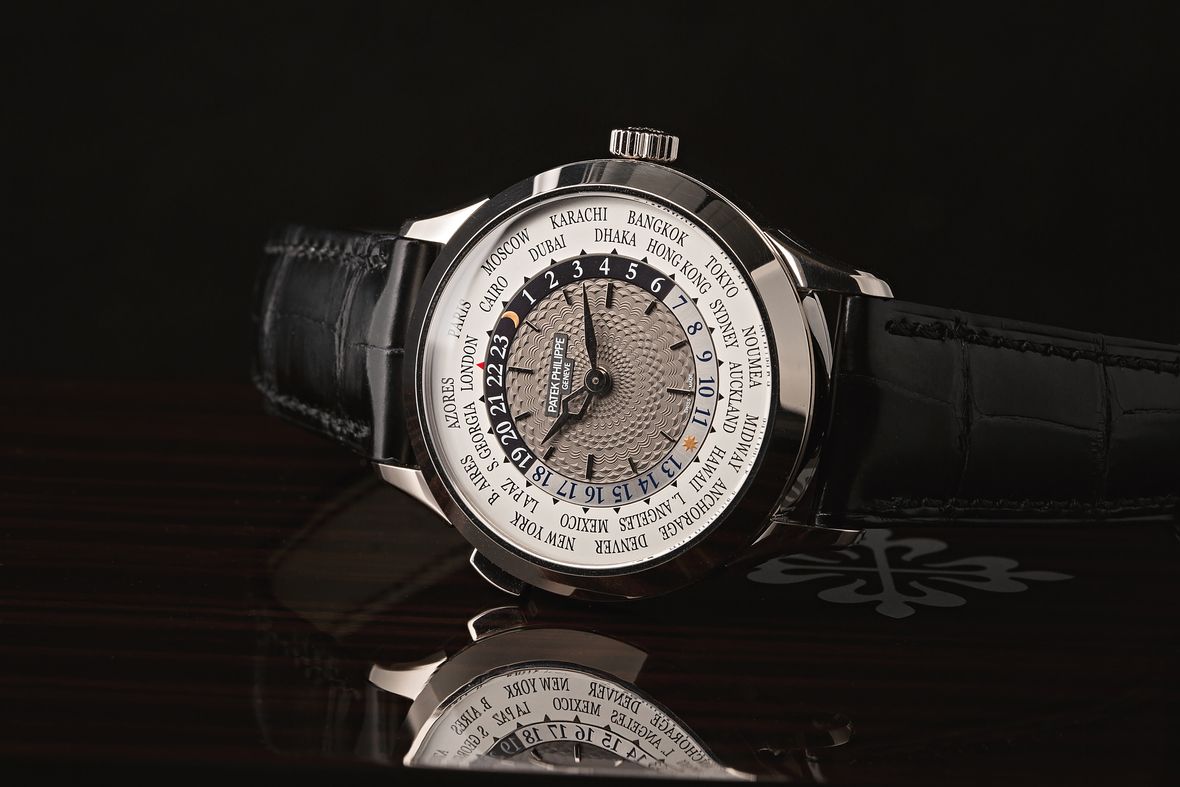 Buying a Patek Complications
As you might expect, with the incredible amount of work that goes into creating one of these models, coupled with their (mostly) precious metal construction, the Patek Philippe Complications collection is a pricey one. However, vintage examples can still be had for unexpectedly reasonable sums.
Pre-Owned Vintage Examples
Approx. Starting Price:
– Ref. 5146J (Moon Phase)—$42,500
– Ref. 5035J (Annual Calendar)—$22,500
– Ref. 5496P (Perpetual Calendar)—$75,000
Current Range Examples
Retail Price:
– Ref. 5212A—$35,480 (Starting pre-owned price—$47,000 approx.)
– Ref. 5905R—$53,460 (Starting pre-owned price—$62,000 approx.)
– Ref. 5930G—$79,250 (Starting pre-owned price—$60,000 approx.)
Patek Philippe Grand Complications
If the Complications range is impressive, the Patek Philippe Grand Complications collection is perhaps the ultimate expression of the watchmaker's art.
The brand has been responsible for making the most complicated watch in the world several times. In 1933, the Henry Graves Jr. Supercomplication pocket watch (named for the millionaire New York banker who commissioned it) crammed 24 functions inside its 1lb shell, including a minute repeater, sidereal time, and celestial chart. It sold at auction in 2014 for $23,984,106, making it the most expensive timepiece ever sold at the time.
In 1989, on the occasion of Patek Philippe's 150th anniversary, the manufacturer brought out the Caliber 89 Grand Complication. Taking nine years to design and produce, it housed a 1,728 component, four-level movement powering 33 complications, with grand and petite sonnerie, alarm, thermometer, and a 2-minute tourbillon among them. Patek actually made four versions of the Caliber 89, one in each flavor of gold along with a platinum piece, with the yellow gold example selling for nearly $5m back in 2009.
Then, on the 175th birthday of the brand in 2014, Patek Philippe unveiled the Grandmaster Chime, a 47mm wristwatch featuring 20 complications, with date repeater, second time zone, and perpetual calendar all in there somewhere. It sold in 2019 for $31.2m, overtaking the Henry Graves for the title of most expensive watch of all time.
The 'standard' Grand Complications range (if you can even call it that) is an extraordinary series of exquisite timepieces. There is a whole selection of perpetual calendars, incorporating those with additional retrograde date complications and chronographs (including split-seconds monopusher), along with stunning astronomical models and fully skeletonized minute repeaters that are accessible only to the inordinately wealthy.
Buying a Patek Grand Complication
The Grand Complication collection is, unsurprisingly, Patek's most expensive. Nevertheless, while you will be unlikely to find anything you could describe as a bargain, there is still a wide variation in price, both in the new and vintage sectors.
Pre-Owned Vintage Examples
Approx. Starting Price:
– Ref. 5040A (Perpetual Calendar)—$28,000
– Ref. 3945 (Perpetual Calendar)—$35,000
– Ref. 3970J (Perpetual Calendar)—$100,000
Current Range Examples
Retail Price:
– Ref. 5370P—$274,410 (Starting pre-owned price—$215,000 approx.)
– Ref. 5520P—$309,890 (Starting pre-owned price—$250,000 approx.)
– Ref. 6102R—$311,080 (Starting pre-owned price—$220,000 approx.)
Patek Philippe Golden Ellipse
A range stemming from 1968, Patek actually drew on a 2,000-year-old principle of aesthetic proportion to create and name its Golden Ellipse watches.
The brand took its lead from Euclid's discovery of the Golden Section around 300BC. Described as being the perfect point at which to divide a line into imbalanced but harmonious lengths, it was later cemented by Renaissance mathematician Luca Pacioli as the ratio of 1 to 1.6181. Patek took this as the basis when designing the Golden Ellipse, creating an elongated circular case unlike anything else in its portfolio.
An instant hit, the series captured the imagination for its unique shape, its chic sophistication, and its unisex appeal. As with the Calatrava range, the Ellipse has retained its basic form for the half-century or so it has been included in the Patek lineup. Some vintage pieces feature slightly altered profiles, with more cushion-shaped models or the standard shape rotated 90 degrees to be wider than it is tall.
However, all Patek Philippe Golden Ellipse watches retain a natural elegance determined by their Euclidean geometry, and the modern series remains a highly sought-after example of beautifully realized dress watch design.
Buying a Patek Golden Ellipse
The current crop of Patek Philippe Golden Ellipse models houses only three watches; one in platinum with blue dial, another in rose gold with black dial, and a very special white gold example with a hand-engraved Arabesque face similar to that found on the Calatrava ref. 5088.
All are driven by self-winding mechanical movements, but on the vintage market you will find a number of quartz-powered pieces, and these are some of the least expensive Patek Philippe watches available.
Pre-Owned Vintage Examples
Approx. Starting Price:
– Ref. 3838 (Quartz)—$7,000
– Ref. 3581—$8,000
– Ref. 3948—$12,000
Current Range Examples
Retail Price:
– Ref. 5738R—$34,070 (Starting pre-owned price—$27,000 approx.)
– Ref. 5738P—$55,830 (Starting pre-owned price—$45,000 approx.)
– Ref. 5738/51G—$74,720 (Starting pre-owned price—$75,000 approx.)
Patek Philippe Twenty~4
The Twenty~4 series is believed to be Patek's best-selling collection currently, and it's the brand's first-ever series created exclusively for women.
Unveiled in 1999, making it also the most recent addition to Patek's catalog, the Twenty~4 started out with an assortment of Cartier Tank-like models with cambered rectangular cases in either steel or any of the three colors of gold. The design ethos of the model was to be versatile enough, as the name suggests, to be worn all day and on any/all occasions.
Those original pieces were all quartz-powered and featured distinctive bracelets with an integrated appearance. However, in 2018, Patek added to the range by bringing in more traditional rounded versions, all with automatic mechanical movements.
While these new models share some design cues with the initial run of Twenty~4 watches (mainly in the style of bracelet), there are far more differences than similarities.
Firstly, the rectangular models measured just 25.1mm x 30mm and were simple two-handed timekeepers. The new circular range is all 36mm and includes a seconds hand and a date function. And then there's the expense. The latest pieces are more than twice the price of the quartz watches, with the combination of the self-winding movement, extra features, and the setting of 160 diamonds into their bezels dramatically increasing their value.
Regardless, the Patek Philippe Twenty~4 has always been, and remains, a huge hit for the brand, and the pre-owned market is the perfect place to pick one up for a surprisingly low amount.
Buying a Patek Twenty~4
Both types of Twenty~4 watches are striking in their own way, and each has enough variety in dial color and materials to cater to most people's tastes. As with everything Patek Philippe does, elegance and style are always at the forefront, and with the original rectangular versions especially, you will try for a long time to find any watch with as much sophistication for less money
Pre-Owned Examples
Approx. Starting Price:
– Ref. 4910 (Steel, Quartz)—$7,500
– Ref. 4907 (Yellow Gold, Quartz)—$8,000
– Ref. 4920 (White Gold, Quartz)—$12,000
Current Range Examples
Retail Price:
– Ref. 7300-1200—$27,800 (Starting pre-owned price—$22,400 approx.)
– Ref. 7300-1200R—$48,500 (Starting pre-owned price—$37,200 approx.)
Patek Philippe Gondolo
Like walking through Patek's own museum, the Gondolo collection is where the brand houses its 'form' watches – that is, those with non-round cases.
Although the range only originates from the 1990s, each one has drawn on some of the earliest vintage examples for their styling, and mainly from the Art Deco era.
As for the unusual name, that stems from Gondolo & Labouriau, a jeweler in Rio de Janeiro, Brazil with whom Patek enjoyed a long and profitable relationship between 1872 and 1927. The relationship between the two brands was so strong that at one point in time, the store purchased approximately a third of the manufacturer's total output.
Over the years, the Patek Philippe Gondolo collection has seen some beautifully offbeat models, all with refreshingly eccentric profiles. Interestingly, the ref. 4824 and ref. 4825 from 1993 served as the inspiration for the Twenty~4 series, with their rectangular case silhouette.
Today, the seven-strong assortment is a mixture of various unconventional structures, from small cushion-shaped pieces to elegantly curved tonneau models, all awash with flawless diamonds.
Buying a Patek Gondolo
The Patek Philippe Gondolo collection, past and present, contains both quartz and mechanical watches. As such, prices vary widely and it is possible to obtain one of these fine pieces for far less than you might imagine.
Pre-Owned Examples
Approx. Starting Price:
– Ref. 4824 (Quartz)—$7,000
– Ref. 5014—$8,000
– Ref. 4980—$12,000
Current Range Examples
Retail Price:
– Ref. 7041R—$34,600 (Starting pre-owned price—$34,000 approx.)
– Ref. 7042/100G—$225,700 (Starting pre-owned price—$165,000 approx.)
– Ref. 7099G—$121,900 (Starting pre-owned price—$90,500 approx.)
* Additional images courtesy of Patek Philippe.