When it comes to luxury watches, you will frequently find that it is vintage models that are considered to be the most collectible, which also means that they can often be the most expensive. Concerning vintage OMEGA watches, a similar scenario exists and certain incredibly rare examples have been known to sell for hundreds of thousands of dollars, and some have even been known to break the million-dollar mark.
However, not all vintage Omega watches are worth a fortune. In fact, some vintage models rank among the most affordable OMEGA watch options from the brand that are currently available, and these budget-friendly models make excellent points of entry into Omega ownership. With that in mind, there is one particular vintage Omega watch that is almost always considered collectible, and even the most beat-up and inauspicious examples are generally still worth a decent chunk of change. Enter the Omega Speedmaster Moonwatch.
Vintage Omega Speedmaster Moonwatch
Vintage Speedmaster Watches w/ Cal. 321 Movements
– Reference 2915
– (circa 1957 – 1959)
– Reference 2998
– (circa 1959 – 1963)
– Reference 105.002
– (circa 1962 – 1964)
– Reference 105.003
– (circa 1964 – 1969)
– Reference 105.012
– (circa 1964 – 1968)
– Reference 145.012
– (circa 1967 – 1969)
View our Ultimate Buying Guide on Omega Speedmaster.

About Vintage Omega Watches
Omega is easily one of the most famous luxury watch manufacturers in the world, and the brand is one of the very few Swiss watch companies that could truly be considered a household name. Known for everything from being the watch of choice for James Bond to the Official Timekeeper of the Olympic Games, Omega has a long and rich history that dates all the way back to 1848, and the brand boasts one of the largest and most diverse back-catalogs of any luxury watch manufacturer.
A big part of the reason why Omega has managed to endure throughout the years is due to the fact that the brand has been able to adapt to the ever-changing times. During the Quartz Crisis of the 1970s and 1980s, increased competition from Asian-made timepieces with quartz movements caused a massive upheaval in the Swiss watch industry, and countless historic mechanical watch manufacturers went bankrupt or were acquired and consolidated by large financial holdings companies.
Omega was one of the earliest Swiss brands to embrace the then-new quartz movement technology, and this willingness to adapt with the times has been a trait that has defined the brand for the last several decades. Consequently, Omega has produced an astonishingly wide variety of timepieces throughout the years, and vintage Omega watches can take on countless different shapes and forms. Some models are entirely classic and traditional, while others offer unique designs that are entirely emblematic of the era in which they were produced.
Vintage Doesn't Always Mean Expensive
Omega has always made high-end watches, but the brand's offerings have always been diverse enough that not all of its models were so staunchly luxurious that they could only be worn by the very wealthiest of individuals. Omega has supplied watches to various nation's military branches, and alongside exclusive gemstone-encrusted models crafted from precious metals, Omega also produces humble and reliable stainless steel watches that can easily serve as the one quality timepiece that a person owns and wears every single day of their life.
Due to this diversity in models, an incredibly wide range of values exists when it comes to the prices of vintage Omega watches on the open market. Those crafted from precious metals will always be worth a decent amount (at an absolute minimum, they will never be worth less than the value of their raw materials), and certain well-preserved examples of rare or highly collectible references can easily be worth more than six figures.
There does exist somewhat of a price floor beyond which you aren't likely to find any models available for sale. Simply put, due to the high quality of Omega watches and the general notoriety of the brand itself, there will always be a buyer if prices are low enough. With that in mind, on the low end of the price spectrum, you can often find certain vintage Omega watches for less than $1,000 – which represents a phenomenal value proposition considering you are getting a vintage timepiece from one of the world's most celebrated manufacturers.
Which Vintage Omega Watches Are Collectible?
When it comes to collecting vintage watches, seldom are there any blanket rules and nearly every general guideline comes with its own list of caveats and exceptions. For example, a vintage Omega Seamaster dress watch is one of the most affordable vintage Omega models currently available on the pre-owned market. However, a vintage Omega Seamaster dive watch can easily be worth more than $10k.
Additionally, while some vintage Omega dive watches like the Seamaster 300 ref. CK2913 (the brand's very first purpose-built diver from 1957) can easily be worth values in excess of $20,000, other vintage Omega dive watches such as the Seamaster 120 typically trade hands for values that are less than 1/10th of that. Similarly, while vintage Omega dress watches are generally rather affordable, one of the most expensive Omega watches ever sold was a vintage dress watch from 1947 that was fitted with a prototype tourbillon, and that particular example brought in more than $1.4 million at an auction in 2017.
Despite the numerous inconsistencies and exceptions concerning the collectability of vintage timepieces, one blanket rule that almost always remains true is that vintage Omega Speedmaster watches consistently rank among the most desirable and collectible of the brand's timepieces (vintage or modern). Additionally, among the numerous vintage Speedmaster references, it is the very earliest models – the ones fitted with the legendary Caliber 321 movement – that are consistently regarded as the rarest, the most desirable, and generally the most expensive.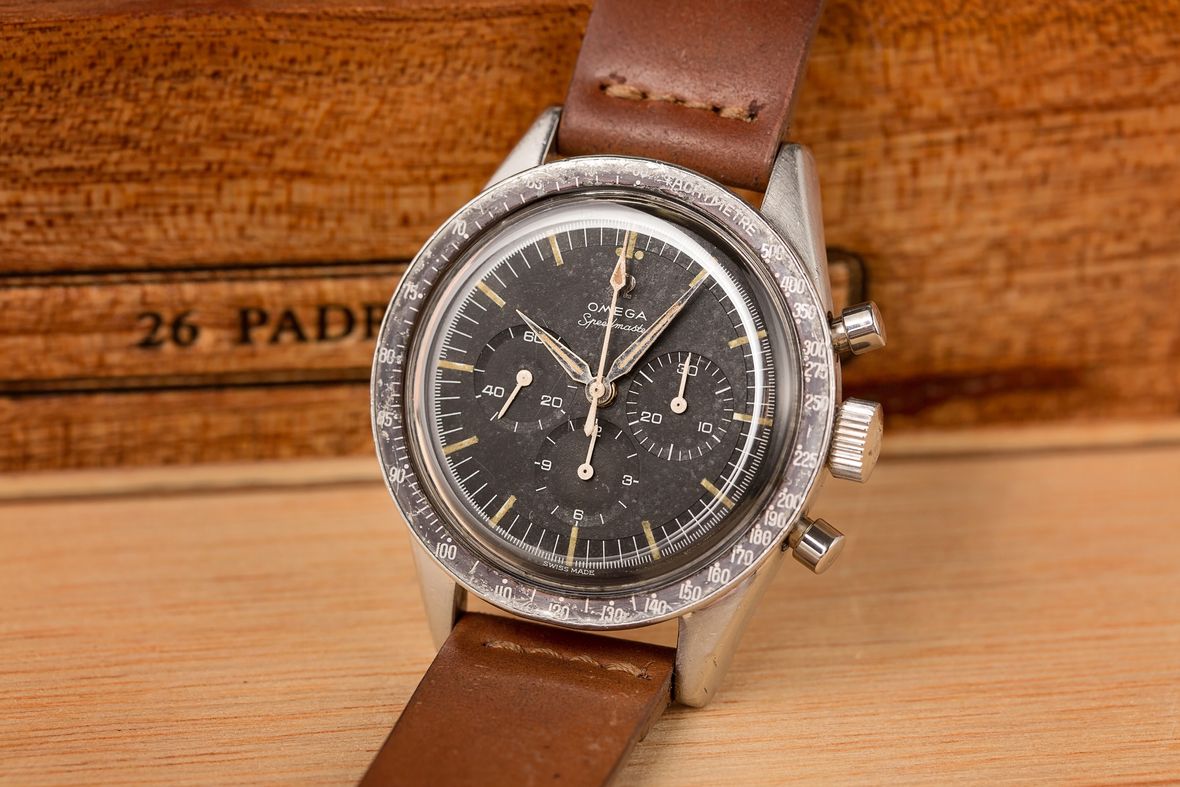 Vintage Omega Speedmaster Watches
Omega has been producing watches since 1848 and the historic Swiss manufacturer is responsible for the creation of numerous models that are instantly recognizable all around the globe. However, above all of its other important and celebrated timepieces, it is the classic Omega Speedmaster Moonwatch that holds the title of being the brand's most famous and collectible model of all time.
First launched in 1957 alongside the brand's very first dive watch (the Seamaster 300) and first antimagnetic scientist's watch (the Railmaster), the Omega Speedmaster was a chronograph wristwatch originally designed for the world of competitive automotive racing. However, the watch's racing chronograph origins were soon eclipsed by its newfound associations with space exploration, when astronaut Wally Schirra wore his personal Omega Speedmaster during the 'Sigma 7' mission in 1962.
Two and a half years after first reaching outer space, the Omega Speedmaster had become flight-qualified by NASA for all manned space missions and in 1969, the Speedmaster became the first watch worn on the surface of the moon. To this day, the original manual-wind Omega Speedmaster remains the only watch to ever be certified both for space flight and EVA (use outside of a spacecraft) and although it has undergone numerous improvements and refinements over the years, its core design has remained largely unchanged and it is widely regarded as one of the true icons from the world of horology.
Why the Omega Speedmaster Is the Most Collectible Vintage Omega Watch
The Omega Speedmaster boasts a history and pedigree that few other timepieces (Omega or otherwise) can match. The Seamaster is the Omega collection that typically lends itself to the James Bond franchise and it is also the one that most frequently serves as the platform for Omega's various limited editions and collaborations. However, mention the word "Omega" to any die-hard watch enthusiast, and it will likely be the Speedmaster that first comes to mind.
Beyond its history and space-travel associations, a big part of the Omega Speedmaster's appeal is its design. The perfect blend of refinement and functionality, the core aesthetic of the Speedmaster has remained largely unchanged for more than half a century. As a testament to its timeless appeal, not once has the Speedmaster ever looked out of place or outdated during that time, and the classic manual-wind Moonwatch is arguably more popular and revered today than ever before.
The Omega Speedmaster was the only watch to pass NASA's rigorous tests during the 1960s, and being chosen as the timepiece trusted enough for space travel is about the best stamp of approval that any watch could ever receive. Vintage examples of the watch now represent an era in which the mechanical timepiece was regarded as a true tool and an item of necessity, and it is this connection to the golden era of the tool watch that helps drive the allure of the classic manually-wound Speedmaster Moonwatch with collectors today.
Consequently, it is now typically the vintage Omega Speedmaster references that were created during this era that are often regarded as the most desirable and collectible. Above all other vintage Omega Speedmaster watches, it is the early references fitted with the Caliber 321 movement that are now significantly more expensive and collectible than their later-era counterparts.
The Legendary Caliber 321 Movement
Although the Omega Speedmaster did undergo a rather significant case update in 1964 with the introduction of the reference 105.012, its overall case design has stayed more-or-less consistent ever since. The current-production model still features a case that is largely based on the same design that first debuted back in the mid-1960s, and while the very oldest models with straight lugs are the most expensive, the single greatest factor that increases the value of a vintage Omega Speedmaster is whether or not it is fitted by the legendary Caliber 321 movement.
Wally Schirra wore a reference 2998 when the Omega Speedmaster first reached outer space, the Speedmaster model tested by NASA was a reference 105.003, Neil Armstrong wore a 105.012, Michael Collins wore a reference 145.012, and Buzz Aldrin may have worn either a reference 105.012 or 145.012 (we simply don't know since his watch mysteriously disappeared while on its way to the Smithsonian museum in 1970). These various references span different case shapes and design elements, but what all of these watches have in common is the legendary Omega Caliber 321 movement.
It is estimated that Omega produced less than 100,000 watches with Cal. 321 movements, and this includes all six different references that were produced between 1957 and 1969, along with other various Omega chronograph models that were powered by the Caliber 321. A reference 145.012 from the late 1960s looks almost identical to a reference 145.022 from the early 1970s, but due to the fact that the earlier ref. 145.012 features the Caliber 321 movement, you can expect to pay an absolute minimum of several thousand dollars more for it should you wish to add one to your collection.
Not all vintage Omega watches are ultra-desirable collectibles, but the classic manually-wound Speedmaster Moonwatch with its signature black and white dial is one of the undisputed icons of horology, and any example of this celebrated chronograph is guaranteed to be worth at least a few thousand dollars. However, when it comes to vintage Omega Speedmaster watches with Caliber 321 movements, these models rank among the most collectible and desirable vintage Omega watches in existence and are the exact same models worn by astronauts during the pioneering years of space exploration.