Embodying beauty, elegance, and mechanical ingenuity, luxury watches always make the perfect holiday gift. We have plenty of red-hot classics available for the female watch fanatic, so why not choose the perfect model for the special woman in your life, and give her a luxury timepiece this holiday season to make it one that she will never forget. We've put together your ultimate holiday watch shopping guide for women, full of gifts for her that she will love and be able to wear for the rest of her life. And remember, last minute shopping is okay – all of the womens luxury watches on our site come with free and insured overnight shipping!
Rolex Day-Date 18238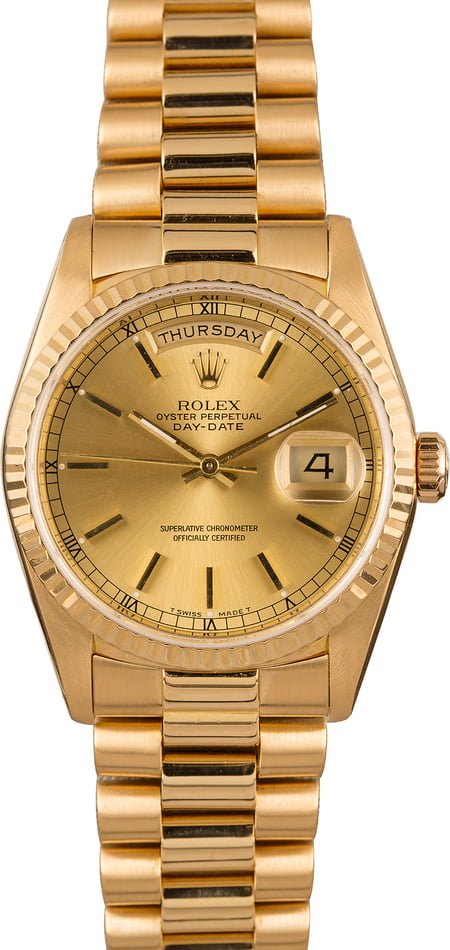 The Rolex Day-Date in all gold is like few other watches out there. Without the need for diamonds, the base model glows with an opulence that is rarely matched. Its high-flying political associations are nothing but stellar, and the reputation and gravitas of this piece are not often lost on even the most casual of observers.
Blessedly, for women, the model comes in extremely wearable diameters (paving the way for our first female POTUS to don the watch without modification when her time comes). Reference 18238 measures 36mm across, making it an elegant watch that packs a knock-out punch in the wrist presence standings thanks to the unmistakable president bracelet. A true classic.
Patek Philippe Twenty-4
Patek Philippe has a reputation for excellent mechanical accuracy, but it is far less common for watches from this esteemed Swiss manufacturer to be powered by quartz movements. The Patek Philippe Twenty-4, reference 4190 was originally launched twenty years ago in 1999. It went on to become one of Patek's best-loved ladies' pieces. This model, with its prominent stainless steel bracelet, which continues the clean lines of the diamond-studded case around the wrist, is a seldom-seen timepiece out in the wild. If you have the funds and the opportunity to gift this to a loved one, take it.
Rolex Datejust 116244
The Rolex Datejust is an icon. It is not just the quintessential Rolex, but one of the most important luxury wristwatches of all time. While such a claim sounds hyperbolic when observing the Datejust and its modest functionality in a modern landscape of high-concept super-watches, the crucial thing about this model family is its history – a history that is impossible to ignore.
When it was released almost 75 years ago (in 1945) the Datejust was the first automatic wristwatch with a jumping date viewed through a window in the dial. In those days, the date was unmagnified but that changed nine years later in 1954, when Rolex founder Hans Wilsdorf decided to increase the legibility of the 3 o'clock date window by 2.5 times, following the advice of his wife, who was struggling to read hers.
Mrs. Wilsdorf's influence on her husband's legacy should not be underestimated. Not only did her reputed suggestion lead to the creation of one of the most recognizable Rolex features, it also implies that she was a Datejust wearer herself and, evidently, a huge fan. No watch needs to have a famous wearer of your gender for you to like or wear a watch, but it is kind of cool to know that this luxury wristwatch has a longer history of being worn by women than most.
As a result, Rolex has ensured that their current collection offer a wide array of womens luxury watches specifically for their female followers. While the typical Datejust is more often imagined to be an all-gold or Rolesor (two-tone) watch, the icy cool of the reference 116244 allows its 36mm stainless steel case to pair perfectly with its glistening diamond-set bezel. Topping off this model is a silver dial with polished and applied Roman numerals that imbues this watch with serious character.
Rolex Datejust 179171 Everose Two-Tone
And for those who prefer the warmer tones of Everose gold, this model is a sure-fire winner. Reverting here to the classic Jubilee bracelet and iconic fluted bezel, the reference 179171 is crafted from Rolex's proprietary 18-karat Everose pink gold alloy and their ultra-corrosion resistant Oystersteel. Its black Jubilee dial with ghosted wordmark pattern and diamond hour markers is an indulgent treat that can still be worn all-day every day.
Despite the 12 sparkling diamonds on the dial, this watch comes in at a little less than you might expect. It can frequently be found available pre-owned for around 7k, making it an absolute steal among the various womens luxury watches currently available on the market.