Slated to take place November 7 & 8, The Geneva Watch Auction: Two by Phillips will host an incredible collection of important watches from the world's leading watch manufactures. The Rolex lot is especially impressive with plenty of ultra rare, possibly unique and historically significant pieces. The last Geneva watch auction that Phillips hosted broke several sales records, including the most expensive Rolex Daytona. And this year's edition will surely not disappoint.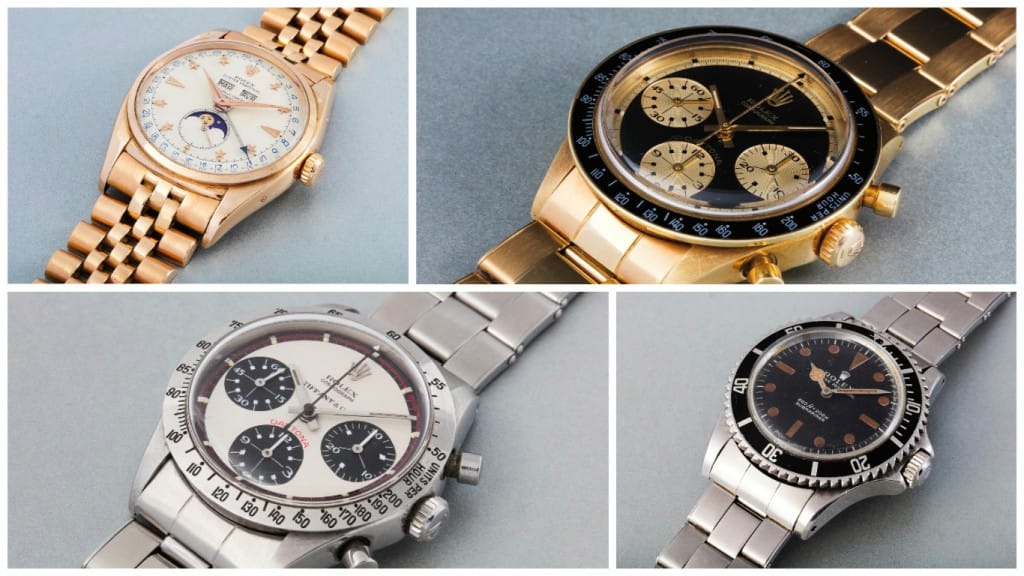 Phillips 2015 Expected To See Amazing Watches
Here are some of our favorite Rolex watches that will be featured at the auction.
1. Rolex "Stelline", Reference 6062, Pink Gold, 1954
Estimate CHF500,000 – 1,000,000
Named after the Italian word for starlet because of the star hour-markers on the dial, the Rolex "Stelline" is one of only two Rolex models that include both a triple calendar with a moonphase indicator. Pink gold variations are a rare find, as illustrated by its impressive price estimate.
2. Rolex 'La Caravelle', Reference 6102, Yellow Gold, 1953
Estimate CHF350000 – 700000
An exquisite Rolex piece featuring a cloisonné dial crafted by the famous Stern Frères dial makers of Geneva illustrating a colorful scene of a carvel sailing the seas. In almost perfect condition, this over 60-year old Rolex still has its original strap and yellow gold buckle.
3. Rolex "Padellone", 8171, Stainless Steel, 1950
Estimate CHF350,000 – 700,000
Rolex has only ever produced two models that feature both a triple calendar and moonphases and the 8171 is one of them. The watch was dubbed the "Padellone", Italian for large frying pan, due to its 38mm size, which during its time was much larger than the standard 35mm wristwatch.
4. Rolex Cosmograph Daytona, "Paul Newman", 6241, Yellow Gold, 1968
Estimate CHF300,000 – 600,000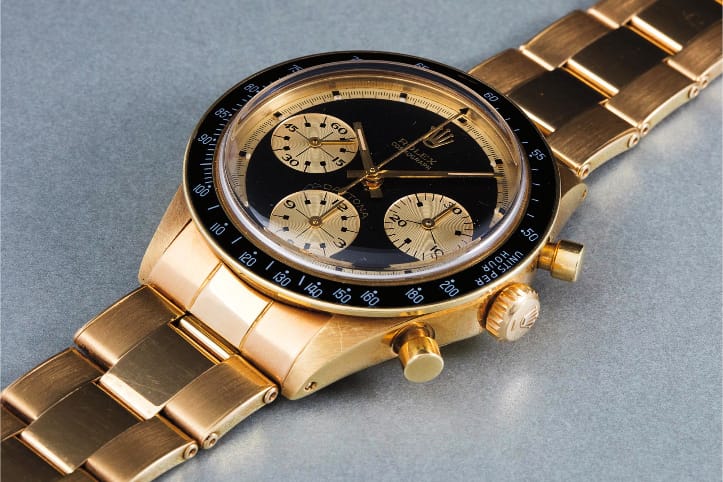 Retailed by Hermès and sold in 1971, this yellow gold Daytona "Paul Newman" is the only known example that includes a Hermès stamp on the outer caseback in addition to a Rolex France stamp.
5. Rolex Daytona "Solo Rolex Quick Silver", 6239, Stainless Steel, 1968
Estimate CHF250,000 – 500,000
A model so special that it was the chosen as the cover shot of the legendary reference guide, "Ultimate Rolex Daytona" by Pucci Papaleo, this Daytona 6239 houses a dial – possibly the only one in existence – that has the word 'ROLEX' in bold black enamel standing by itself without the label "Cosmograph".
6. Rolex Cosmograph Daytona "Paul Newman", 6239, Stainless Steel, 1969
Estimate CHF200,000 – 400,000
Retailed by Tiffany & Co. and featuring its logo on the "Paul Newman" dial, this Daytona 6239 is one of only four models known to exist with this particular configuration.
7. Rolex Oyster Chronograph Antimagnetic "Barilotto", 3525, Yellow Gold 1940
Estimate CHF200,000 – 400,000
The "Barilotto" 3525, is an early example of a Rolex chronograph equipped with an Oyster case and this particular model in 18k yellow gold exhibits a distinct gunmetal mirrored finish due to oxidization.
8. Rolex Submariner, 5513, Stainless Steel, 1972
Estimate CHF150,000 – 250,000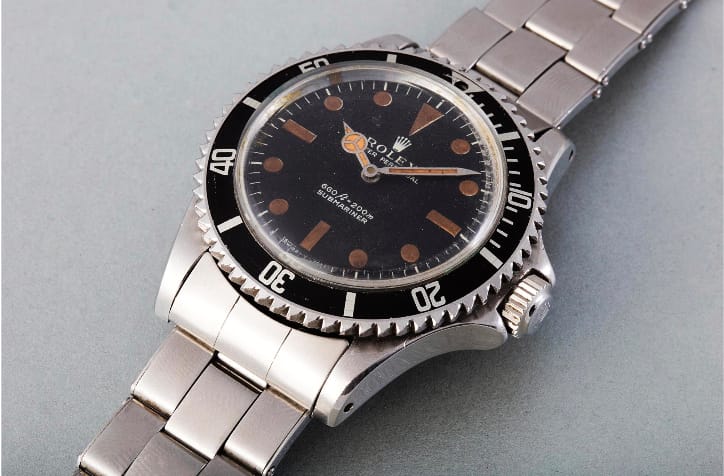 This historically significant Submariner 5513 starred alongside Sir Roger Moore in the James Bond film, "Live and Let Die". Signed "Roger Moore 007" inside the caseback, the modified 5513 was famously equipped with a razor disc, buzz saw, and a magnetic field generator to help the superspy save the world and impress the ladies.