Professional racers took part in the GRAND-AM Rolex Sports Car Series gathered at the Grand Prix road course at the Indianapolis Motor Speedway on June 12th to prepare for the Kroger Super Weekend which will take place on July 26-29. In preparation for the event, drivers participated in a tire test on the course. With the Rolex Daytona as a favorite watch for professional racers and fans alike, Rolex gladly became the official sponsor of the event.
Ready, Set, Go
The event on July 27th will mark the IMS debut of the GRAND-AM, which will see a separate race for the Rolex Sports Car Series on the 13th turn of the 2.534-mile Grand Prix course. The Daytona perfectly matches the course.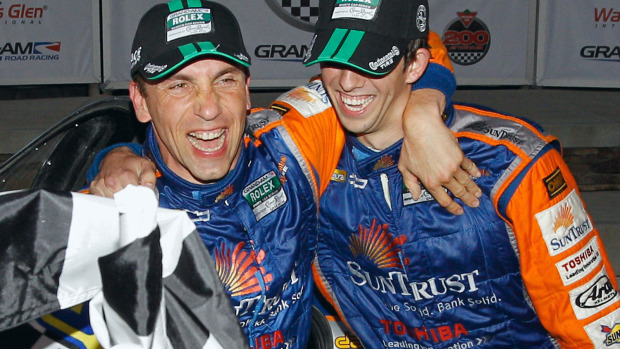 Racing stars Scott Pruett and Memo Rojas participated in the test on June 12th and are set to represent Rolex Daytona Prototype champs TELMEX Chip Ganassi Racing.
Pruett, a four-time starter in the Indianapolis 500, shared his excitement for the Rolex GRAND-AM Sports Car Series: "I think it's going to be incredible…I absolutely love coming to Indy, whether it's an Indy car or a stock car. Now it's even more exciting coming in a Rolex Sports Car with the TELMEX BMW. I think the fans aren't going to know how to react when they see what we're going to do."
Rojas expressed quite a bit of excitement as well when he shared, "Typically we run tracks that are narrower and shorter, and with so many cars with the GT cars and the Prototypes it will get pretty busy, so being at Indy, which is a track that is pretty big, should be good for us."
Jon Fogarty also took part in the test and couldn't hold back his excitement for the Rolex GRAND-AM Race Car Series. "It's awesome…It's great to come to the capital of racing here, and unfortunately, it's a place I haven't had a whole lot of visits to. The configuration should make for some pretty great racing!"
With the Rolex Daytona as the official watch of the event, race fans are provided the chance to learn why new and pre-owned Rolex Daytona timepieces are a great investment in today's world.
Tickets for the Kroger Super Weekend (July 26-29) are now available through the IMS Ticket Office at (317) 492-6700 or (800) 822-INDY. Free general admission will be granted to children 12 and under when accompanied by an adult who has purchased a ticket.
Don't miss out on all the fun!