It's US Open Week! One of golf's most anticipated tournaments. US Open 2017 is taking place starting today till June 18 at Erin Hills, Wisconsin. In fact, this is the first time Wisconsin is hosting the US Open and Erin Hills is the sixth public access course to welcome this Major Championship. Not only is Rolex sponsoring the US Open again, but 2017 also marks 50 years of the Swiss watchmaking giant's support of golf worldwide.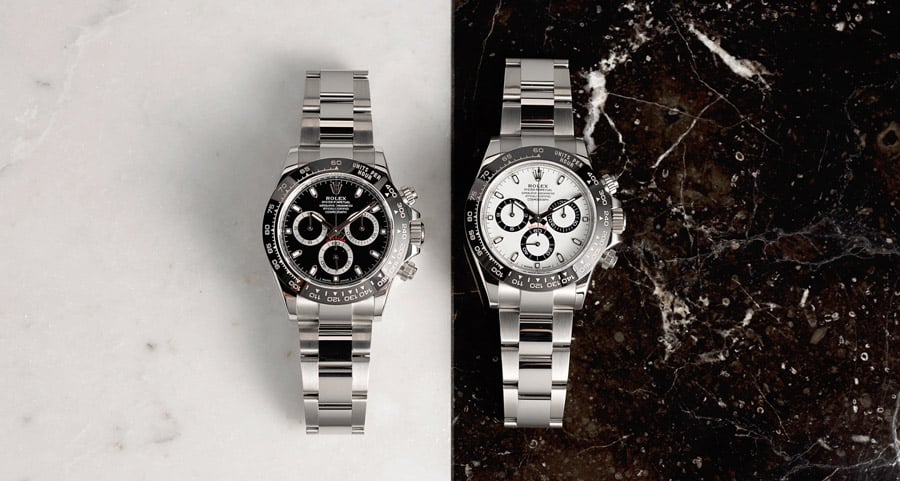 To get our head in the game, we take a look at some of the watches of what is referred to as the "Rolex New Guard." The young golf players included in this elite list are Jordan Spieth, Jason Day, Justin Thomas, Rickie Fowler,  Hideki Matsuyama, and Jon Rahm. Each of these Rolex sponsored pros will be playing at the US Open 2017 this week. Let's take a closer look at what these golfers are wearing on their wrists when off the course.
Jordan Spieth wears a Rolex Explorer II
Perfectly suited to his cool and casual style, Jordan Spieth has been proudly wearing his Rolex Explorer II ref. 216570 for a few years now. Spieth's particular model is nicknamed the "Polar" due to the white dial housing the white lume plots, black Mercedes-style hands, and bright orange 24-hour hand. The 23-year-old Texan — who actually won the US Open in 2015 — even wore his Explorer II Polar ref. 216570 on his recent cover of Golf Digest.
https://www.instagram.com/p/BU_1PZaAEE5/?taken-by=jordanspieth&hl=en
Jason Day wears a Rolex Deepsea Sea-Dweller
While Jason Day hasn't won the US Open 2017 yet, he did tie for second place in 2013 alongside another Rolex ambassador, Phil Mickelson. In terms of wrist wear, the former World Number 1 favors the large Rolex Deepsea Sea-Dweller ref. 116660 diving watch. At 44m in diameter and about 17.7mm thick, this is Rolex's largest watch. Equipped with a helium escape valve, the Deepsea ref. 116660 can dive down to an incredible 12,800 feet deep. Regardless if Day actually dives or not, the 29-year-old wears the robust Rolex watch very well.
https://www.instagram.com/p/BPq9by-g_hi/?taken-by=jasondayofficial&hl=en
Justin Thomas wears a Rolex Yacht-Master 40
A native of Louisville, Kentucky, 23-year-old Justin Thomas shot a 59 at the Sony Open in Hawaii in January earlier this year. He's the seventh player in PGA Tour history to achieve that! And when he was holding up his trophy for that win in Honolulu, he had the Rolex Yacht-Master 40 ref. 116622 on his wrist. Thomas' Yacht-Master 40 is a Rolesium model, which refers to the combination of stainless steel and platinum on the Rolex watch. The 950 platinum bezel pairs particularly well with the dark rhodium dial and turquoise blue accents. A fantastic Rolex sports watch, we're sure we'll be seeing the Yacht-Master 40 on Thomas' arm for a long time to come.
https://www.instagram.com/p/BPU6Z72Aga2/?hl=en
Rickie Fowler wears a Rolex Daytona
Rickie Fowler returns to the top 10 of the world golf rankings thanks to his recent win at the Honda Classic. This was his fourth PGA win to date and he's currently ranked 9th in the sport. Fowler is a big fan of the Rolex Daytona as we've often seen him wearing the platinum anniversary Daytona ref. 116506. However, these days he's sporting another Rolex chronograph—none other than the highly coveted steel and ceramic Daytona ref. 116500LN. No doubt his being a Rolex ambassador bumped haim up to the top of the very, very long witlist.
https://www.instagram.com/p/BTrJ_hvl-y5/?hl=en
Hideki Matsuyama wears a Rolex Submariner
Currently ranked fourth globally, Japanese player Hideki Matsuyama is one of Rolex's newer golf ambassadors. The 25-year-old has four PGA Tour wins under his belt including the 2017 Phoenix Open. His present Rolex of choice is a two-tone Submariner ref. 116613LB. The vibrant blue dial and blue Cerachrom ceramic bezel with yellow gold accents of the Submariner ref. 116613LB flawlessly complements its steel and 18k yellow gold Oyster bracelet. A luxurious Rolex sports watch for Japan's top golfer.
https://www.instagram.com/p/BQNLDOQFGdz/?taken-by=hideki_matsuyama_&hl=en
Jon Rahm wears a Rolex Daytona
In just ten short months, Jon Rahm plowed through 542 spots to reach 9th at the end of May and right now, he's ranked 10th. Currently, all eyes are on the 22-year-old Spaniard, with many thinking the rookie could actually win the US Open this year. Rahm only turned pro after last year's US Open 2017 and is the newest member of the Rolex golf family. Rahm's Rolex is a two-toned Daytona ref. 116503 with a black dial. The same Daytona model that was awarded to the winners of Rolex 24. The steel and 18k yellow gold chronograph doesn't have a Cerachrom ceramic bezel like most contemporary Rolex sports watches, but rather, a classic yellow gold bezel.
https://www.instagram.com/p/BRG-uUIgeHC/?taken-by=jonrahm&hl=en
As big fans of golf here at Bob's Watches, we'll certainly be glued to the television to see who comes out on top at this year's US Open. Whether or not it will be one of the members of the "Rolex New Guard" remains to be seen. But we'd certainly love to see a Rolex wrist carry that US Open 2017 Championship Trophy on Sunday!
Who do you think will win this year's US Open? And which of the six Rolex watches listed above would you pick? The Explorer II, the Deepsea, the Yacht-Master 40, the steel and ceramic Daytona, the two-tone Submariner, or the two-tone Daytona? Let us know in the comments section below.