It's the greatest endurance racing event of the year, when world-famous marques like Porsche, Bentley and Audi compete for one of the most coveted trophies in motorsport: the 24 Hours of Le Mans. Rolex has been the Official Timepiece of the 24 Hours of Le Mans since 2001, though in fact the association goes back much further: before the name Daytona was decided on in the 1960s Rolex planned to call its now iconic watch the Le Mans.
Le Mans 24 Hour Race
Rolex partners with the FIA World Endurance Championship as well as the three world-class endurance events that have come to form the Triple Crown of endurance racing: the Rolex 24 At Daytona, the 12 Hours of Sebring and the 24 Hours of Le Mans. Winners of the 24 Hours of Le Mans are given a specially engraved Rolex Daytona.
Porche and Audi
At this years running of Le Mans, the 85th, from June 17–18, 60 cars will be competing though in the past 15 years it's mostly been a contest between Porsche and Audi. Like Ferrari and Mercedes at the Austrailian Grand Prix. Defending champion Porsche is expected to face heated competition this year from the likes of the new Ford GT and others. Rolex has an added interest in Le Mans this year. Rolex Testimonee Tom Kristensen, who has won Le Mans a record nine times, is celebrating the twentieth anniversary of his first ever victory there. And Rolex Testimonee, multiple Formula 1 Grand Prix winner and 2015 FIA World Endurance Champion Mark Webber will be the Grand Marshal for this year's race, driving the pace car during the formation lap.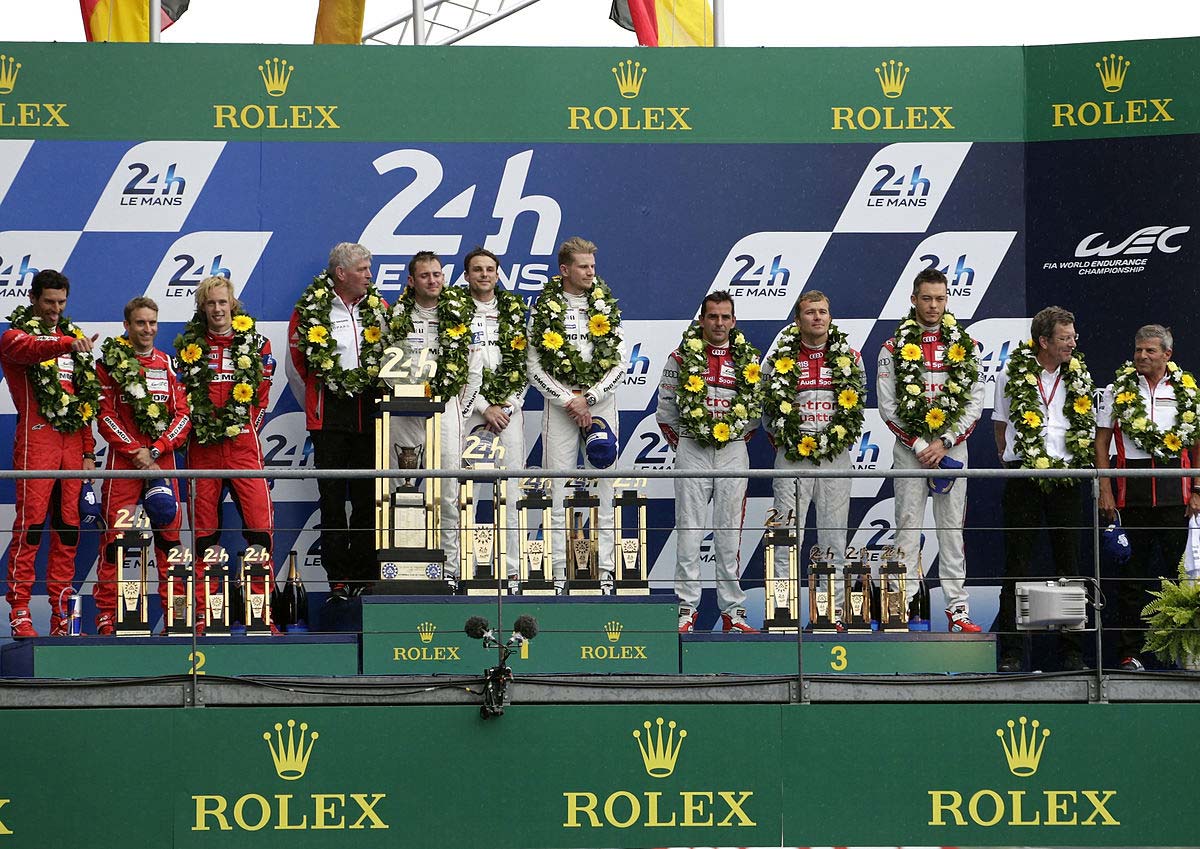 Webber
"It is a great honour for me to be Grand Marshal at this unique and incredible circuit," Webber says, "starting the race will be an incredibly exciting experience. Having raced at Circuit de la Sarthe I know first-hand how the drivers and teams will be feeling as they prepare for the long and exhausting 24 hours; to finish, and have a shot at victory, the race demands a difficult combination of speed and reliability. The next few weeks are incredibly important for the teams and drivers as they prepare for this mammoth race." Webber, like many competitors at Le Mans, has won his fair share of Rolex Daytonas in a colorful career in motorsports. The Rolex clock is ticking on the countdown to the 24 hours of Le Mans.