With a history that dates back to 1832, the Swiss-made Longines watches is one of the world's oldest luxury watch manufacturers that is still in operation today. A constant presence within the world of sports, Longines is the Official Timekeeper of the Kentucky Derby and other high-profile events each year, including competitions in equestrian, racing, and alpine skiing.
Today, Longines is one of only a handful of Swiss luxury watch brands that could truly be considered a household name. However, all stories have to start somewhere, and for Longines, its history begins in the mountains of Saint-Imier, Switzerland nearly two hundred years ago.
About Longines Watches
Longines Company Fast Facts:
Founded in 1832 by Auguste Agassiz.
Headquarters in Saint-Imier, Switzerland.
Named after the roadside location of the company's first factory (meaning "long meadows").
Invented the Lindbergh Hour Angle watch in 1931.
Learned industrialized watchmaking from the United States during the 1870s.
A member of the Swatch Group since 1983.
Has the oldest registered trademark for a watch brand logo that is still in-use today.
Official Timekeeper of the Kentucky Derby since 2011.
Sold in over 150 different countries.
Keeps records for every single watch ever produced.
Sponsors numerous different high-profile events and individuals.
The Founding of Longines
In 1832, a Swiss watchmaker named Auguste Agassiz established a watch company in the town of Saint-Imier with the help of two partners, lawyers and brothers-in-law Henri Raiguel and Florian Morel. Originally, the company's name was Raiguel Jeune & Cie. but by 1846, both of Agassiz's partners had retired from the watch industry, leaving him solely in charge of the company.
Several years later in 1852, Agassiz brought in his nephew Ernest Francillon to help run the business. As a trained economist with a strong understanding of the watchmaking industry, Francillon was responsible for a number of important decisions, including the establishment of the first Longines factory and even the Longines name itself. Auguste Agassiz continued to remain a partner at the brand, but as his health declined, Francillon continued to play a more significant role at the company, ultimately taking over entirely when Agassiz passed away in 1877.
The Longines Name and American Industrialization
Under the control of Ernest Francillon, the growing watch company set up its first manufacturing factory in 1867. Located in an area of southern Saint-Imier known as Es Longines (meaning "long meadows"), the new factory's location would ultimately lend itself to the company's new name: Longines.
To help lead the new factory, Ernest Francillon appointed a talented engineer named Jacques David to be the Technical Director for Longines. The following decade, David was sent to the United States to attend the 1876 World's Fair in Philadelphia, where he gathered ideas about America's approach to industrialized watchmaking and created a 108-page report that detailed his findings. Upon his return to Switzerland, Longines began implementing some of the strategies that Jacques David had learned from the American watchmakers, and Longines quickly became a pioneer in industrialized timepiece production.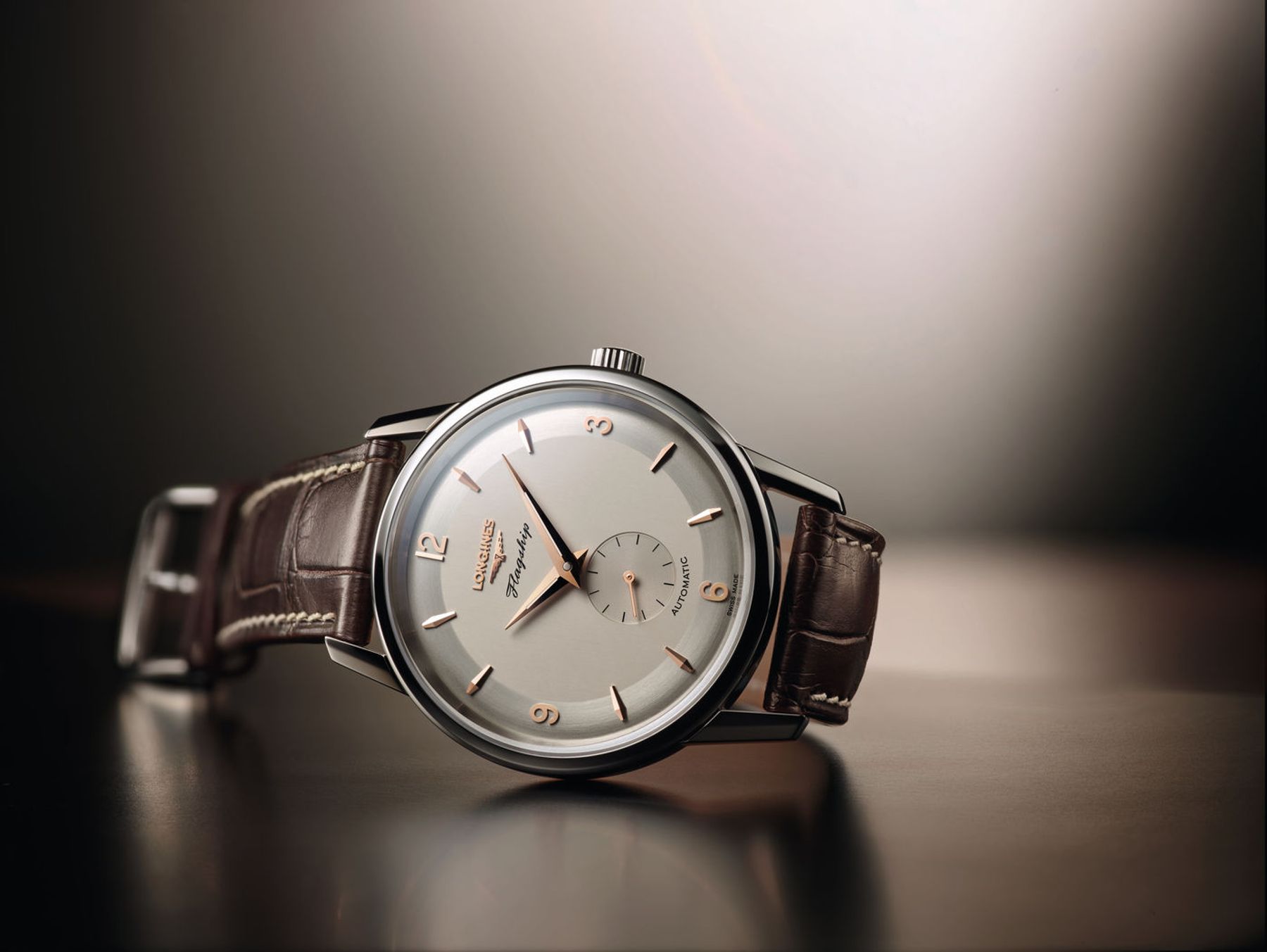 Pilot's Watches and Navigation
The same year Longines established its first factory, the brand also produced its first movement (the 20A). By 1878, it was already producing a simple chronograph movement (the 20H; patented by watchmaker Alfred Lugrin). These early advancements gave the brand an advantage in the world of competitive sports, particularly horse racing, and as early as 1886, Longines was already the supplier of timepieces to the majority of sports officials in New York. It was during this era that the Longines brand first rose to prominence with the Longines name receiving a trademark in 1880 and its iconic winged hourglass logo receiving one in 1889, making it the oldest registered trademark for a watch brand that is still in-use today.
While Longines would continue to play a major role within the world of equestrian and competitive sports, the brand is arguably most famous for its contributions to navigation and the early days of flight. In 1919, Longines was named the official supplier of timepieces for the International Aeronautical Federation and in 1927, the brand collaborated with US Navy officer Philip Van Horn Weems to create the Longines Weems Second-Setting Watch, which allows the wearer to synchronize the second hand with a GMT signal – an essential feature for early navigation.
After making his historic non-stop solo flight over the North Atlantic, American pilot Charles Lindbergh worked with Longines to create the Lindbergh Hour Angle Watch in 1931. Based on the original navigation watch designed by Weems several years prior, the new timepiece featured a unique bezel with a set of scales that could be used in conjunction with a sextant and nautical almanac to help aviators calculate their longitude and geographical location.
Longines in the Modern Era
Longines' list of accomplishments is long and extensive, including a number of electronic and quartz innovations, and even the world's first watch capable of achieving an overall thickness of less than 2mm – the Feuille d'Or (meaning "Gold Leaf"). With that in mind, one of the most important points in Longines' history came in 1983, when the brand's owner (ASUAG) merged with SSIH (who owned Omega and Tissot) to form the Société Suisse de Microélectronique et d'Horlogerie (SMH), who later ultimately became the Swatch Group in 1988. To this day, Longines continues to be a part of the Swatch Group and operates out of its perennial home in Saint-Imier, where it produces beautifully crafted luxury watches that uphold the illustrious reputation of one of Switzerland's oldest brands.
Today, Longines produces a wide variety of different Swiss-made timepieces that includes everything from elegant dress models to rugged tool watches and everything in between. The brand continues to play an active role in the worlds of aviation, equestrian, and alpine skiing, and Longines has been gaining a lot of traction among buyers in recent years as a new generation of collectors and enthusiasts discovers this remarkable Swiss luxury watch brand.
*All images courtesy of Longines