Phillips auction house in Association with Bacs & Russo has just revealed plans to sell the "four most important and sought-after non-professional Rolex models" in the world at its upcoming Geneva Watch Auction X in November. By "non-professional" they mean to exclude sports and tool watches (at least in the modern sense); however, there are some pretty noteworthy "professional" watches featured alongside the Fantastic Four Vintage Rolex models in the auction.
Phillips Auction: The Fantastic Four Vintage Rolex Models
Three of the "Fantastic Four" vintage Rolex watches are expected to bring in over $1 million at the landmark sale, taking place during two evening sessions on Nov. 9 and 10 at the Hôtel La Réserve in Geneva.
Rolex Reference 4113 Split Seconds Chronograph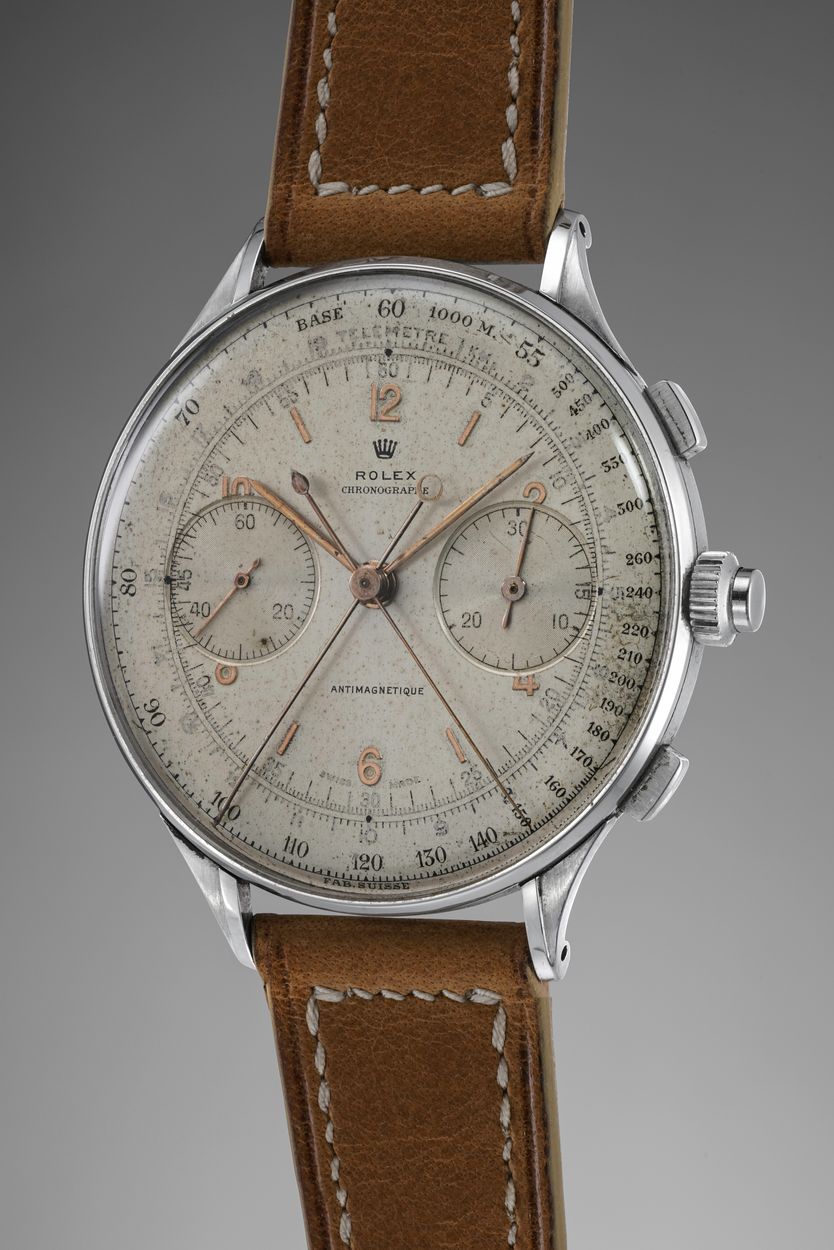 The oldest of the four dates from 1942 and is a Ref. 4113 split-seconds chronograph, the legendary reference thought to only ever have been presented in very small numbers to en elite group of motor racing teams and drivers, making it a sort of proto-Daytona. Expected to bring in more than $1.5 million, it's one of only 12 known to have been made.
"Whenever the Rolex stainless steel reference 4113 split-seconds chronograph has appeared at auction it has always been a sensational horological event," Phillips notes. "The very existence of the reference 4113 remains shrouded in mystery as it was never featured in a Rolex catalogue. However, in the past two decades, research and scholarship have unearthed a similar pattern regarding all the known reference 4113s: they all came from owners and families related one way or the other to automobile racing." Phillips sold a 4113 for over $2.5 million in 2016, so look for this one to sail by its estimate pretty easily.
Rolex Reference 8171 "Padellone"
Next up is Ref. 8171, aka the "Padellone" – a model first released in 1949, and one of just two Rolex references ever to feature both a triple calendar complication and a moon phase complication. Phillips says this example is "one of if not the greatest, most attractive, and best-preserved stainless steel Reference 8171 to surface on the market, ever," as well as "one of the most legendary and consequently sought after vintage wristwatches ever made by any manufacturer." Look for this Rolex to go north of $1 million.
Rolex Reference 6062 "Stelline"
Then we have an incredibly well preserved pink gold triple calendar Reference 6062 "Stelline" – a model that Rolex introduced in 1950. It features a star-set dial and an Oyster case with a screw-on caseback. The example on offer, expected to bring in over $1 million as well, was originally owned by Gordon Bethune, an internationally renowned watch collector and CEO of Continental Airlines.
Rolex Reference 6236 Dato-Compax "Jean-Claude Killy"
Rounding out the quartet is a rare stainless steel triple calendar chronograph Ref. 6236 Dato-Compax, aka the "Jean-Claude Killy" – one of our favorite Rolex chronos of all time. Named after the three-time French Olympic ski champion who was often seen wearing a 6236, this model launched in 1947 was Rolex's first and only triple calendar chronograph fitted with a water-resistant Oyster case. It's expected to sell between $200,000–$400,000, making it something of a bargain compared to the other 3 members of the Fantastic Four Vintage Rolex models.
Don't want to wait for the Phillips auction or spend millions of dollars on a watch? Check out the incredible selection of vintage Rolexes on Bob's Watches available now.
*All images courtesy of Phillips