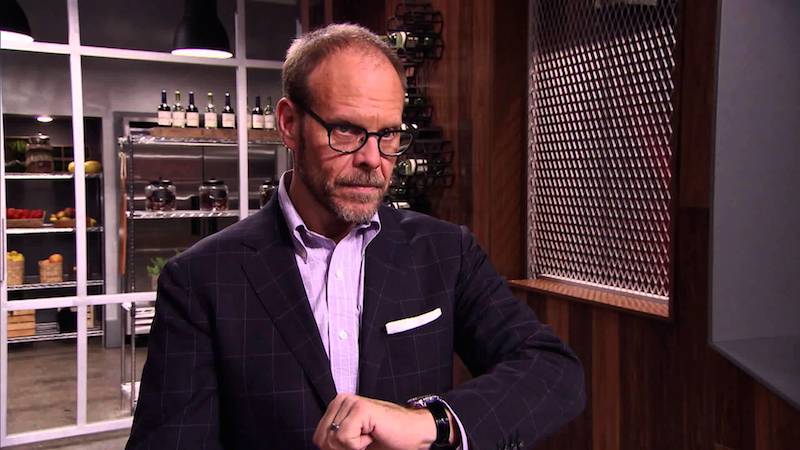 Alton Brown is our kind of guy. Not only is he a kitchen geek, but he's a vintage watch geek too. The Food Network star rose to fame with his quirky, scientific, and super informative cooking show, Good Eats. Using his expansive knowledge of food he later went on to host Iron Chef America where top chefs battle it out for glory by serving the best dishes. Today, among other things, he is the host of the very popular Food Network show, Cutthroat Kitchen.
https://www.instagram.com/p/BI52DiTDWv_/?taken-by=altonbrown
Tucked between the delicious food pictures on Alton Brown's Instagram profile are pictures of some very cool vintage timepieces too. From a TAG Heuer Autavia to a Tudor Snowflake to an Eberhard & Co. dive watch to an OMEGA Speedmaster to an IWC Portuguese and many others, Alton Brown has exquisite taste in timepieces. He even used his robust watch collection to catalog the different seasons of Good Eats—he always wore one specific timepiece per season so he could easily differentiate between the 14 seasons. There's an interesting use of timekeeping if we've ever seen one! Today, as part of his hosting duties, Alton Brown is the official timekeeper of Cutthroat Kitchen and relies on the ever-changing chronographs on his wrist to do the job.
Within Alton Brown's collection, one watch stood out to us in particular—a vintage OMEGA Seamaster. This watch caught our attention not so much for its looks (although it's gorgeous) but for the story behind it. As vintage watch enthusiasts, we know that the tales behind old timepieces can be just as alluring as the watch itself.
Alton Brown's Vintage OMEGA Seamaster Chronostop
https://www.instagram.com/p/6mzSawjh9f/
As he recently recounted to Men's Journal, Alton Brown inherited an OMEGA Seamaster from his late father. He had the watch for a while until unfortunately it was stolen from his apartment during his college days in the mid-1980s. Incredibly, Alton Brown found his stolen watch on eBay 22 years later! Naturally, he bought it right away and when it arrived on his doorstep, it was in dismal condition. It took a long time to restore it back to its original condition. But thankfully, it's now back in his collection and it's a piece he admits that he'll never let go of.
Alton Brown's recovered OMEGA is a vintage Seamaster Chronostop Regatta, which first made its debut in 1967. It was a variation of the original Seamaster Chronostop from 1966. In addition to the Regatta version, there was also the Seamaster Pilot Chronostop and the Chronostop Jumbo Diver. The Seamaster Chronostop Regatta featured a red and blue rotating bezel to allow yachting enthusiasts to keep track of important times during racing.
We love a happy ending, especially when it concerns vintage timepieces. We're so glad that Alton Brown was finally reunited with his father's watch. Now excuse us while we go binge-watch some Good Eats to see which of his timepieces made it on-screen.