What do you get when you mix vintage paper found in an old suitcase at a flea market, a love of historic timepieces, and superb artistic ability? If you're Danish mixed media artist Cay Brøndum, you get Historic Horological Art. From his pens and brushes flows the stuff of watch nerd dreams.
Brøndum paints some of the legendary timepieces from the 1960s. You can find the Rolex 5512, the 1655 Explorer II, the 5514 COMEX Submariner, the 5517 MilSub, and more.
And no, Rolex is not all he paints. You'll find images of the Audemars Piguet Royal Oak, the Tudor Submariner ref. 7021 "Snowflake," Patek Philippe 5130 R World Time, and the Vacheron Constantin Mercator. The list goes on and on. And, with the recent 47th anniversary of the first men landing on the moon, we'd be remiss if we didn't point out his paintings of the Omega Speedmaster.
Brøndum's mixed medium technique is unique. The aforementioned old 1940s, 50s, and 60s flea market paper is used as a base. He then often applies photographic images to the paper via digital techniques. On top of that, he will use pen and ink, and then watercolor to add the images of vintage watches. And finally, he might reproduce the whole image on aluminum, retaining the aged coloration of the paper and original printing it contained, as well as the photographic and painted images he added.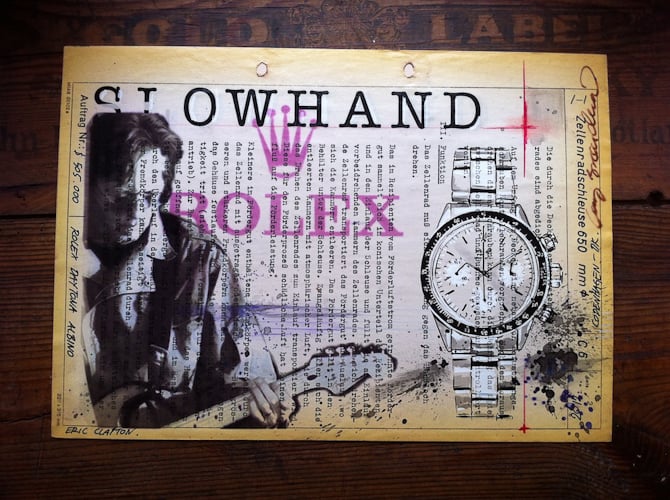 The result is spectacular!
For example, in one of Brøndum's works  you'll find Buzz Aldrin, posing on the Moon in the famous photo taken by Neil Armstrong. He's standing next to Brøndum's painted image of a pre-Moon 1967 Speedmaster. And Brøndum has produced similar works containing images of Steve McQueen, Walt Disney, Martin Luther King, Che Guevara, Paul Newman, and Sean Connery in character as James Bond – again, the list goes on and on, even including Kermit the Frog posing with Rolex's green bezeled Submariner. All are illustrating the watches they made famous.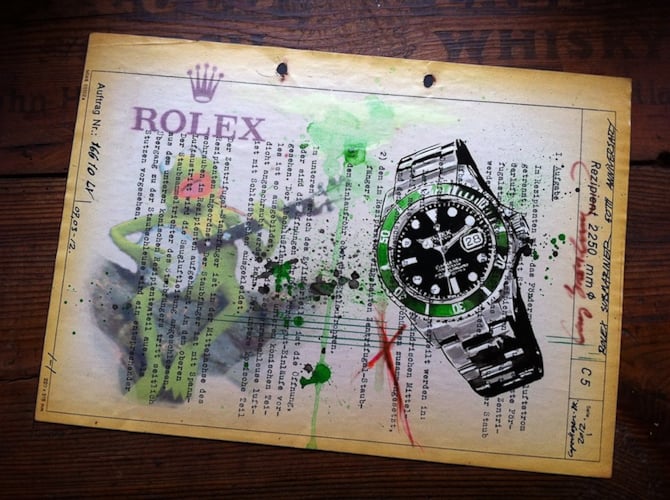 Those works which include notable historic figures, celebrities, and cinematic spies are great. But we confess to being partial to the pieces that are pure watch portraits. Something about an illustrated watch against the background of an old letter or a technical drawing is unique and gripping.
If you're at all into horological art, and surely if you're a Rolex or Omega sport watch enthusiast, Cay Brøndum's work should be on your radar, if not on your wall. You may want to hurry, however. Many of these works are one-of-a-kind originals or limited editions. And unfortunately, some are sold out.