On April 3, 2018 Google brought horology to the limelight by displaying a sketch of famous British clockmaker John Harrison on the occasion of his 325th birthday. Who was John Harrison and what did he do to warrant his own Google Doodle? He invented the marine chronometer to solve the era's most pressing scientific conundrum – accurate maritime navigation.
While his work is before the time Rolex brought out their watches, his developments led to global changes and a hefty reward. Thanks to his multiple attempts with the H1, H2, H3, and his success with the Sea Watch No.1, he has shocked the world. Here is how he did it.
John Harrison's Mission
Born on April 3, 1693, in Yorkshire, England, John Harrison eventually merged his training as a carpenter and love for watch mechanics to build historically important timepieces.
In 1714, the Parliament of Great Britain issued the Longitude Act, which offered £20,000 (equivalent to about $2.1 million today) to anyone who could find a simple way to determine a ship's longitude while at sea. This was prompted in part by the Scilly naval disaster of 1707, where the British Royal Navy lost four ships and over 15,000 sailors. The maritime disaster was attributed to the inability to calculate the ships' positions, thus highlighted the great need to solve the longitude problem once and for all.
John Harrison took on the challenge and reasoned that a clock that could remain accurate at sea despite all the forceful motion could, in fact, be used to calculate a ship's longitude using the earth's rotating rate of 360 degrees per 24 hours and prime meridian as a reference point.
In 1735, John Harrison submitted his first marine chronometer, the H1, which unfortunately didn't perform as expected. However, he continued his mission and created the H2 and H3 instruments with vast improvements. Finally, in 1762, John Harrison's son, William Harrison, took the H4 marine chronometer—also known as Sea Watch No. 1—on a voyage to Jamaica and the instrument was only off by five seconds—a triumphant feat.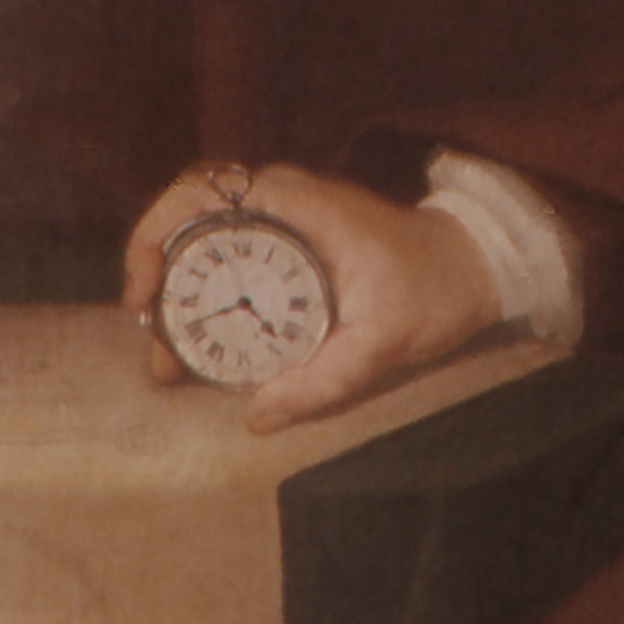 Where's the Money?
Although John Harrison met the challenge set out by the Longitude Act, getting his prize money and recognition from the Longitude Board turned out to be a mission too. The Board argued that while the chronometer was indeed accurate, it was too complex to mass-produce, therefore not practical. It was only after John Harrison asked for King George III's help did the clockmaker get paid—he was 80 years old and died three years later in 1776.
The restored H1, H2, H3 and H4 marine chronometers are displayed at the Royal Observatory at Greenwich, England. While the first three chronometers are currently working, the H4 requires lubrication, therefore is kept in a halted state to avoid degradation.
An important figure not only in horology but also considered one of the greatest British people in history, John Harrison forever changed the course of timekeeping and travel.
Did you have a chance to see John Harrison's Google Doodle on April 3? What did you think of the tribute? Leave us your comments below.
Update: 2019 
While Google chose to highlight clockmaker John Harrison on April 3 of last year in celebration of his 325th birthday, the horology-focused theme was not carried over to 2019. Rather than choosing to have the "Google Doodle" for that day bring attention to Harrison, the featured image on April 3, 2019 was Sofia Mogilevskaya – a famous Russian author of stories for children and young readers – in celebration of her 116th birthday.
Although we missed seeing John Harrison's "Google Doodle" this year, it was still interesting to learn that he shares a birthday with Mogilevskaya. So, what famous individual from history are we going to learn shares a birthday with these two individuals next year on April 3rd?