There are a lot of watch auctions out there; however every two years, Only Watch takes center stage and overshadows any other sale in the industry. This is not a vintage auction, but instead a mass sale of unique creations all donated by their makers, with 99% of the proceeds going towards research on Duchenne muscular dystrophy. The creations in this auction aren't coming from random offshoot brands that no one has heard of, but rather from a true "who's who" of modern watchmaking. We've seen offerings on the docket from giants like Audemars Piguet and Patek Philippe, as well as independent watchmaking superstars like MB&F and Kari Voutilainen. This year's pack is just as off-the-charts as ever, so here's a closer look at what's hitting the auction block in November for Only Watch 2019.
Richard Mille RM 11-03 Automatic flyback chronograph McLaren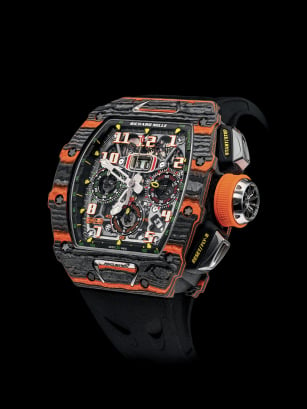 What some of you will notice is that unlike any of the other offerings, this looks like the "production version" of the McLaren watch launched by RM a few years ago. You'd be right, but there's a reason this watch is at the top of our list. Full retail on the 500 pieces was initially $191,500 (though good luck getting your hands one one), and presently they're trading hands in the secondary market for over $280k; however there's something even more special about this example – you're looking at the original prototype. Given how hot the RM market is to begin with, it's hard to speculate how much more of a premium we'll see this go for.
Patek Philippe Grandmaster Chime in Steel
When you get into complications and grande complications, Patek Philippe really only works in precious metals – with rare exception. In 2017, the reference 5028T-010 appeared at Only Watch as a monopusher chronograph, perpetual calendar, minute repeater in titanium, and it didn't take long for its hammer price to climb to an astronomical 6.2 million Swiss Francs. This year, a steel-cased Grandmaster Chime (ref. 6300A-010) has been listed – a dual-faced ultra complex creation with a salmon dial on one side, and black dial on the other. Will it break the 2017 record? I'd be willing to bet on it.
De Bethune X URWerk Moon Satellite
For the second time at Only Watch, URWerk has engaged in a true design collaboration with another heavy-hitter in the indie watch scene, this time joining forces with De Bethune. Just like the previous year's process, so far we only get to see sketches of what the collaboration will look like – and from that alone, I'll argue that this is one of the most interesting watches of the auction. On one hand we see De Bethune's patented floating lug case, which is hands-down one of the most comfortable case designs on the planet. On the other, its case is packed with one of URWerk's unique satellite complications. It's a win-win scenario here, and fingers crossed that it pulls the hammer price that it deserves.
Tudor Black Bay Ceramic One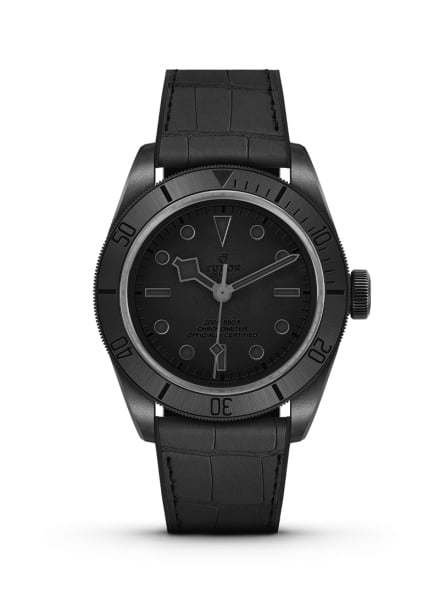 If you haven't followed the last couple of auctions, you'll be confused to see this on the list. It's an all black ceramic Black Bay 41, so what's the big deal, right? Well, the last two auctions there has been some serious bidding over the Tudor offerings, for a very specific reason. These are the only unique pieces to officially come out of Rolex/Tudor, EVER. To some, this is a huge deal – and accordingly, a bidding war exploded on the auction floor between a few very interested parties. One collector has claimed the first two, and odds are he'll be chasing this one as well.
FP Journe Astronomic Blue
 Much like last time around, FP Journe has entered a brand-new-from-scratch watch into the charity auction, and much like the last go around, this thing is something else. You're looking at (among several other things) a minute repeater, a 60-second tourbillon with Remontoir d'égalité, dead-beat seconds, multiple time zones, moonphase indication, and, and, and… We thought their monopusher split-seconds chronograph was complicated, but this takes things up another notch or three. The icing on the cake is the fact that it's cased in Tantalum. Because of course it is.
Akrivia Chronomtre Contemporain
 Here's something much simpler that remains very high on my list of results to watch. Akrivia has become the new hot ticket in low production, high quality independent watchmaking (the founder and man behind the operations, Rexhep Rexhepi apprenticed at Patek and worked for Journe), and there has been a lot of buzz in collecting communities about the future desirability and collectibility of his watches. This unique example appears with a beautiful hand-hammered translucent blue enamel dial, cased in platinum. It's the same model that took the Men's Watch prize at GPHG in 2018, which adds yet another layer to its desirability.
Singer Track 1 w/ GoS Watches Damascus Case
I've had a soft spot for the Track 1 for ages, not only because of its connection with Singer's custom Porsches, but also on account of the brilliantly executed chronograph caliber by Agenhor that powers it. It's a complete reinvention of what a chronograph caliber can look like, and packing that aesthetic into a black PVD coated Damascus steel case makes this auction offering that much more desirable. The steel used for the case is provided courtesy of Gos – known for their own watches often built with cases and dials of the same old-school steel technique.
MB&F X L'Epee Tom & T-Rex Clock
 MB&F and L'Epee clocks are just cool stuff, so even though we don't expect this one to shatter any records, it deserves an honorable mention at the end of our list. Its time indication rests in its central "orb", with its mechanics fully exposed behind them. The sculptural piece has articulating limbs, is made of stainless steel, and its "dial is made of hand-blown Murano glass.