Arguably America's most beloved tv host and one of our great actors and comedians, Ellen Degeneres is also famous for sporting incredible Rolex watches — often, mens timepieces.
It is hard to believe that Ellen just celebrated her 60th birthday last month. Like many budding entertainers, she started out doing odd jobs while trying to make it as a comic. By the mid 1980s, she began touring as a comedian, and her career started to take off. She has been entertaining people and spreading kindness for over 30 years now. Aside from her great success as a comedian and actress, she has also won 33 Daytime Emmy Awards for her talk show, Ellen.
Her tom-boy style suits mens watches well, as she often pairs them with tailored pants and a well-fitting shirt — and always with a sharp pair of shoes. But what we love about Degeneres' style most is that she is playful with her watches, whether she's sporting a large, imposing watch or a chunky but elegant diamond-clad timepiece. Ellen has her own unique sense of style, and is great at completing her outfits with the perfect watch accessory. She knows how to mix and match between old and new model watches, and casual and formal attire. Ellen has been a longtime fan of Rolex watches, and I'm sure we will continue to see many more on her wrist.
Ladies, take note and get inspired. Men's watches aren't just for men. These bold looks can be integrated into your everyday wardrobe or worn as statement pieces which you'll see illustrated here by Ellen Degeneres herself.
It'd pretty much be impossible (but an awesome feat) to go through all of the watches that she's sported over the years. So instead, we're going highlight a few recent favorites. Let's take a look!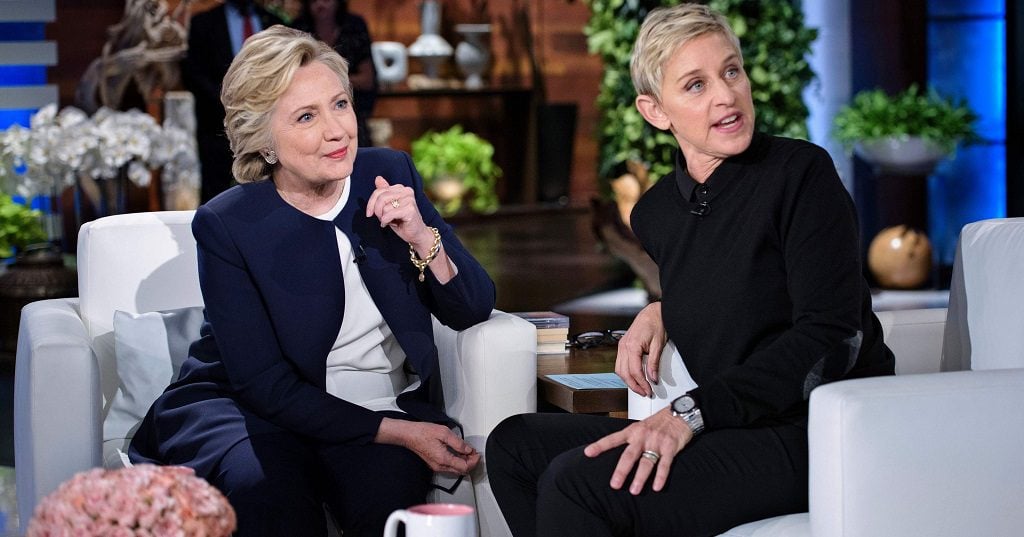 Patek Philippe Nautilus
We love a Patek, and this stainless steel case and bracelet is a great example. The clean look makes it versatile — easy to dress both up and down. A classic watch, you can hardly feel out of place with the Nautilus. Besides looking sharp, this watch has great functionalities like water resistance for up to 400-feet and a screw down crown.
Newly Released 18k Everose Gold Rolex Yachtmaster
Of course, Degeneres was able to get her hands on a newly released 40mm 18k Everose Gold Rolex Yachtmaster with a diamond dial. We love how she often plays with rose gold in her mens watches, as it adds a touch of femininity to these bold timepieces. This watch here is sporty and fun with a black rubber strap, while at the same time remaining elegant with a rose gold case and diamond-covered face. The luxurious Yachtmaster is also outfitted with an automatic movement, scratch-resistant sapphire crystal, waterproof Oyster case and beautiful luminescent hour markers. This look is right up the comedians alley and will be a great timepiece to elevate an everyday outfit.
Stainless Steel Rolex GMT-Master II. ref. 116710LN
We love that Degeneres is sporting this watch because it's a total classic. The GMT-Master has an incredible look and sheer rugged durability, yet, even with its 40mm case it doesn't overpower her wrist. When you wear a classic stainless steel watch like this with that beautiful black face and matching bezel, you can pull it off with just about anything. We love the luminous hands and hour markers on this timepiece as well as the pop of color with that green 24-hour hand. The specs on this watch aren't so shabby either — the case houses an impressive 3186 automatic movement with a 50-hour power reserve, and it is outfitted with a scratch-resistant sapphire crystal as well as Oyster case and screw-down crown for water resistance up to 330 feet.
If you're interested in seeing a more extensive collection of her watches, you can visit this ambitious attempt to catalogue her timepieces.