Porsche Design has just teamed up with Porsche Motorsport to develop a cool new chronograph exclusively for owners of the just-unveiled 2018 Porsche 911 GT2 RS, the fastest and most powerful street-legal 911 ever. The 911 GT2 RS Chronograph won't be available for sale as a standalone piece; you have to buy the car to get the watch. It'll cost you a cool $293,000, but as package deals go this one is pretty great. Porsche's new Ferrari-eater is powered by a 700 horsepower twin-turbo flat-six engine, which can rocket the lightweight two-seater from 0 to 60 in 2.7 seconds, with a top speed of 211 mph.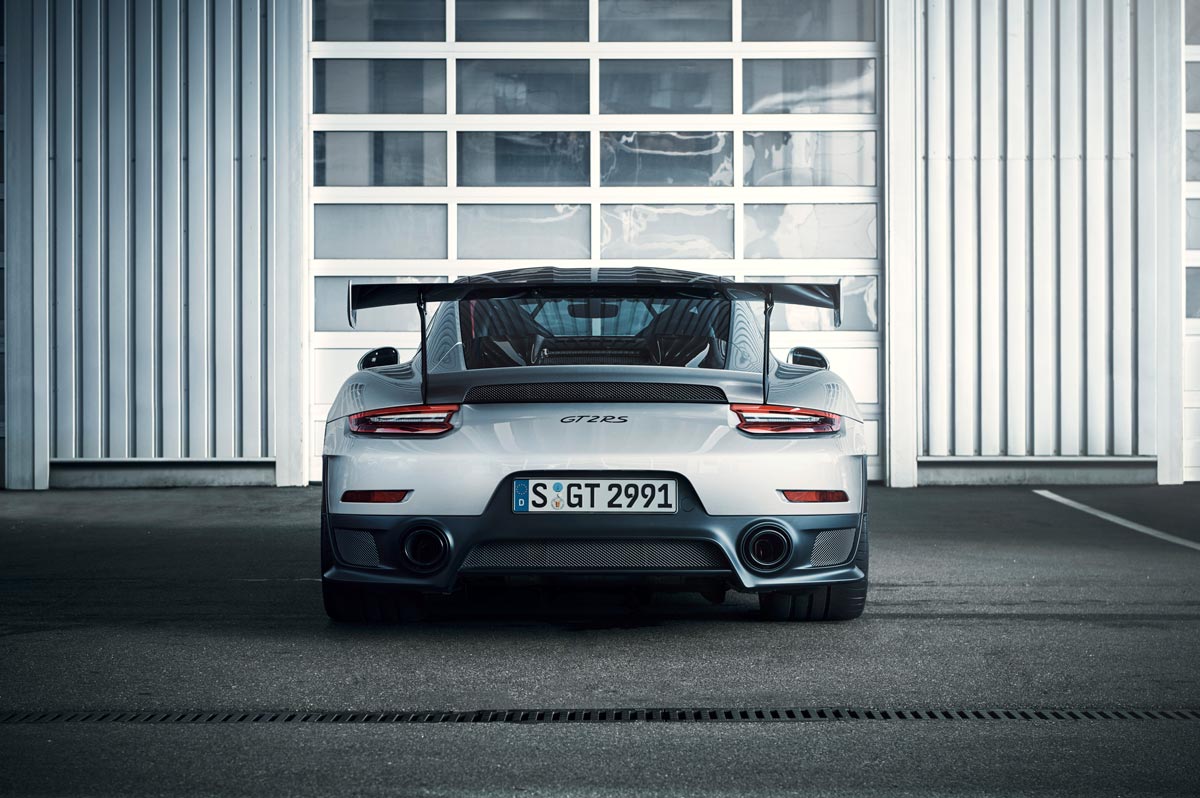 The Street Legal 911
While the car itself is loaded with carbon fiber, the 911 GT2 RS Chronograph features a housing is made of lightweight titanium. At its heart is the caliber 01.200, a proprietary movement developed by Porsche Design's recently established manufacture, in fact one of its very first, which took three years to perfect. It's the street legal sibling of the Le Mans-winning 911 RSR track car, which has its own watch as well, though the 911 GT2 RS Chronograph is arguably more exclusive as its for owners only.
Wrist Legal 911 GT2 RS Chronograph
The caliber 01.200 includes a flyback function, a load-path-optimized movement bridge, and an official COSC certificate of authenticity. The flyback function is not exclusive to Porsche but its motorsport inspiration makes it especially relevant. On a traditional chronograph, the buttons must be pressed three times in order to measure consecutive time intervals: The first press stops the chronograph, the second resets it, and the third restarts the measuring process. Flyback's do this automatically and in rapid succession.
On the 911 GT2 RS Chronograph, the stop function and ongoing time display are clearly separated using yellow markings in homage to racing colors. Many of the details on the watch are based on design details of the GT2 RS: the tungsten winding rotor is modeled after the car's rims and the clock face is made of carbon fiber, while the design of the time display matches the car's instrument cluster and the tachometer. The watch can be customized to each owner's specifications when the order for the car is placed through an authorized Porsche dealer. The vehicle and watch are produced and customized at the same time and are delivered together. Most car branded watches don't indicate that the wearer actually owns the car, which makes this something of a standout. Whether anyone realizes the fact is another matter.