There's been a lot of impressive hardware rolled out at Baselworld this past week, and the latest novelties offered up by Patek Philippe in 2018 are no exception. A refreshed look for the Aquanaut, an all new perpetual calendar Nautilus, and a very sleek salmon-dial perpetual chronograph are just a few of the new gems we were able to take a first-hand look at during the fair, and across the board the response has been glowingly positive.
Just before the doors to Baselworld were flung open, Patek shocked the modern world by finally committing to having a presence on Instagram as they showcased a new variant of the much-debated Calatrava Pilot in two different case sizes (offering a ladies variant measuring a compact 37.5mm across). Though generally a brand known for its elegant and classically-designed pieces, it would seem that 2018 is the year for Patek Philippe to focus on their more casual and sporting offerings. Let's take a dive into Patek Philippe's watch collection.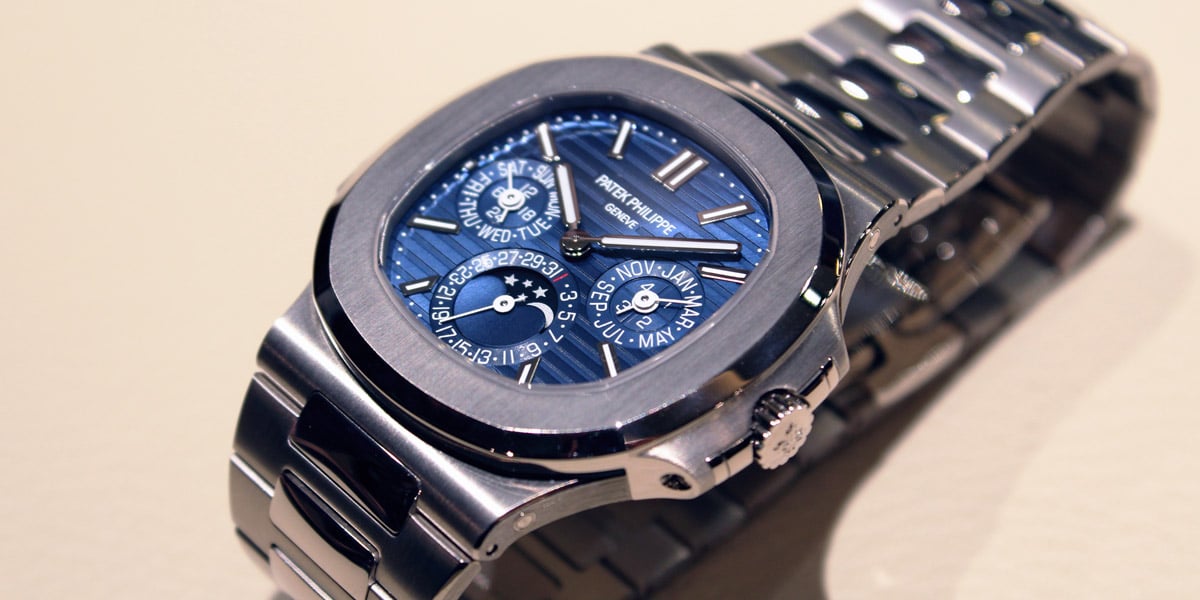 Patek Philippe ref. 5740 Nautilus Perpetual Calendar
The Genta-designed Nautilus has as been absolutely on fire lately, as short supply and high demand has been driving prices of even new examples skyward. Those less familiar with the brand might be surprised to hear that a Perpetual Calendar (or any other grande complication) has never been offered in the iconic case design until this year, and at the end of the day the new execution is nothing short of fantastic. The conventional Patek perpetual calendar layout (think reference 3940, etc) is oddly well suited to the Nautilus dial, and allows its horizontal ribbing and baton indices to remain largely intact. Powered by the caliber 240 Q, Patek managed to show significant restraint by keeping the perpetual's case dimension at 40mm and only 8.32mm thick, meaning it wears absolutely beautifully on the wrist. We all know how much love the Royal Oak perpetual calendar has been getting lately, and we have no doubt that this new Nautilus is poised to dethrone the AP as the ultimate casual perpetual calendar on the market. The new release will retail for CHF105,000.
Patek Philippe ref. 5524R and 7234R Calatrava Pilot Travel Time
Of the recent releases from Patek Philippe, few have been as controversial as the Calatrava Pilot. Not being a brand with any particular heritage in the pilot watch field, its initial release came across as a touch contrived, however once you get past the history lesson the piece is still fairly appealing from a product standpoint. The 5524 was first released in white gold back in 2015, and for 2018 the brand not only updated the piece in terms of materials and dial color, delivering the Travel Time in rose gold with a sunburst brown dial, but they also offered up a new smaller reference that measures a much more compact 37.5mm in diameter instead of 42. This may sound a bit small to some, but due to its multiple crowns and relatively long lugs the 37.5mm piece wears surprisingly well. Of course, the brand is positioning this as a "ladies watch", however, it has been generally agreed by many of us in the media that there's little doubt that many collectors of vintage pieces will be happy to strap on this more conservative case size. Though there's a 4.5mm difference between the two models, they are both powered by the same self-winding caliber 324 S C FUS. The new smaller reference will retail for CHF38,000 when it arrives in retailers later this year.
Patek Philippe 5270P Perpetual Calendar Chronograph
Somewhere along the road in the last few years, salmon dials have become a bit of a "thing" in the luxury watch market. Previously quite niche, we've seen salmon dials make their way into releases from Greubel Forsey and De Bethune, and even though Patek had previously made available a small number of special boutique edition salmon dials available to more prestigious clients in the past, this is the first time they're integrating the unique color choice into their standard production. Otherwise this 5270P is unchanged from past years (the model in white gold first surfaced in 2011), but this release sparks a bit of a debate regarding the canibalization of rare creations. If you've just acquired one of the very rare salmon dials via auction or other means you'll be in two camps. Either you'll be angry because your very special perpetual chrono just got a tiny bit less special, or you'll be thrilled as this extra exposure will drive up the appreciation for the obscure dial combination, and in turn (hopefully) make yours more valuable in the coming years. Personally we lean towards the former rather than the latter, though only time will tell.
Patek Philippe Aquanaut Chronograph Reference 5968A
Possibly the most surprising offering from Patek this year that grabbed attention, this new Aquanaut with orange accents is a blatant, albeit fairly smart attempt by the brand to capture a younger and more sporty audience. Sold with both black and orange straps, the new model will retail for CHF38,600 is positioned without a doubt to bolster entry-level Patek sales a fuel a new generation of collectors for the brand. To be fair, it's both a smart move, and generally a very handsome watch so long as you're into the color combo. We can't help but wonder if this will be a one-off attempt, or simply a taste of what's to come in the next few years.