There was quite the mix of winners and losers at Baselworld this year, and regardless of whether or not you're a diehard Patek fan, it's safe to say that the brand had a good year in terms of new releases. Both of their highly desirable sport models – the Nautilus and Aquanaut – gained new additions to their respective collections, each positioned at opposite ends of the scale in terms of price and complexity.
Similarly to last year, a couple of these new watches (in particular the reference 5235/50R-001 Regulator) ruffled a few feathers within the purists circles as "not being very Patek" in their aesthetics, but the brand has been proving intent on reaching a broader audience with these creations, and in that respect, they seem to be on the right track. Regardless of what camp you're in, there was something for everyone lurking in the Patek Philippe booth.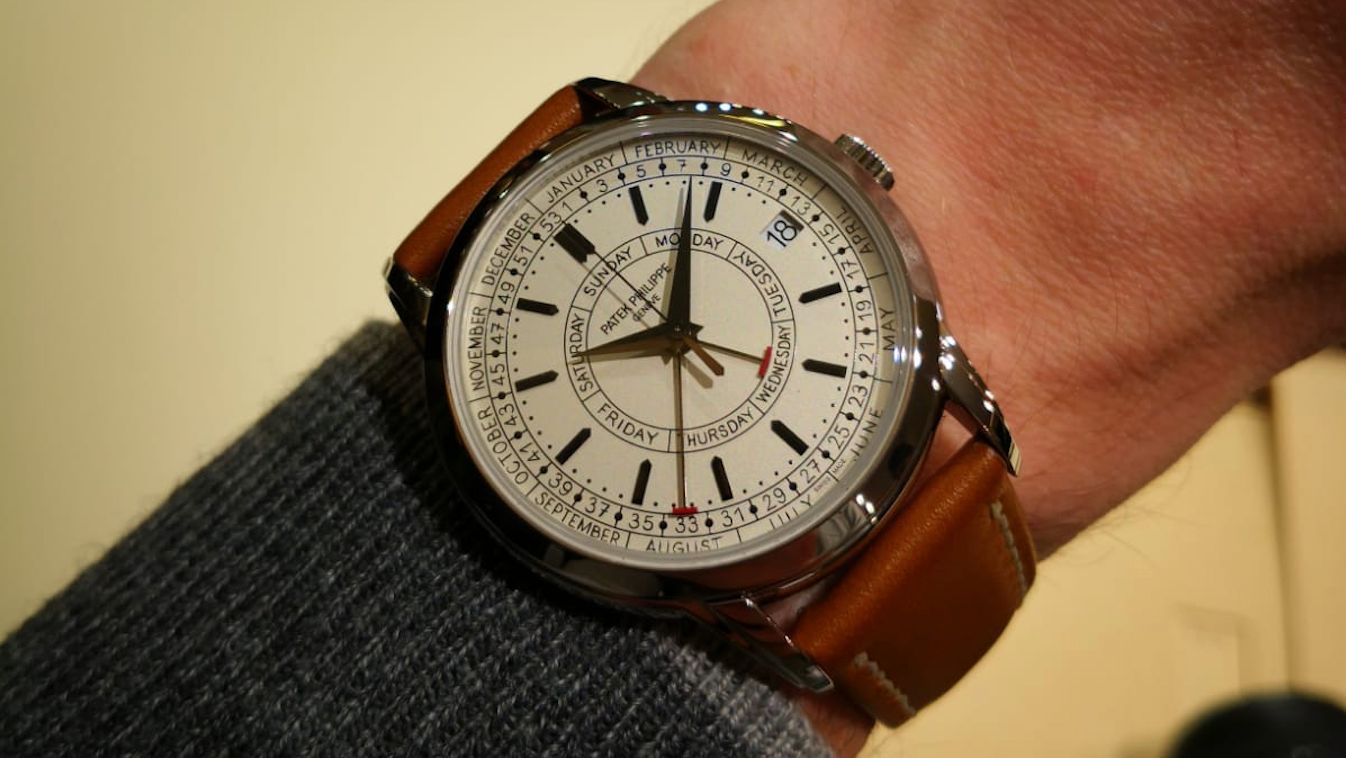 Patek Philippe Ref. 5726/1A-014 Nautilus Annual Calendar
OK, so let's say you're the type that just can't shake that Nautilus lust… This new addition is unlikely to bring an end to the steel Nautilus waitlists, but it might make it the faintest bit easier to get your hands on one.
While not a new model, this latest release brings the classic Nautilus blue to the Annual Calendar Moonphase model previously only available in slate grey. Now having seen the two colors side by side, it's hard to argue with the fact that this new dial variant has immediately become the must-have version.
Patek Philippe Ref. 5212A Calatrava Weekly Calendar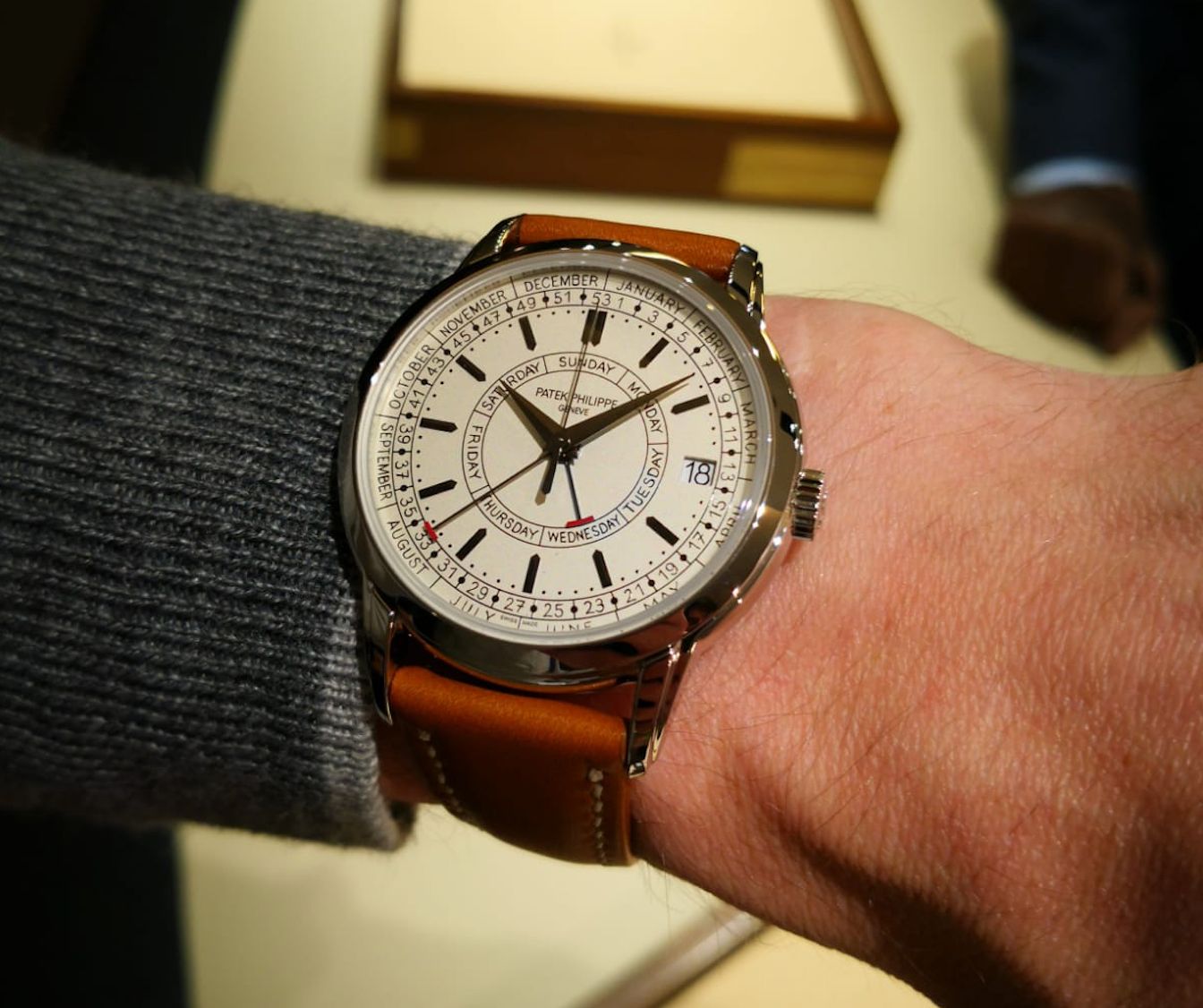 This slightly vintage-looking piece is hands-down the home run of the pack for several reasons. First off, we have a new caliber from Patek, well sort of. It's based on the caliber 324; however, the configuration of the complication affixed to it (in order to make it the caliber 26-330) is new. Second, it's a new steel watch that isn't a Nautilus or Aquanaut, which is something we definitely do not see often from the brand. The last shocker is its price.
Though expensive for a calendar watch at a little over $33k, it's more affordable than the $35k sticker price of the simple 3-hand ref. 5711. Before even touching on the point that a 5711 is a nightmare to track down these days, this funky new 40mm calendar watch presents a compelling alternative to the heavily hyped icon. Personally, I'd take the complication any day of the week.
Patek Philippe Ref 5520P-001 Alarm Travel Time
Variations of this watch just seem to keep taking heat from the enthusiast sect time after time. "Patek has no business building a pilot's watch" they say, or other such nonsense. Sure, they don't have an aviation history like Breguet or Breitling, but with countless brands pulling watch designs out of the ether, I don't agree that we can keep complaining like this so long as the pieces remain well executed. If you're a fan of clever executions of complications in general, this piece will tick a lot of boxes.
First you have the standard Patek Travel Time setup, where local time is advanced and retarded via pushers on the left of the case. Beyond that, rather than cluttering the dial with another hand, Patek displays the alarm set time digitally below the 12 o'clock marker. There are also am/pm cut-out indications for home time, local time, and a similar cut-out for an alarm on/off indication. Now, between this and its four crowns (well, technically 2 pushers and 2 crowns, though they're all designed to look the same) it's definitely a busy watch, but at 42.2mm in diameter the piece really doesn't feel all that cluttered in person.
One hurtle though is its price – a whopping 200k CHF. This is because Patek used a variation of their minute repeater gongs to provide the alarm chime, cased the piece in platinum, and opted to dub the piece a grand complication. While I don't necessarily agree with the nomenclature, it's quite an epic piece, and one worth coveting for sure.