Fastest Bentley
The other day Bentley unveiled its fastest four-seater ever, the new Continental Supersports. A beautiful bespoke beast that can do 0-60 mph in 3.4 seconds with a top speed of 209 mph. Don't forget that the all in the comfort you'd expect of the finest gentleman's club in London. Now the marque's timepiece partner Breitling has come up with a watch to match. Surprisingly enough they've gone with a "connected" SuperQuartz™ model. We'd argue that the Bentley customer is more of the mechanical watch type. The use of tech for the piece is an indication that Breitling may be hedging its bets somewhat.
The Perfect Match
The limited edition 46mm Bentley Supersports B55 chronograph carries on in the proud tradition of custom Bentley pieces that began with the two brand's collaboration in 2003. The B55 features a titanium case, carbon fiber dial and a connected movement designed with motorsports in mind. Only 500 pieces will be released worldwide north of $7,000. Presented on a nifty double-layer red-edged and lined black rubber strap. Under the dial is a new version of Breitling's in-house B55 connected SuperQuartz™ calibre. In addition to flyback chronograph, lap timer and electronic tachymeter functions, the B55 "racing" calibre features a "chrono rally" function which can record up to 30 stages, complete with the departure date of the rally, the start time and duration of each stage, as well as intermediate times for each stage, while adding in any penalties incurred.
Secondly, the "chrono race" function designed for track races enables the user to record the split times for each lap and calculate the average speed per lap. Thirdly, the "regularity rally" function predefines target times or intermediate times out of a total time, and then checking at the press of a button the goals are being met. And of course the Bentley Supersports B55 has a smartphone connection used to enhance functionality and store or transmit data. An accompanying app has been developed in Switzerland specifically for the watch. Two LCD screens are equipped with a backlighting system that can be activated by pressing the crown or by tilting the wrist.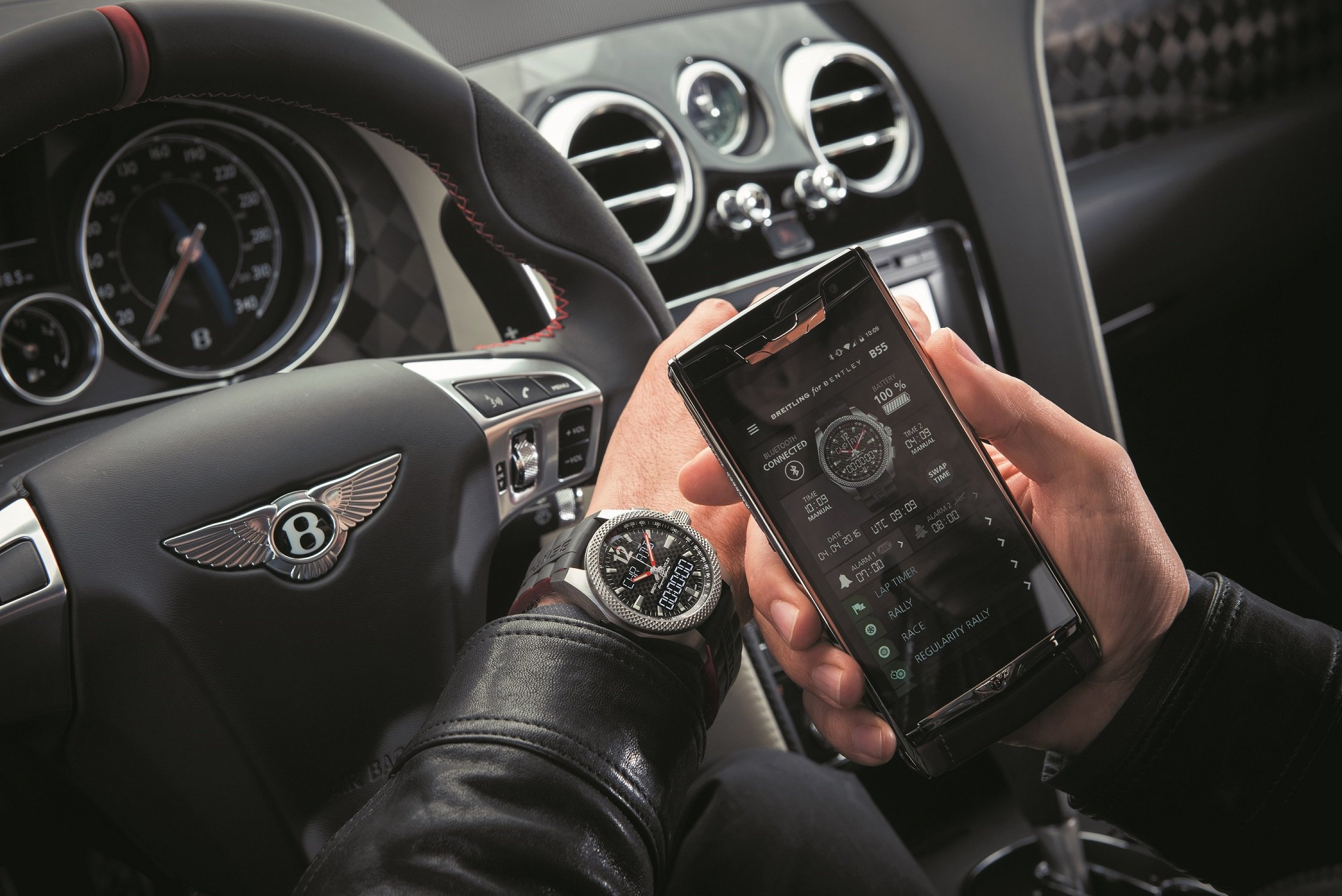 We won't get into the pros and cons of Breitling's trademark SuperQuartz movement here. We don't necessarily agree it belongs to this price range, but will merely point out that the "thermocompensated" calibre is officially chronometer-certified. Lastly, no one doubts its extreme accuracy. It's also water-resistant to 100 m, though we don't recommend going for a swim. At least not while you're still driving the Bentley….