To celebrate three decades of business, Frederique Constant has released their most complicated watch yet — the Perpetual Calendar Tourbillon Manufacture. The watch is essentially a combination of the brands other two most complicated timepieces, the Perpetual Calendar, and the Manufacture Tourbillon. But, the most interesting bit might be that they're classifying this $20-thousand watch as a piece of 'affordable luxury.' While that notion may be laughable, the rest of this handsome, complicated watch is not.
Something Rolex wouldn't dare to do on either of the iconic dress watch like the Datejust or the Day-Date.
Frederique Constant Perpetual Calendar Tourbillon
There are four versions of this watch — two in durable stainless steel and two in elegant rose gold. Both have the option to be skeletonized or non-skeletonized, but both are housed within a 42mm case and can withstand 50m of water resistance (except the rose gold skeletonized, which can withstand 30m).
And whether you have the skeletonized version or not, the dial is outfitted with the symmetrical triple sub-dial layout. Down at six o'clock on both versions, a cutout for another dial instead reveals the tourbillon, and if you look closely a seconds indication. Clever and killer looking, plus, a nod to the brand's heritage of leaving the oscillator visible.
We also can't gloss over the new tourbillon cage that was added to this watch. What they did was add small weights and a 'smart screw' system to keep a perfect balance. It's outfitted on the outer edge of the tourbillon so that it can equalize the weight. Possibly making it the list of our favorite tourbillon.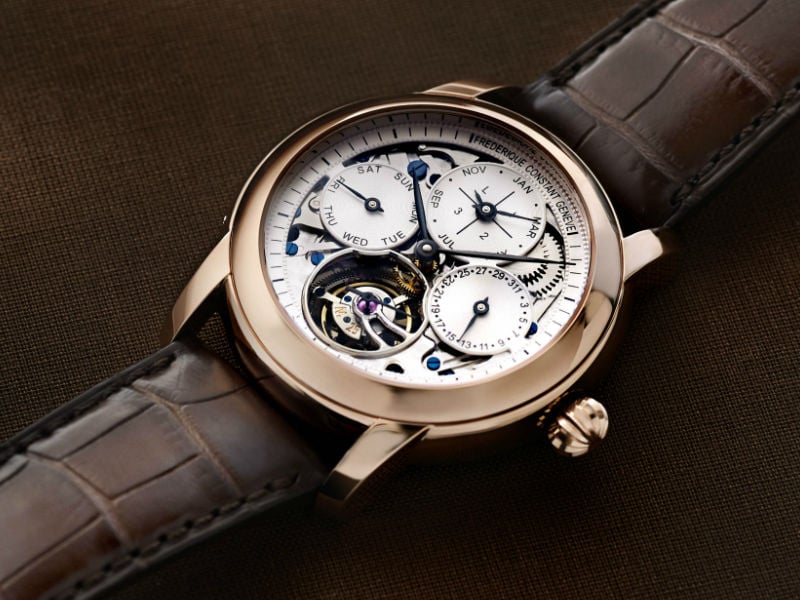 Non-Skeletonized
Now, taking a look at the non-skeletonized version, you have to say that while less complicated, it has its own charms. The stylized Roman numerals, which disappear behind the symmetrical subdial complications, give this watch a modern-meets-traditionally-refined aesthetic — the silver dial tying together the elegant look.
Ticking beneath the sapphire crystal or silver face is an automatic caliber FC-975 with 33-jewlels which runs not only the hours, seconds and minutes, but the subdials that can keep track of the date, day month and leap year. It's actually a new movement that features a silicium escapement wheel and anchor which reduces the need for oil. Plus, it's also a light material and antimagnetic. This watch also features a 38-hour power reserve and runs at 4 Hz. Theoretically, this watch is also so accurate that it doesn't need to be serviced for 400 years.
Before you get too excited, the brand will only be releasing 88 pieces of each model, excluding the rose gold skeletonized, which will only have 30 pieces and be priced at a significantly higher price tag of nearly $33-thousand. But, if you're one of the lucky ones who can get their hands on it, you can certainly call yourself lucky. And if you're wondering which numbered piece you have, all you have to do is peek at the tourbillon cage which features the number on the top plate. It's a small detail, but it just adds something to this historic timepiece, doesn't it?
See all the details of this watch by Frederique Constant.