The new Rolex Oyster Perpetual watches are the latest versions of a long-running line of watches that form the core of Rolex's collection. Since 1926 Rolex has been producing waterproof wristwatches with Oyster cases, and the Rolex Oyster Perpetual has been a legend within the watch industry since the 1930s. Though the style has changed slightly and the technology become more advanced over the years, the new model will surely be highly sought after by collectors.
The Quintessential 39mm Rolex Oyster Perpetual
The latest Oyster Perpetual is titled by Rolex as "the quintessential Oyster" and is considered an entry level Rolex watch. Measuring 39 mm, the new Oyster Perpetual sports an updated dial in gold, blue or silver with white baton markers. This version has lost the fluted bezel and utilizes a traditional Oyster bracelet as opposed to a Jubilee bracelet. Inside the Oyster Perpetual features a superb, COSC-certified movement for proven reliability and precision. As an officially certified chronometer, the Oyster Perpetual contains the fundamental attributes of the classic Rolex Oyster collection.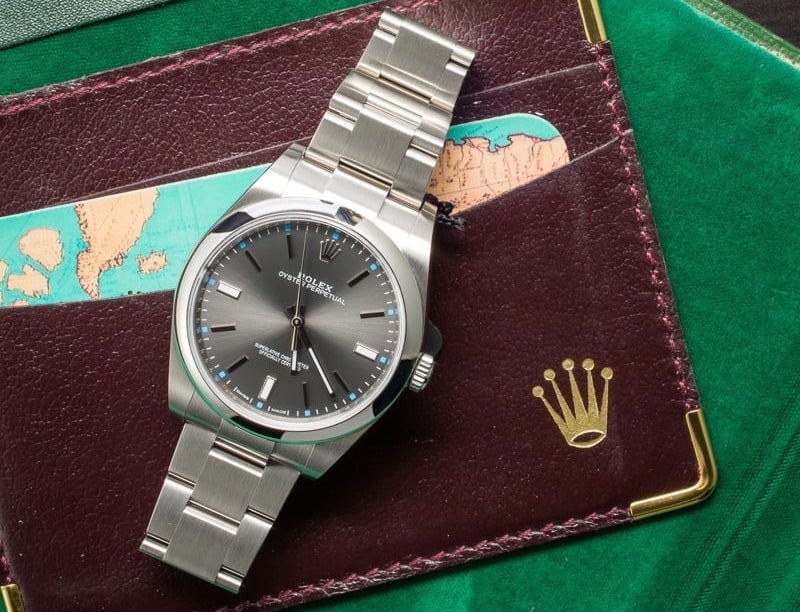 This watch is available in a range of sizes including 26 mm, 31 mm, 34 mm and 39 mm cases. The entire family of Oyster Perpetual watches is officially certified chronometers and possess the timeless attributes Rolex watches are known for. The Oyster Perpetual line is one of the most versatile line of waterproof watches from Rolex. This line certainly offers a little bit of something for every collector, from those who enjoy wearing a single watch to those who change their watch look every day. The best part about the new 39mm watch is that they do not cost a fortune. For around $5,700 you can own an incredibly versatile watch that you can easily wear every day and in any setting. With new eye-catching dials, this elegant yet sporty watch will continue to be in vogue for years to come.
You can shop our selection of Rolex Oyster Perpetual watches by clicking here.