There's paying homage to watches from the past, and then there's this. While the modern fashion for 'vintage-inspired' models throws up some dubious examples, Luxury watch legends Omega have gone all in and created a piece that is as near as you can get to a true antique. Unveiled recently at the brand's aptly-titled 'Night at the Museum' event, the First Omega Wrist Chronograph, or FOWC, is an authentic recreation of their earliest attempt at a mechanical stopwatch.
The company had been turning out pocket chronographs since as early as 1885, and their first wrist model from 1913 was merely one of these large pocket watches converted with the addition of thin metal wires soldered to the case to allow for a strap to be fitted.  
It was at a time when wristwatches were still mostly tiny, fragile models aimed at women. It would take the horrors of the First World War, just 12 months away, until the benefit of a watch that didn't need two hands to operate would prove itself, and find an appreciative male, and military, audience.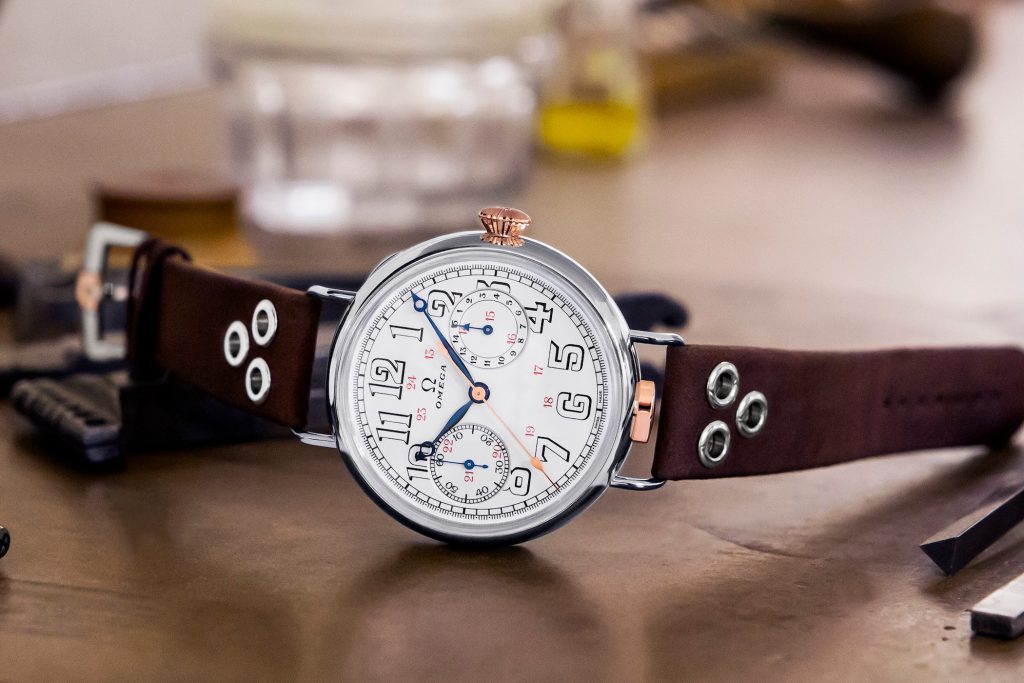 The FOWC
For their delve into the deep archives, Omega have stuck as rigidly to the aesthetics, and technology, of the very early 20th century as possible.
The FOWC measures in at an enormous 47.5mm in diameter and 16mm in height, faithful dimensions for an adapted pocket watch.
Its wire lugs are cast right into the white gold case, holding a historically relevant riveted leather strap.
The crown and single push button (making this what's known as a mono-pusher chronograph) are cast from Omega's own 18k Sedna gold, their red alloy version of the precious metal. It gives the watch an inherent sense of aging, similar to true vintage pieces where the underlying brass has started to show through.
Happily, they haven't tried to add any artificial patina as so many other brands do with their retro-reissues. The case and dial are left clean, just as they would have been way back when, but they have definitely stayed accurate to the time period.
The white grand feu enamel face is fitted with blued Breguet-style hands and engraved Gothic indexes, themselves overlaid with black enamel. As a bi-register chronograph, it has two relatively large sub dials; with a seconds counter at nine o'clock and a 15-minute at three o'clock. In the middle is a standard sweep seconds hand, again in Sedna gold.
There is no lume present, as there wouldn't have been, and the brand logo is also a loyal throwback to more than a century ago.
The Movement
So far, so antiquated, but here's where it gets even more authentic. Opening up the hinged 'officer' case back, you get to see to just what extent Omega has stayed faithful to its roots. Behind the sapphire crystal is one of the actual calibers used in the 1913 models hard at work.
Omega reportedly found 18 of these movements in their vaults; 18"' CHRO hand wound mechanisms usually found in pocket watches, which explains why the pusher for the chronograph functions is on the bottom, underneath the six o'clock marker.
After several hundred hours of refurbishing work on each one, even using the original manufacturing machines, they emerged as the Caliber 3018. New parts had to be built specifically for each individual movement, as no two were an exact match—being made long before today's level of consistency in precision engineering. All of the plates, bridges and steel components were then decorated and assembled, fitted inside the case and finely adjusted.
It might not be one of Omega's latest antimagnetic, hyper-accurate Master Co-Axial movements, but watching the 2.5Hz frequency caliber, with its horizontal clutch and balance wheel, breathe away inside that enormous case is a real taste of watchmaking history.
The Price
As you might imagine in a watch that qualifies as a severely limited edition, and especially one into which so much time and dedication has been poured, the FOWC is not just being given away.
All 18 are being presented in a beautiful handcrafted leather trunk, along with two additional straps, one in burgundy, the other in novonappa leather. In addition, the lucky owners will receive a special tool to change the straps along with a spring bar container, loupe and travel pouch. So, when you add all that up, the $120,000 asking price begins to look fairly reasonable!
Well, no actually. There's no getting away from the fact that it is a significant chunk of change. But for those who can afford it, and who have a hankering for the real good old days when watchmaking was still in its infancy, the First Omega Wrist Chronograph is little short of a masterpiece.