This year's edition of SIHH had a total of 35 brands exhibiting, almost evenly divided into two sections: Maison Historiques and Carré Des Horlogers. The first group is home to the big brands that we all know, such as Cartier, Panerai, Audemars Piguet, Vacheron Constantin, etc.; however in 2016, SIHH introduced the Carré Des Horlogers category for smaller independent boutique watch brands to showcase their creations.
While the famous watch houses invariably get most of the press and attention, many can argue that the independent manufacturers have a leg up when it comes to creativity and thinking outside the constraints of traditional horology. If you have been thinking about purchasing a luxury watch, but specifically want a non-traditional piece from a lesser-known manufacturer, then this list will likely appeal to you.
So, with no further ado, let's have a look at some of the standout releases from the independents at SIHH 2019!
Ressence Type 3W
Belgium-based independent manufacturer, Ressence is here to challenge the status quo of modern watchmaking. The Type 3 watch, for instance (which made its debut in 2013) was the world's first oil-filled mechanical watch, and was designed around a non-traditional dial that – due to the unique design of the watch – was incredibly legible from every angle. What's more, that oil-filled dial is fitted with small, non-concentrically mounted disks – the patented Ressence Orbital Convex System (ROCS), which continuously rotate for a unique way to display the time and various calendar functions.
Dark dials have historically been the signature look of Ressence; however at SIHH 2019, the brand revealed the new Type 3W with a fresh and modern white dial, complete with hours, minutes, running seconds, day, date, and oil temperature indicators. Housing that intriguing dial is a 44 mm titanium case that is fitted with domed sapphire crystals on both the front and back sides.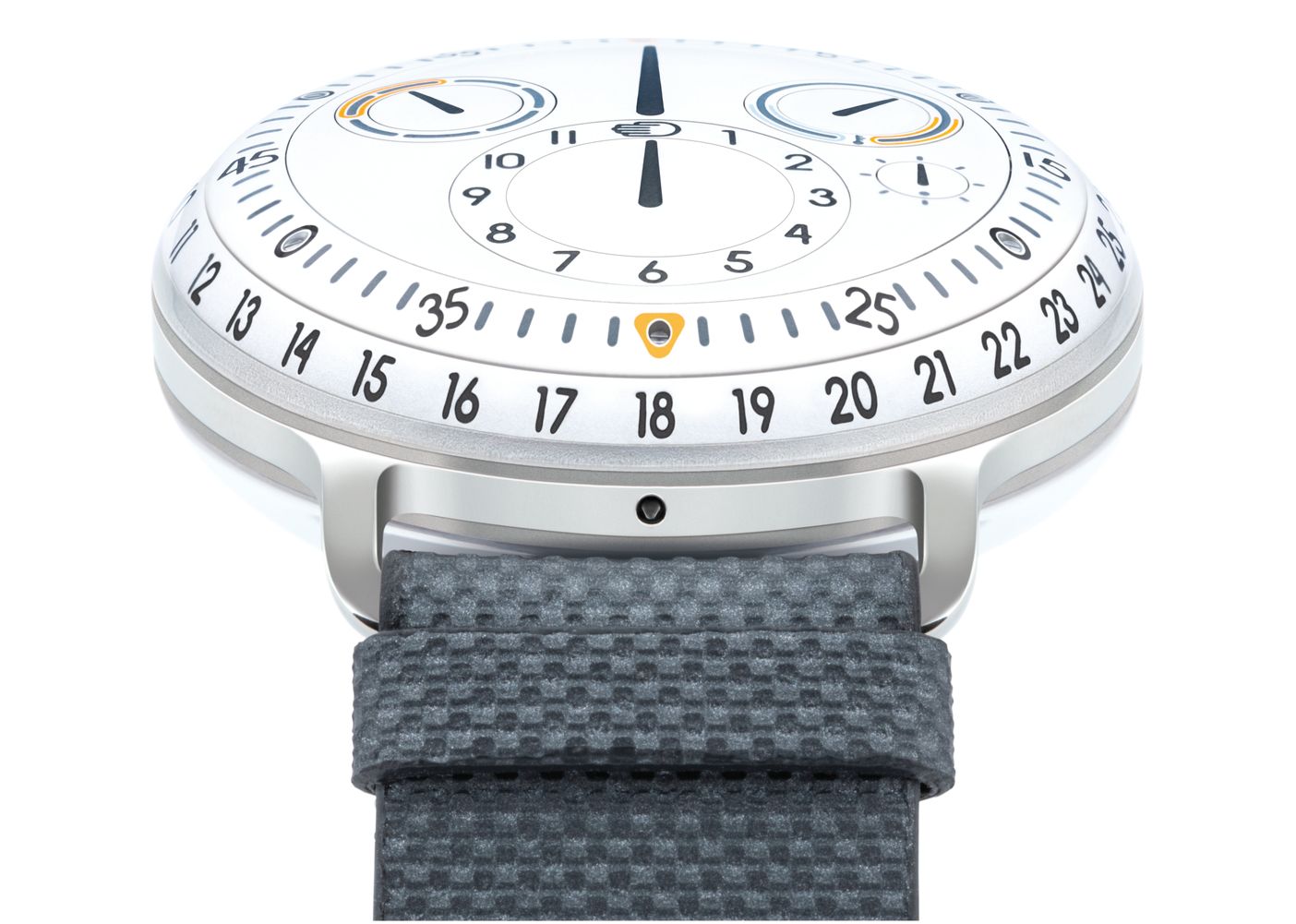 Also worth noting is the complete lack of a traditional winding crown; both movement winding and time setting are done by rotating the sapphire crystal on the back of the watch. Innovation doesn't come cheap – the price to own a new Ressence Type 3W is CHF 36,500 (approximately $36,700).
H. Moser & Cie Swiss Alp Watch Minute Repeater Concept Black
Next, we have a watch from an independent manufacturer that – on paper – should make absolutely no sense. There are no hands (it chimes the time instead), the dial is completely black except for an oscillating tourbillon, and the heavy platinum case is remarkably similar in appearance to the impossibly-ubiquitous Apple Watch.
Nevertheless, the Swiss Alp Watch Minute Repeater Concept Black is a perfect example of what H. Moser & Cie does best – which is to question (some may say troll) conventional thinking in high horology. Minute repeaters were once a necessary mechanism, enabling individuals to reference the time when they were unable to read the dial in the dark. Today, we have numerous ways to illuminate a watch in low light conditions; however since we have phones, cars, computers, and other electronic devices that are voice-activated, then why not have a high-end mechanical timepiece that doesn't show the time at all, but rather sings it out at the press of a lever?

Don't expect this timepiece to show up in a storefront anytime soon; the H. Moser & Cie Swiss Alp Watch Minute Repeater Concept Black is a completely unique piece with a hefty $350,000 price tag.
MB&F Medusa Clock
Yet again, independent manufacturer, MB&F is bringing the magic and whimsy with their characteristic collision of art, engineering, and horology. Made in collaboration with storied Swiss clockmaker, L'Epée 1839, the new MB&F Medusa Clock is part desk clock, part chandelier, and basically all jellyfish.
To create the jellyfish silhouette, MB&F used hand-blown Murano glass – in blue, green, and pink – that can either be attached on a stainless steel and brass base, or mounted from the ceiling with matching Murano glass tentacles. Beneath the dramatic dome sits two rotating rings that display the hours and the minutes. Time is read with one hand that extends over both numerals, and there's plenty of Super-LumiNova to add visual intrigue and aid with visibility in low-light conditions.
To power the time-telling sea creature, L'Epée made a suspended movement, complete with a 7-day power reserve, which uses a winding key to set the time and supply tension to the mainspring. Each color is limited to just 50 pieces, and the price is set at CHF 25,500 (approximately $26,000).