Omega may have James Bond, but TAG Heuer has the cast of Kingsman: The Golden Circle, the elite and exceptionally well-tailored British secret agents in the Matthew Vaughn film of the same name. The Swiss watch brand, owned by LVMH, did a product placement deal with producers MARV Films and Twentieth Century Fox to have characters in the flick wear its iconic Monaco watch as well as the TAG Heuer Connected smartwatch. And beyond a mere appearance the watches "will be key to the success of the heroes' missions" while TAG Heuer is now the Official Watch of the franchise. The first Kingsman movie in 2015, starring Colin Firth and Michael Caine, was a smash hit and this is likely to be a very expensive but also very smart move for TAG.
Kingsman Watches
"Kingsman means explosions, action, laughter, and, of course, elegance," notes Jean-Claude Biver, CEO of TAG Heuer and Chairman of the Watch Division of LVMH Group. "Its cast of young actors is the stuff of dreams – gentleman who aren't afraid of anything. This is a perfect fit with TAG Heuer's target market. This partnership will help us to get even closer to the younger generation.
Getting Connected
The first installment was a great success, and we are both proud and honored to see the heroes of the second film wearing flagship pieces from the TAG Heuer collection." Director Matthew Vaughn adds, "For Kingsman: The Golden Circle, we needed a smartwatch for our agents. We looked at the different options available, but none of them were elegant enough for a Kingsman. Then I saw an interview on Bloomberg TV with Jean-Claude about his connected watch, and it became immediately obvious; the Kingsman agents would wear the TAG Heuer Connected."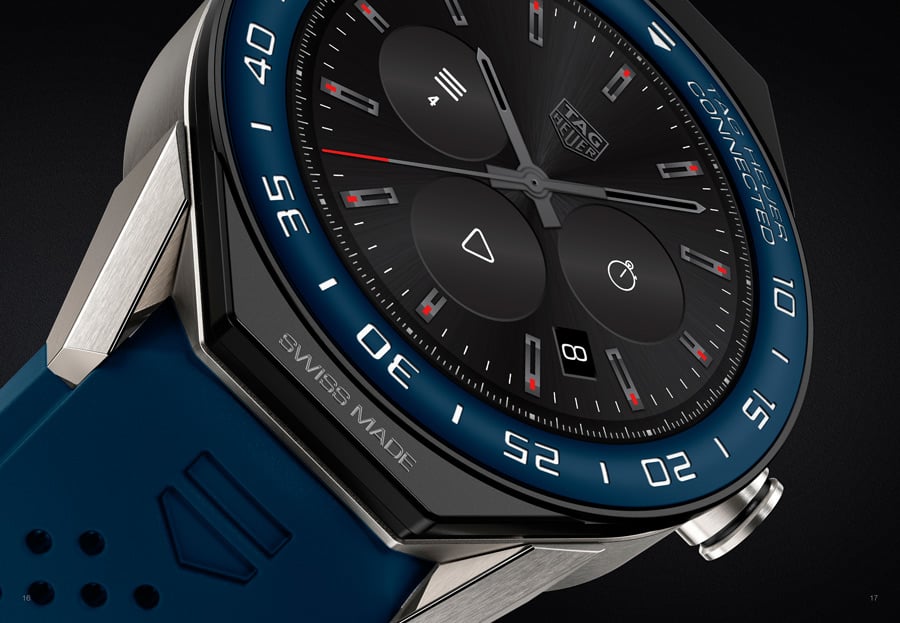 The TAG Heuer Connected, which is based on the Carrera, has gotten mixed reviews from the watch community but the brand says it has been a commercial success. More recently the company released an updated modular smartwatch / mechanical hybrid version dubbed the TAG Heuer Connected Modular 45. In Kingsman: The Golden Circle, hitting cinemas worldwide on September 22, the Kingsmen join forces with an equally storied and secret spy agency in the U.S. called Statesman.
Monaco
It is the Statesman agents who wear the Monaco. Along with Firth and Taron Egerton, young star of the original movie, the movie features Julianne Moore, Halle Berry, Channing Tatum and Jeff Bridges. Another brilliant marketing move by Mr. Biver who is steadily boosting the TAG Heuer brand, but we wonder how much all this is costing LVMH….?