While the Milgauss may be Rolex's most famous antimagnetic watch, there is another model in the current collection that uses the same case and movement – the Air-King ref. 116900. Today we investigate why magnetism matters to mechanical watches and compare a duo of modern antimagnetic Rolex watches.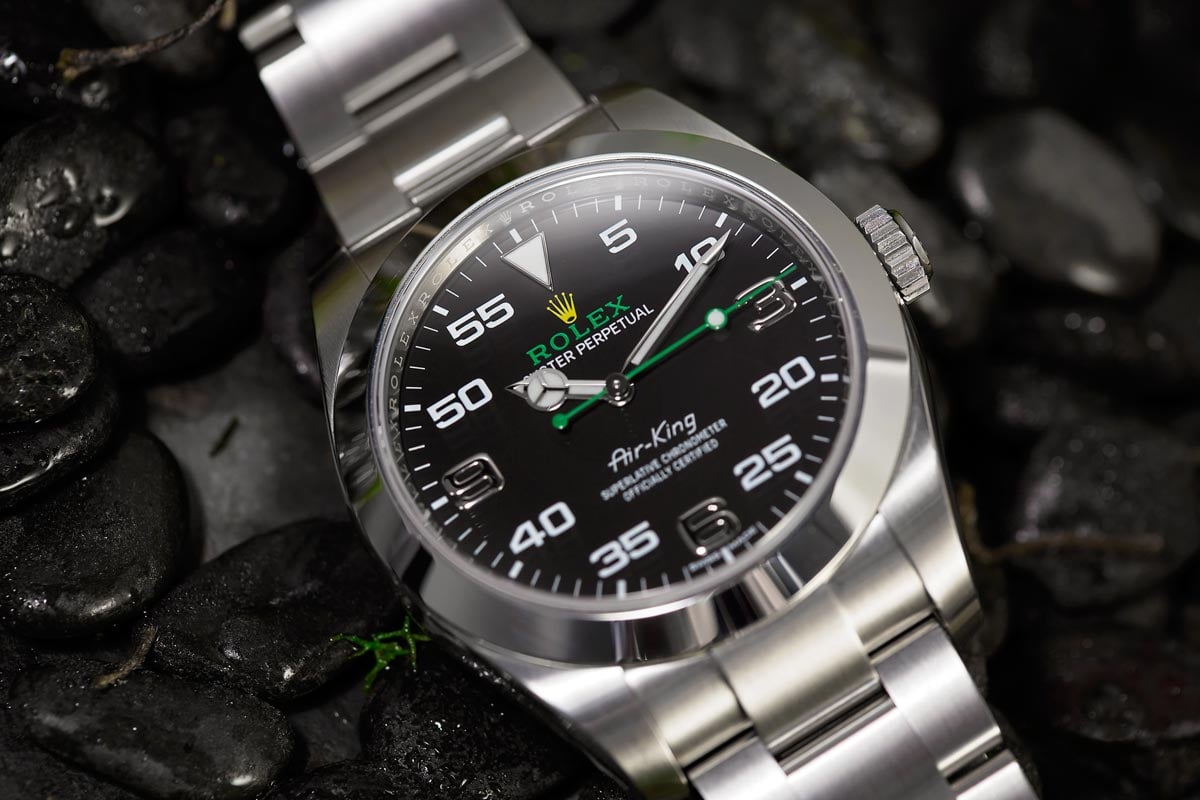 What are the effects of magnetism on a watch?
Magnetic fields are all around us – and not just because of all the electronic devices that are a part of our daily existence; they also arise from simple magnetic closures found on apparel and accessories. Prolonged exposure to strong magnetic fields can alter the balance spring inside a mechanical movement, thereby wreaking havoc on a watch's timekeeping ability.
A magnetized watch can end up running too fast or even stop working altogether. How do you know if your watch is magnetized? Get a compass close to your watch, and if the hands of the compass move around when you move your watch, it's magnetized.
The good news is that the magnetization is temporary and demagnetizing watch is a relatively simple process. However, it can be impractical to wear a watch susceptible to magnetization if you work in environments that have strong magnetic fields.
Scientific research, medicine, and electronics were booming industries during the 1950s. As such, in 1956 Rolex introduced the Milgauss, an antimagnetic watch to cater to scientific professionals that were often exposed to strong magnetic fields. Tested by the European Organization for Nuclear Research (CERN), the Rolex Milgauss could withstand magnetic fields of up to 1,000 gauss thanks to a shield protecting the movement crafted from ferromagnetic alloys.
Rolex Milgauss 116400GV
Today's version of Rolex's antimagnetic watch is the Milgauss ref. 116400GV, which made its debut in 2007. In fact, the Milgauss 116400 brought back the watch to Rolex's lineup after the Milgauss was discontinued for about two decades.
The Milgauss 116400GV is a great blend of vintage details and modern features. Housed within the 40mm stainless steel case is a time-only dial that includes a distinctive lightning bolt seconds – reminiscent of those present in early Milgauss models. Dial colors include classic black or white, as well as an electric 'Z-Blue' dial that, paired with the orange details and green sapphire crystal, is uncharacteristically colorful for a sporty Rolex watch. Exclusive to the Milgauss watch, the "GV" in the model number refers to the green sapphire crystal sitting on top of the dial.
Tucked beneath the caseback of the Milgauss 116400GV and protected by a magnetic shield is the antimagnetic Caliber 3131 automatic movement with a 48-hour power reserve.  
Rolex Air-King 116900
The Air-King was yet another Rolex watch that was discontinued for a time being; however, the two-year interruption was much shorter than that of the Milgauss. Rolex unceremoniously removed the Air-King from the catalog in 2014, only to have it return with a bang in 2016.
The 2016 launch of the Air-King ref. 116900 was a surprising (and polarizing) one to say the least, given that the watch bears hardly any resemblance to past models that share the same name. Not only does the modern Air-King come with a larger-than-its-predecessors 40mm Oyster case, but also its once-simple dial is now one of Rolex's most dynamic.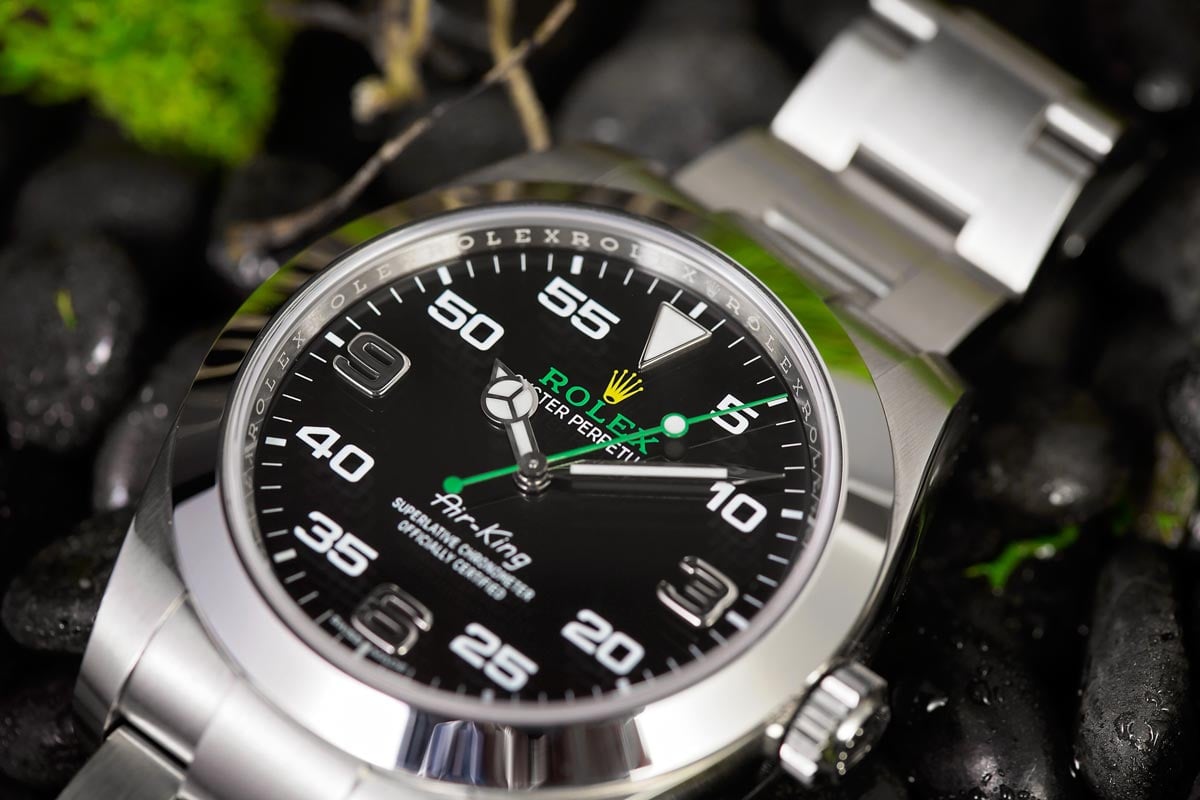 The time-only black dial is in fact, inspired by the Rolex instruments on the dashboard of the BLOODHOUND SSC supersonic vehicle, as illustrated by the vibrant green and yellow accents. Interestingly, for indexes, Rolex uses a mix of the 3-6-9 numerals typical of Explorer dials, along with printed minute markers.
In another surprising twist, the Air-King rejoined the lineup as one of the antimagnetic Rolex watches. Rolex furnished the Air-King ref. 116900 with the same case and antimagnetic Caliber 3131 automatic movement of the ref. 116400GV Milgauss, complete with its internal antimagnetic shield.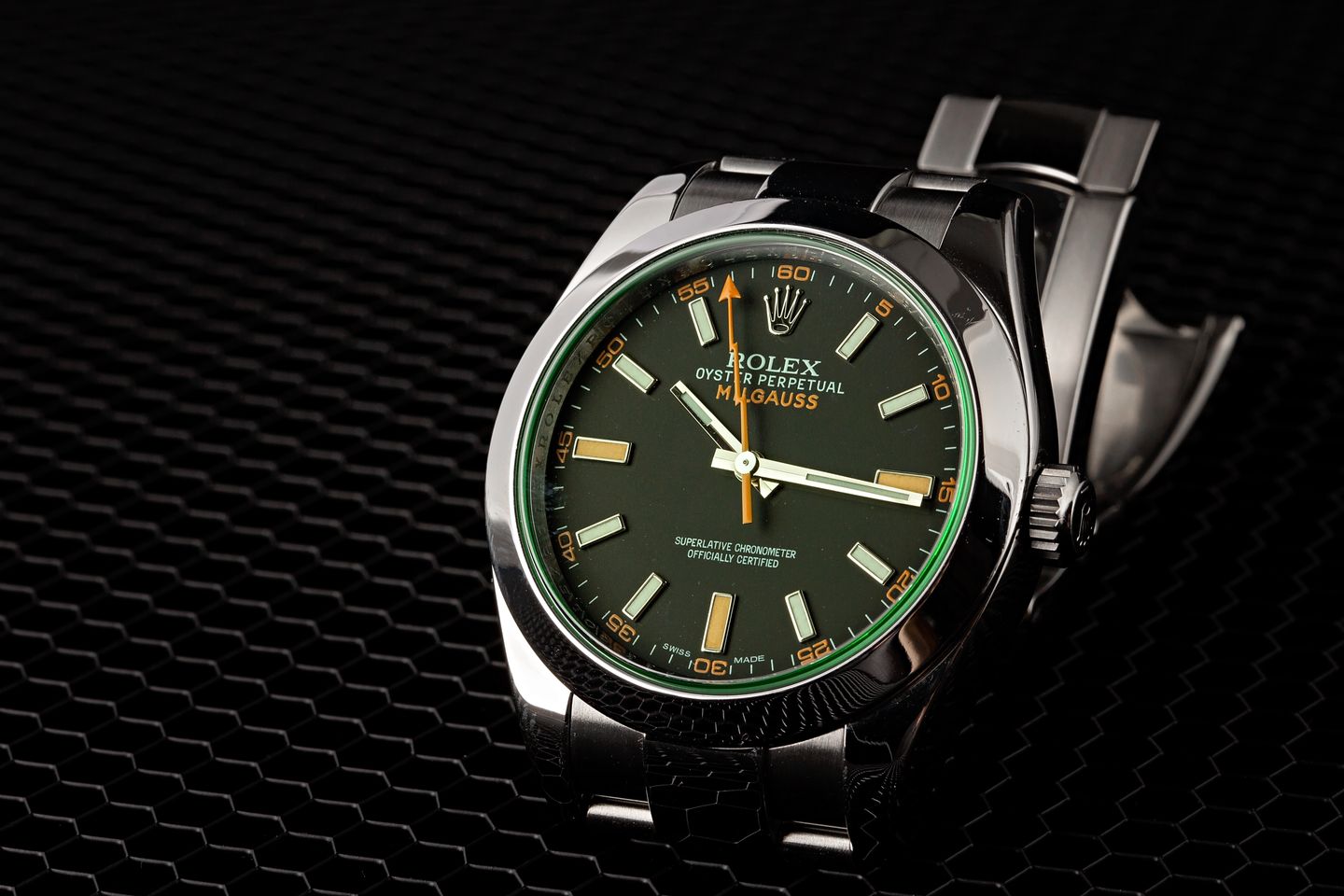 It may not be apparent at first glance, but the modern Milgauss and Air-King – the two antimagnetic Rolex watches are quite similar. Not only did Rolex revive both of these watches after a period of discontinuation, but they also boast very distinct dial designs within their otherwise-identical understated steel case and Oyster bracelet exterior.
Many consider the ref. 116900 Air-King to be more-or-less a Rolex Milgauss with a different dial and set of hands, making it a perfect option for those seeking an antimagnetic Rolex watch at a more affordable price point. However most importantly, with the new Air-King, we now have a choice between two antimagnetic Rolex watches – and variety is always welcomed.