Designed for daily use and built to last a lifetime, once you buy a Rolex they require very little user upkeep. Like anything else mechanical, a Rolex will need periodic maintenance of its precision movement and Rolex recommends a service about every ten years. However, this is not something that you will be able to do yourself – it should only ever be attempted by a professional watchmaker. As far as what is required from you as the user, little more is needed beyond daily wear and periodic cleaning of its exterior surfaces.
As you wear your watch, tiny particles of dirt and grime can get stuck to it. Not only does this detract from your Rolex's natural beauty and luster, but build-ups of debris can also impact the functionality of your watch, causing bezels to stick, chronograph pushers to become inoperable, and bracelets to stretch. Done correctly, regular cleaning will help you keep your Rolex looking new for many years to come. From washing, scrubbing, and drying to buffing out scratches from the crystal, read on as we go over some top tips on how to clean your Rolex.
What to Know When Cleaning Your Rolex
Rolex Cleaning General Information
Many Rolex watches are equipped with water-resistant Oyster cases that include screw-down winding crowns and case-backs. These features create a hermetically sealed structure around the internal movement to help ensure that it stays protected from moisture and dirt. In addition to adding to the overall resilience and durability of the watch when it is on your wrist and in use, Rolex's waterproof Oyster cases also make cleaning easy, as they allow the watch to be fully scrubbed and cleaned with soap and water.
Beyond maintaining your watch from a cosmetic standpoint, cleaning your Rolex is an important part of ownership, as it helps ensure that no ambient particles or chemicals that get stuck to the watch can negatively impact its various components or their functionality. For example, any time that you wear your Rolex in the ocean, it is important to rinse it off with fresh water afterward to remove any leftover salt, sand, and other debris that may still be stuck to it. Trapped salt and sand particles can act as an abrasive, and rinsing off your watch helps to prolong the life of its components and their surface finishing.
With that in mind, rinsing off your watch or submerging it in water should only ever be done with Rolex models that feature waterproof Oyster cases. Additionally, even when the watch you are cleaning has an Oyster case, it is imperative that you first make sure that the winding crown is fully screwed down against the case before your watch comes into contact with water. Failure to do this may result in water getting inside your watch, and depending on the extent of the moisture intrusion, expensive repairs may be necessary.
Bracelet Removal and Exterior Cleaning
Depending on the extent of cleaning required and the tools available, you can also take the bracelet off your Rolex to make it easier to clean. Unlike some luxury watches fitted with matching metal bracelets, Rolex watches feature bracelets that can be removed from their case. Some owners enjoy this capability because it easily allows them to switch up the look of their Rolex by swapping out the bracelet for a strap. However, even if you do not intend to ever wear your Rolex on anything but its original bracelet, you still may want to take the bracelet off so that you can more easily clean the exterior of your timepiece.
Once the bracelet has been removed from your watch, you can access the area between the lugs on the case and the inner surfaces of the bracelet's end-links. Additionally, should you have access to an ultrasonic cleaner, you can also put your Rolex bracelet inside it to help remove dirt and grime from hard to reach places – just be sure to not put the actual watch itself inside the ultrasonic, as this will run the risk of getting moisture inside your watch.
You can always wipe down your watch with a soft cloth as a quick and easy way to remove dirt and maintain its luster. Polishing cloths can sound appealing, but the polishing compounds embedded in them often contain abrasives that can actually further damage the surface finish of your watch. Instead, you will want to use a material that is soft and free from additional cleaning chemicals and abrasives, such as a microfiber cloth or the rag included in an eyeglass cleaning kit.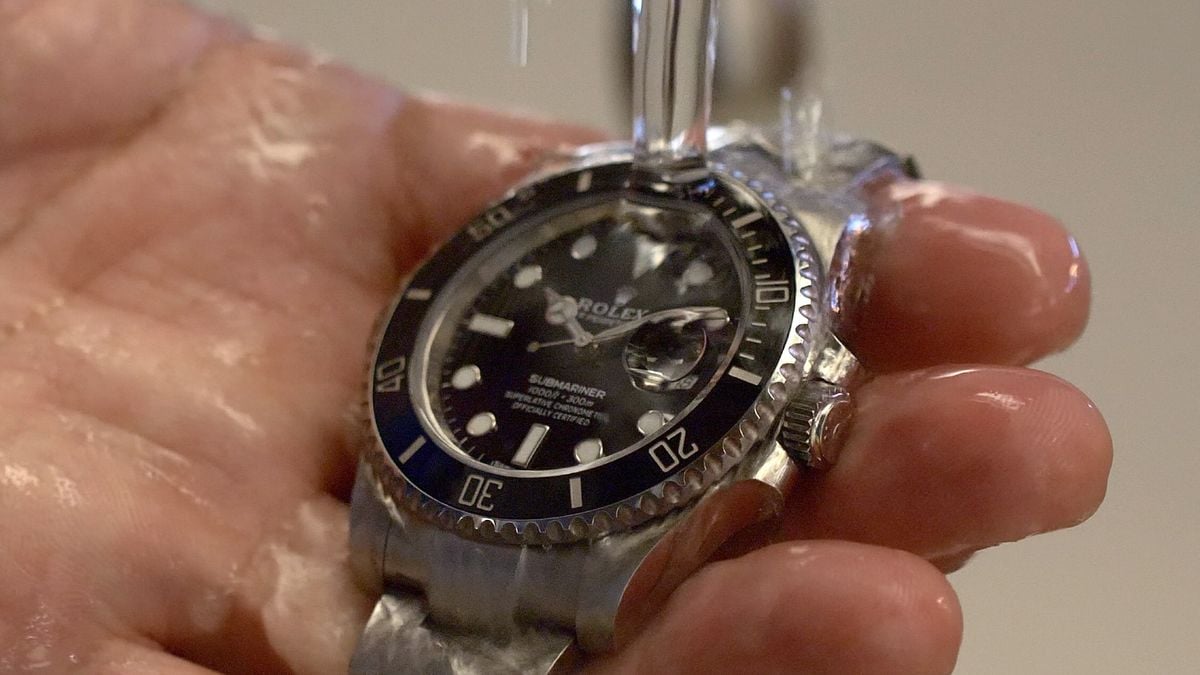 How to Clean Your Rolex in 5 Steps
Should your Rolex require more extensive cleaning than a simple wipe-down of its visible exterior surfaces, the following steps will help guide you through the process of cleaning the external surfaces of your Rolex with soap and water.
Additionally, before you get started, it is important to note that even with the bracelet removed, there may still be certain areas of your watch that cannot fully be accessed until the watch is disassembled (such as underneath the bezel). These areas will be fully cleaned during routine servicing, and minimal day-to-day action is required to ensure that your bezel continues to rotate properly (this only applies to models with rotating bezels).
STEP 1: Make Sure the Crown Is Screwed Down
With the exception of models from the Cellini collection, all modern Rolex watches offer an official water-resistance rating of at least 100 meters (330 feet). However, it is necessary for the winding crown to be fully screwed down in order to guarantee that it is properly sealed against moisture and dirt. Before you clean your Rolex, it is important to make sure that your crown is fully in the screwed-down position.
STEP 2: Fill a Bowl with Soap and Water
Fill a bowl with warm (not hot) water and a small (dime-sized) dab of soap. It is always best to use a mild soap since soaps and cleaning solutions with harsh chemicals or abrasives can risk damaging your watch or the finish of its components. Should you not have a bowl available, you can also put a small dab of soap directly on the brush and work it up to a lather while running your watch under the faucet.
STEP 3: Scrub Your Watch with a Soft Brush
Use a soft-bristled brush (an extra soft toothbrush will also work here) to scrub the surfaces of your watch. The warm soapy water will help remove stuck dirt and grime, while the bristles of the brush will be able to reach in the small gaps between the lugs and bracelet links.
STEP 4: Rinse With Fresh Water
Once you are done scrubbing your watch, you will want to rinse it under warm water to wash away any leftover dirt particles and soap residue. It is important to make sure that all of the soap has been fully washed away, and if your Rolex watch is a Submariner, GMT-Master, or Sea-Dweller with a rotating bezel, it is also recommended to rotate your bezel a few times while rinsing it to help guarantee that all soap residue has been washed away from under the bezel assembly.
STEP 5: Dry with Microfiber Cloth
After cleaning your watch, the final step in the cleaning process is to dry it off with a microfiber cloth. Just like when wiping down your watch, it is important to use a cloth that is both clean and free from all polishing compounds. The use of microfiber cloth (or similar) will help ensure that you are able to dry your watch off without disrupting its natural surface finish.
Additional Notes and Rolex Cleaning Tips
It is important to note that while these cleaning instructions will work for the vast majority of Rolex models, vintage references and watches from the Cellini collection should be treated slightly differently. Rolex Cellini watches do not feature the brand's waterproof Oyster cases, and many older vintage models may require service or the replacement of certain components in order to guarantee that they are properly sealed.
Unless the watch was recently serviced and had its gaskets replaced at that time, there is a fairly good chance that a vintage watch will not be adequately water-resistant to stand up to submersion and scrubbing. Additionally, beyond the gaskets themselves, there are also other components such as crystals, winding crowns, and case tubes, that all need to be in good condition to guarantee proper water resistance. Even with a brand-new set of gaskets, a worn-out winding crown or case tube will result in a watch not being able to be properly sealed against moisture.
For Rolex watches that fall into this category, it is often best to simply wipe the watch down with a microfiber cloth. If you are having trouble removing dirt and grime with a dry cloth, you can use a slightly damp cloth as a means to wipe it down more thoroughly; however, you should avoid submerging it or letting it come into direct contact with water.
How to Remove Scratches from Acrylic Crystals
Lastly, for vintage Rolex watches with acrylic crystals, you can actually remove light surface scratches at home, rather than requiring a crystal replacement every time you get a scuff on it. While acrylic is significantly less scratch-resistant than sapphire, it can be easily repaired using nothing more than a soft cloth and some polishing compound, such as PolyWatch.
If you are unsure of which type of crystal you have, be sure to read our guide on how to see which Rolex crystal your watch has.
To do this, simply put a small dot of polish on your crystal, and then apply pressure while rubbing it with a clean soft cloth for about 2 to 3 minutes. You can repeat this process as necessary to remove more severe marks and scratches. While this will only work for light scratches and scuffs, it is a quick and easy way to maintain the appearance of your watch that does not require professional experience or the use of any specialized tools.
Remember, any repairs or maintenance to the inside of your watch should only be performed by a professional watchmaker, and you should never attempt to open up your Rolex by yourself. However, by following this guide you can help maintain the external components of your watch and keep your Rolex looking clean and new, year after year.