Rolex watches lend themselves to worship. With timeless lines, classic style and modern edge, just about every serious collector has a favorite. But the harsh truth is, not every watch Rolex produces was an automatic hit. In fact, if history has taught us anything, it's that some of the watches we covet most today at one point weren't all that popular. So we decided to take a look at some of these unique Rolex watches – the ones we love now, but used to hate.
The Rolex Daytona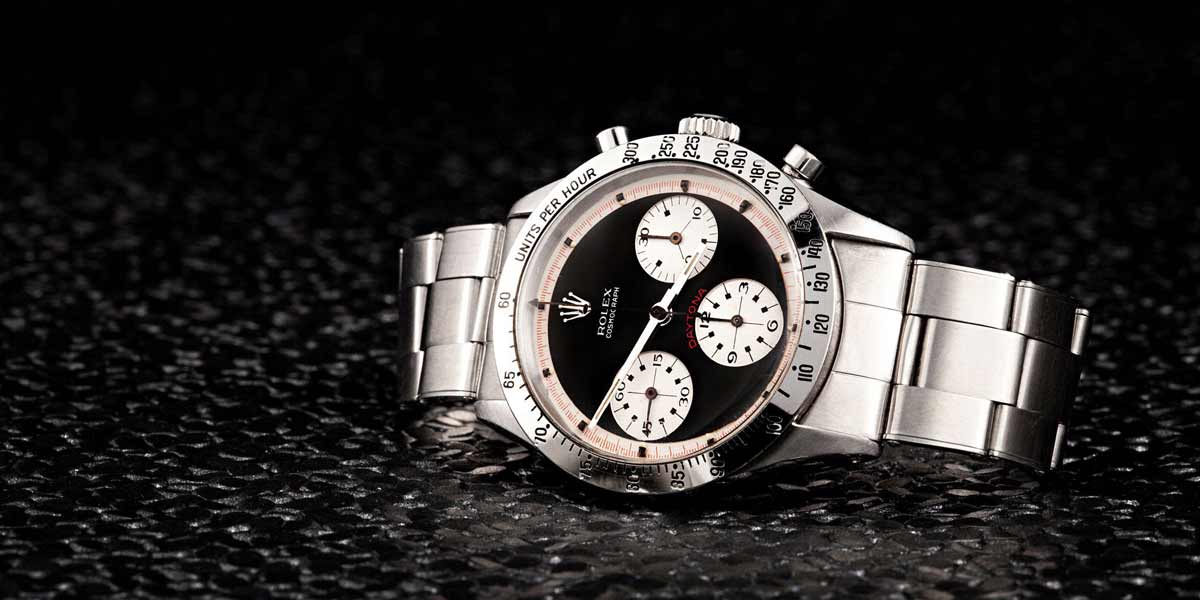 We all love the Rolex Daytona today, but when it was first released, collectors weren't all that impressed. In fact, they downright hated it. You see, the very first dials (white, black, silver, or champagne) often had sub-dials in a contrasting color – like a silver/white dial with black sub-dials (panda dial) or a black dial with white sub-dials (reverse panda dial). These dials were bold and new for the time, and they really polarized collectors.
So what changed? Well, the stamp of approval from the world famous actor and racing driver, Paul Newman. Once he started sporting a Rolex Cosmograph (which would later be rebranded to the Daytona once it gained new popularity) the public came around to this watch. Today, these first generation watches, particularly the 'panda' and 'Paul Newman dials' are amongst the most coveted by collectors. Famously, Paul Newman's personal Daytona sold for a record-breaking $17-million.
Day-Date 'President' with Stella Dial

The Rolex Day-Date President is famous for its balance of classic and elegant appeal with the bonafide power associated with it. Worn by world leaders and celebrities alike, this ultra-luxe timepiece is always forged out of precious metals like 18k gold and platinum, giving the watch a polished, refined feel. And up until the 1970s, the dials matched with equally refined and reserved designs.
But the 1970s were a groovy time, and as Rolex continued its world domination, its thought that they manufactured limited quantities of new, brightly colored lacquered dials for the growing Middle East market. The flamboyant, high gloss dials paired with the serious Day-Date watch were a shocking juxtaposition – one that collectors just couldn't like. That is, until recently.
Today, Stella dials are some of the most collectible vintage Rolex watches on the market, beloved for their uniqueness, vintage appeal and extreme rarity. Not only were these dials manufactured in very limited quantities, but the enamel has a tendency to crack, leaving few Stella dials in great condition.
The Rolex Oyster Perpetual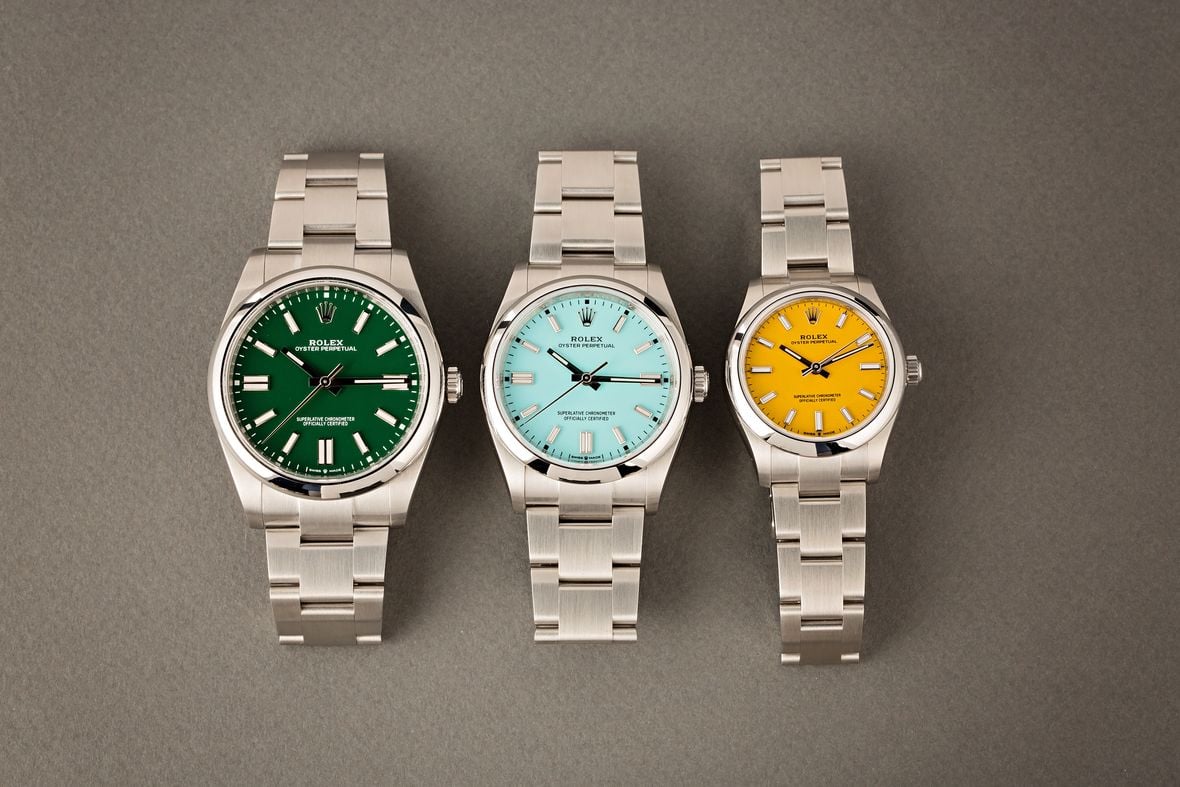 Speaking of the Stella dials – it seems like Rolex used the ever-increasing popularity of one of their vintages to spruce up the appeal of their entry-level classic, the Oyster Perpetual. Only displaying the time and featuring a simple dial design, the OP has been overlooked by collectors for years as just the 'entry level' piece with no real increasing value. And well, that was pretty true.
The Oyster Perpetual is a steady classic at a great price, giving new and young collectors (particularly) a great gateway into the brand. And while a Rolex always holds great value, most of these straightforward timepieces weren't notable or rare enough to ever really increase in value over time.
So it came as a surprise, to well, everyone, when Rolex dropped their 2020 OP's with a brand new line of colorful dials. Immediately, collectors called these the 'modern Stellas,' and they have been a hit ever since. Today, you can purchase one retail (if you're lucky) for $6,500. But because these watches have so much hype and excitement around them, you're seeing them go for more than twice that on the secondary market. Funny how a vintage dial everyone used to hate has now revived an entire line of overlooked watches for Rolex.
The Rolex Sky-Dweller

Introduced in 2012, it took a while for Rolex's newest watch to get off the ground. The ultimate luxury travel watch, the Sky-Dweller combined sophisticated style with incredible features, including an innovative annual calendar complication with true GMT functionality.
At first, we honestly think collectors just didn't know what to do with it. The brand's other flight watch, the GMT-Master II, already had its popularity cemented and well documented. Plus, the price tag on this new watch was eyewatering – definitely enough for collectors to give it second thought before investing in one, unsure if they'd like it and unsure how the market would react to it. So for nearly the entire first decade of its life, the Sky-Dweller sat there, looking amazing and boasting one of the brand's most impressive and complicated complications, but totally unappreciated.
Only in the last few years has the Sky-Dweller gotten any serious attention, and we think it has to do with a few things. Firstly, collectors could see that this watch was sticking around. While it's still new, Rolex has made the effort to refine the watch with movement upgrades and plenty of style updates. Secondly, Rolex expanding the collection beyond just gold alloys by adding Rolesor options and even rubber Oysterflex bracelets made the watch feel a bit more accessible. Finally, over time, people have just come to appreciate just how much this watch can do and how elegantly it does it.
The Rolex Milgauss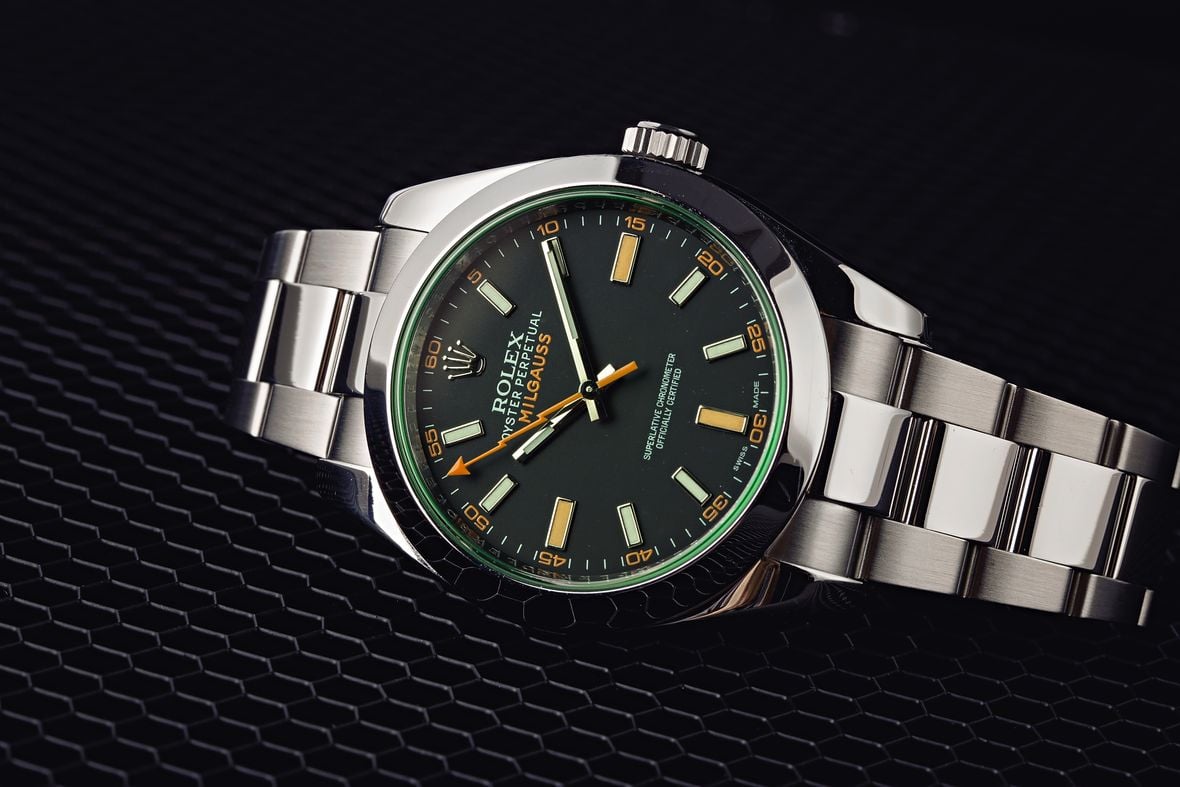 Today we tend to focus on Rolex's sport models and classics. But, it's important to remember that Rolex started by making beautiful, functional specialty watches for different industries – think, the Explorer for mountain climbers, and the Milgauss for scientists thanks to its anti-magnetic movement.
While its a core example of the kind of clever craftsmanship Rolex is capable of, the Milgauss has mostly flown under the radar while flashier, sportier and more refined watches got all the attention. It was even overlooked when it was first released in the 1950s, because at the same time, Rolex was going through a creative growth spurt, releasing the ever-popular Submariner, Explorer, GMT-Master, and Day-Date around the same time.
Besides a small community of collectors who liked how different the Milgauss was as well as scientists, this watch has remained a niche timepiece. It was always the black sheep of the Rolex family – featuring an eccentric lightning bolt second hand and orange accents that felt more daring than refined and classic.
But, it wasn't until Rolex doubled-down on the strangeness of this watch that the world really started to notice it. After discontinuing the watch in 1988 and reviving it in 2007, in 2014, Rolex unveiled the Milgauss with the Z-Blue dial. A unique blue only used for the Milgauss collection, the Z-Blue dial is a kind of metallic electric blue with a sunburst finish that reflects the greenish tones created by the green-tinted sapphire crystal above it. Accented with bright orange highlights that complement its orange lightning bolt-shaped seconds hand, the Z-blue dial is fun and unique and now totally adored by the watch community for just that. Yep, a single dial has totally changed the way we look at a classic.