Baselworld 2013 is undeniably the biggest horological show ever. Not only was it attended by over 104,000 visitors, 3,300 journalists and 1,815 exhibitors; but this year was the unveiling of a brand-new exhibition hall, designed by famous architects Herzog and de Meuron. Switzerland's 41st show certainly lived up to expectations, too, with oodles of gorgeous timepieces being unveiled. Here are the watches you shouldn't miss…
1. HYT H2…
You'll have to be quick to get your hands on this watch! HYT revealed their second watch at Baselworld, known as the H2, and it's certain to impress. This hybrid watch features an intuitive, fluid display alongside transparent architecture, stylishly seated in a durable DLC titanium case. While HYT didn't specify the price, only 50 of these watches will be sold, and industry insiders expect the H2 to sell for around double the price of HYT's original timepiece. Meaning this striking watch will cost somewhere around $90,000.
2. Romain Jerome Moon Orbiter Tourbillon…
This is a watch for those who love the mechanical look, but want a timepiece with a difference. The hard-wearing steel casing is embedded with glittering sapphire pieces, and the spring-loaded pistons ensure this watch will always sit perfectly against your wrist. There's even some real moon dust on the dial: but you'll have to be first off the line to win yourself one of these, as only 25 will be made.
3. Hublot Masterpiece MP-05 La Ferrari 
Back in March, Ferrari unveiled a hybrid car named LaFerrari at the 2013 Geneva Motor Show. With  over 1,000 horsepower, and a stunning design, the car is sure to be a success. But if your pockets aren't quite deep enough for a brand new $1.3 million dollar supercar, Hublot have come to the rescue.
The MP-05 is a tribute to the LaFerrari, and the engineers were dedicated to producing a watch that mimics the car's style exactly. The face is made from sapphire crystal, the case and buckle are PVD titanium and the strap is rubber. There's 637 watch components powering this striking watch, and it boasts a 50-day power reserve: a record for a hand-wound watch. The left cylinders alert you to the amount of power remaining, and the right cylinders tell the time. There's only 50 of these limited-edition watches being made, but at $300,000, they are an absolute steal compared to the car!
4. Blancpain Tourbillon Carrousel…
If you love that vintage watch look, you'll adore the Blancpain Tourbillon Carrousel. This watch manages to capture the feel of years gone by, whilst remaining utterly timeless. The watch features both a carrousel and a tourbillon, which the company says are "two of the major devices aimed at reducing gravity-related effects on the running of the movement", and that's not all it boasts. There's two independent carriages, a sapphire crystal case-back and an external winding crown. Beautiful.
5. Graham Orrery Tourbillon Planetarian…
This striking design is based on the original planetarian complication, which was designed by George Graham back in the 1700's. With a centre diamond, engraved gold and shimmering jewels placed to represent the Earth, moon and Mars, this is one watch that is sure to impress. While the price hasn't yet been revealed, it's reported that only 20 pieces will be made, so you'll need to be quick to wear a piece of the solar system on your wrist.
6. Rolex Oyster Perpetual Cosmograph Daytona…
Rolex first unveiled the Daytona fifty years ago, back in 1963, so it was widely reported that they'd launch a special edition this year. It didn't disappoint! This prestigious new watch was described as being "the perfect alchemy between form and function, aesthetic and technical". The new Daytona is entirely 950 platinum, and has a brown Cerachrom bezel, and ice blue dial.
The GMT-Master II was also given an update, with Rolex announcing the reintroduction of the design in both black and blue. With a Cerachrom bezel, self-winding mechanism and caliber 3186, the new edition is sure to be a hit. There was even a new women's watch announced, with the Oyster Perpetual Lady-Date Pearlmaster being updated with an ever-rose gold case, 18ct bracelet with embedded diamonds, and special-edition black or white mother-of-pearl decorations on the dial.
7. Christophe Claret Kantharos…
Christopher Claret unveiled the beautiful Kantharos earlier this week, and it's no wonder it's proving so popular. The automatic watch has a constant-force escapement that reduces timing variations, and ensures the watch is as precise as possible, along with featuring a cathedral gong that chimes with the changing of each function. The gong is visible at 10 o'clock, according to Claret, and this sporty watch is set to sell for around $100,000.
Felix Baumgartner's Actual Watch…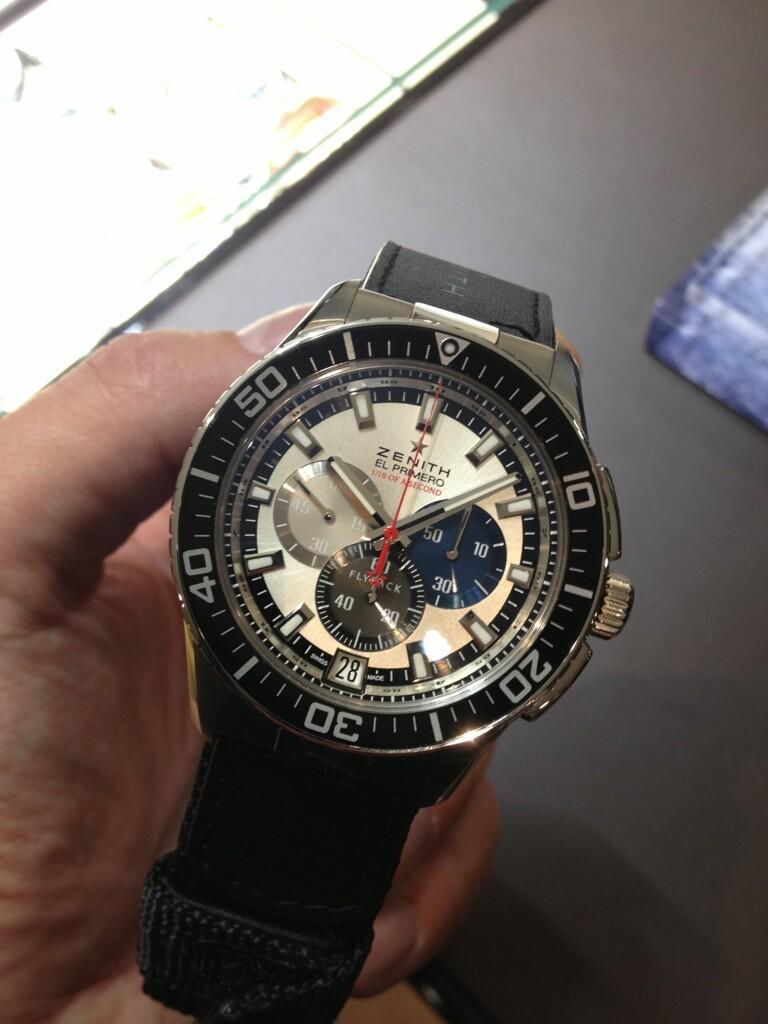 Of course, it's not just new watches that are on display at Baselworld 2013. This is Felix Baumgartner's actual Zenith Stratos Flyblack Striking 10th. Amazing.
Which watches at Baselworld 2013 are you loving? Let us know!