Everyone knows the two current stainless steel Rolex Daytona watches on the market; there's a white dial and a black dial, both available with ceramic bezels. They're in high demand, and they continue to pull significant premiums on the secondary market, selling for well above their retail list price.
Meanwhile, what people tend to forget is the significant volume of other Daytona watches, often available in different gold and two-tone variants, that have been produced by Rolex over the years. Great as the steel models are, there's something to be said about having something a little "out of the ordinary" in your personal collection, so we've compiled a list of current and recently discontinued Rolex Daytona models that you might want to take a look at.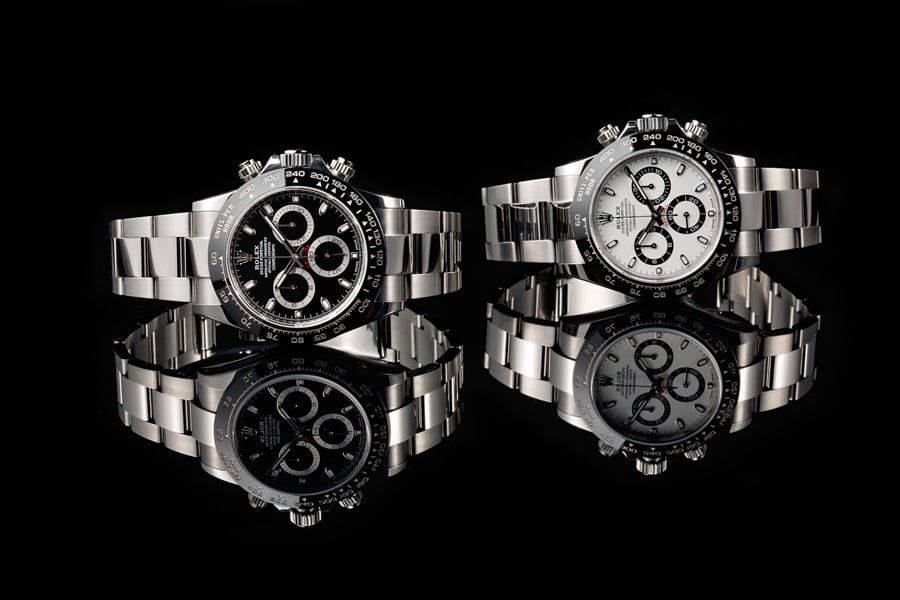 Rolex Daytona ref. 116506
This watch will look familiar to some, but slightly off. This is for good reason; while the reference 116506 is crafted from white metal with a ceramic bezel, this particular Rolex Daytona is constructed from solid platinum with a chocolate brown ceramic bezel and matching accents. While precious metal Daytona watches can be a bit of an acquired taste, this platinum version with its crisp ice blue dial is pretty hard not to love. Even though chocolate brown may not seem like an obvious pair with ice blue, it's a perfect match for this dial color. Not particularly common, these platinum Daytona watches are a bit of a "mic drop" when it comes to making an impression, but this one does so quite tastefully.
Rolex Daytona ref. 116528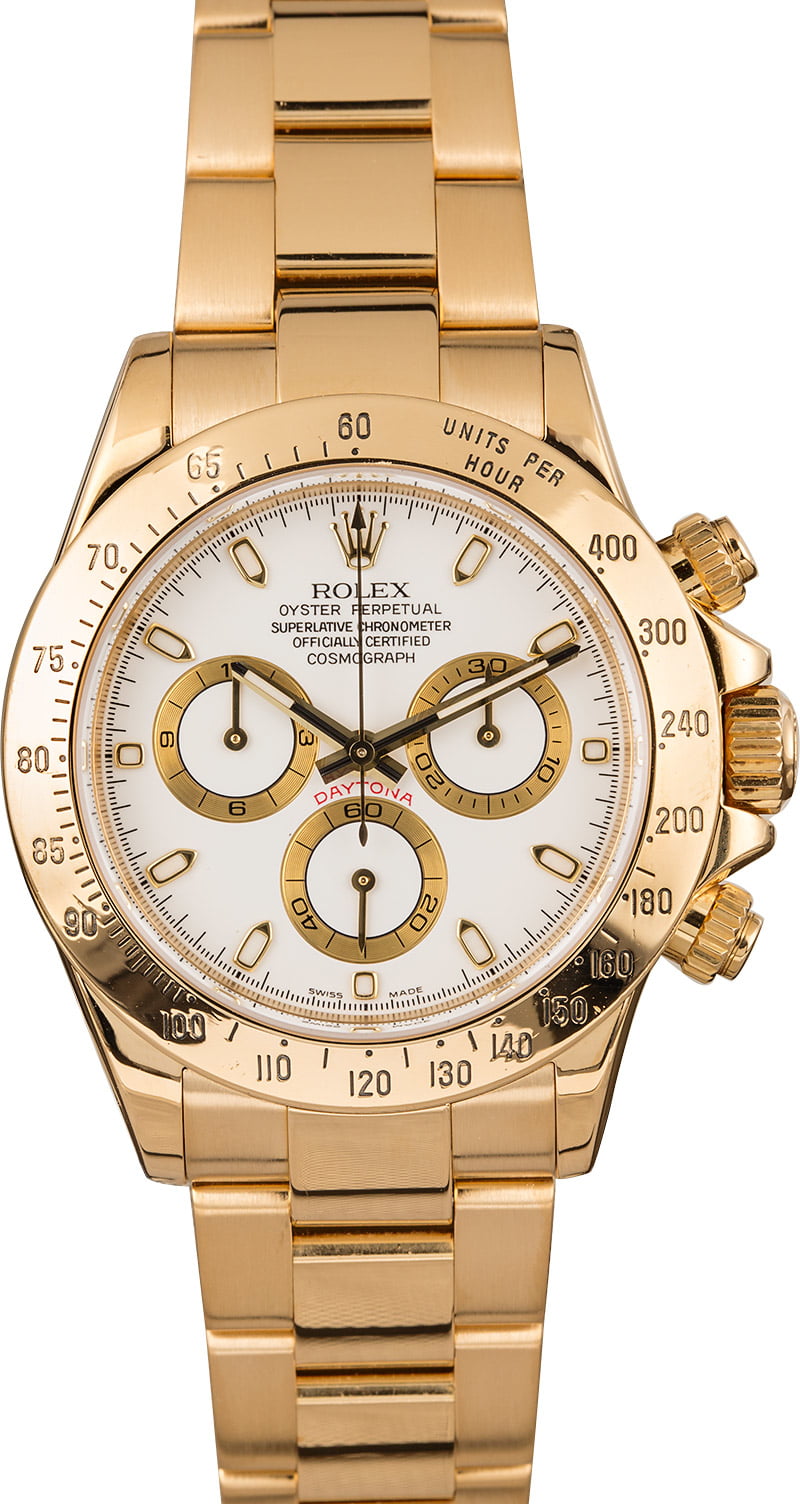 Sitting at the opposite end of the materials spectrum from the stainless steel version of the Daytona is the solid yellow gold reference 116528. Rolex does not produce all that many watches with white dials – let alone sports watches with white dials; however the pairing between the warm 18k yellow gold case and the stark white dial is an absolutely classic combination. While this piece was actually produced in the early to mid 2000s, its overall aesthetic is utterly timeless, and it could have just as easily been manufactured decades after (or before) its actual date of production.
Rolex Daytona ref. 116509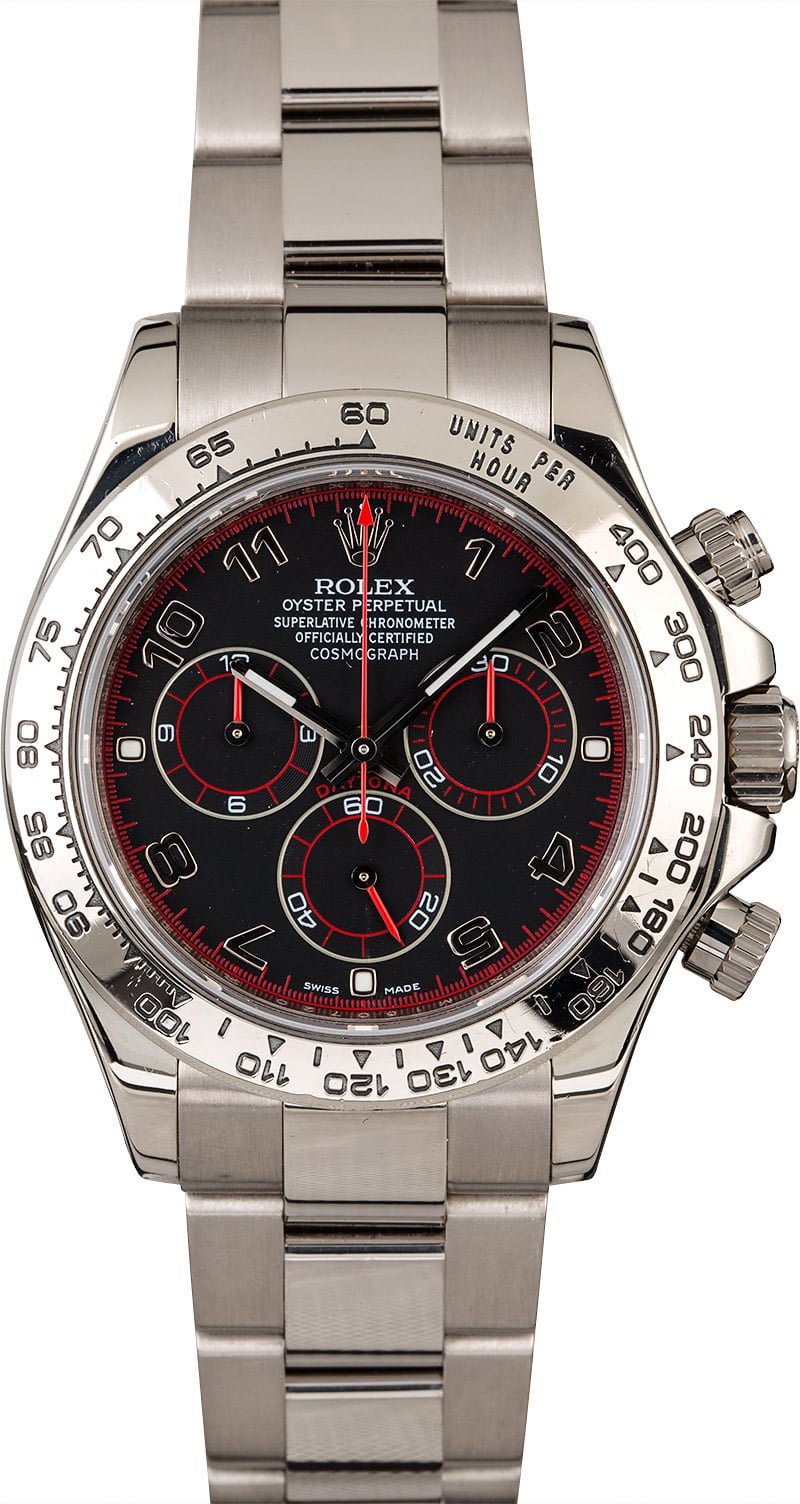 Back to the more subtle end of the spectrum, this black dial 116509 is a very charming white gold Daytona variant, and one that starts seeming like a pretty good deal when you consider that it's trading hands for maybe $10 over the steel Daytona models these days. Like other examples of this reference, the dial on this ref. 116509 is furnished with Arabic numerals, and the sporty bright red accents make this one an easy favorite. Again being a recent/current model, it's powered by the caliber 4130 movement, and is of equal spec as the 116500LN, other than the lack of a ceramic bezel.
Rolex Daytona ref. 116523
Mixing it up a little, we decided to throw this two-tone 116523 into the mix not only because of its classy grey/anthracite dial and two-tone case and bracelet combo, but also because of its very approachable sticker price. Often floating around the $13-$15k range, these Daytona watches are a real bargain when you consider that the popularity of two-tone timepieces has been skyrocketing again in the last year or so, and a two-tone Daytona can often be purchased for less than the price of a stainless steel one. It's a sleeper in the market right now, and with so many other Daytona watches (and Rolex timepieces in general) climbing in value, this is a real smart buy.
Rolex Daytona ref. 116508
Skipping the ceramic bezel, but sticking with precious metals, this variant of the 116508 is anything but "under the radar". Champagne/gold dials have certainly fallen back into favor lately, and it seems Rolex was a good way ahead of the curve on this one. Actually, if memory serves correctly they have maintained their use of gold/champagne dials for several decades. Either way, the gold on gold configuration with black sub-dials and red accents gives this piece a much more vintage feel, making it hard to believe the piece is actually a modern Daytona reference.