It wasn't just Nicki Minaj's outfit that everyone was talking about at the Met Ball…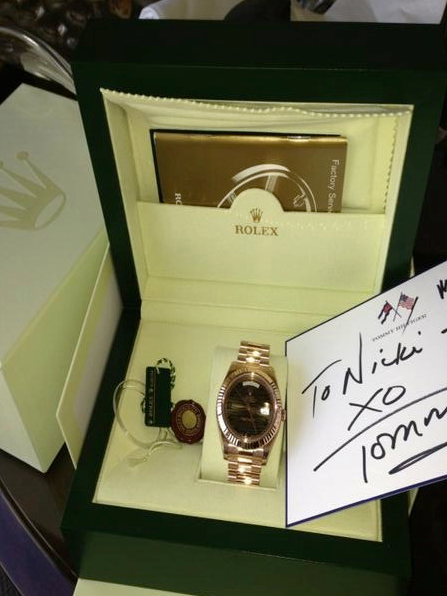 Known as fashion's smartest party, designers are often keen to dress the hottest stars in their outfits. It's one way to almost guarantee plenty of coverage across the world!
Tommy Hilfiger had a host of celebrities to dress, including Zooey Deschanel, Debbie Harry and Caleb Followill, but it seems it was rapper Nicki, who is known
for her outrageous fashion sense, who Hilfiger loved the most.
Nicki rocked big 80's style hair teamed with a floor-length, sleeveless navy gown. In true Minaj style, the dress featured a large knot detail at the bust, and had
two large cut-out sections just underneath. She teamed it with a thick gold necklace, matching bracelet and gold clutch, but her best accessory seemed to arrive after her big moment on the red carpet.
Hilfiger reportedly treated Nicki to a stunning gold Rolex Oyster 41m
m Day-Date II, worth around $32,000. Nicki was quick to tweet her thanks
to the designer, and was photographed throughout the night clutching the Rolex box: it seems even those who love to push fashion's boundaries appreciate a classic watch.
It's not known if Hilfiger's other guests received similar treats for sitting at his table and wearing his designs, but one thing is for sure: Rolexes are looking likely to be big for the youth markets this year.