Christmas is right around the corner, so it is time to decide what you want to purchase for the special person in your life. Consider these Top 7 Holiday Estate Jewelry Gifts:
1. Platinum Ruby & Diamond Estate Ring – $5,000


This stunning ring offers the highest quality materials including a finely crafted platinum band, twelve delicately cut diamonds and three large triangular cut rubies. The lady in your life will not be able to hide her excitement when she finds this in her stocking on Christmas morning!
2. Tiffany 14k Yellow Gold Bracelet – $1,750


Tiffany & Co. are well known for their expertly crafted jewelry, china and stained glass. Rather than spending a fortune on precious stones, opt for this elegantly linked Tiffany bracelet made of 14k yellow gold. This elegant piece is not flashy, offering a delicate touch of class to any lady's wrist.
3. SG 18K Yellow Gold Love, Health, Happiness Earrings – $1,995


Earrings are a popular piece of jewelry for women. When the lady in your life needs a bit of glamour, opt for these stunning SG 18k yellow gold and diamond earrings. This particular set of earrings is meant to represent "Love, Health and Happiness," making them the perfect gift for any woman to wear on New Year's Eve in the hopes of a great coming year.
4. 3.71 Carat Square Radiant Cut Diamond Engagement Ring – $29,995


The holidays is the perfect time to show your lady just how much she means to you. When you are ready to take that next step in life, do so with this stunning 3.71 carat square radiant cut diamond engagement ring. How can she possibly resist?
5. 22k Yellow Gold Necklace with Rubies Outstanding Estate Piece – $2,495


This unique necklace will certainly draw attention! If you want to surprise your lady with a beautiful and feminine piece of jewelry, choose this 22k yellow gold necklace, complete with beautifully cut rubies.
6. Laykin et Cie Ladies Watch – $6,995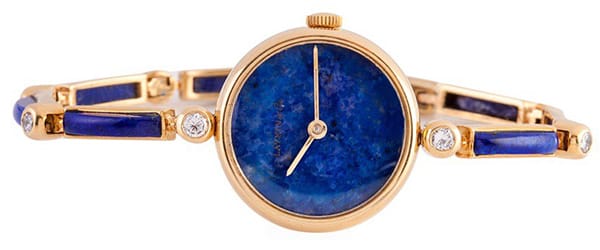 This beautiful yet functional piece offers a breathtaking blue and gold color combination. When your lady wants a practical gift, you can still get her something beautiful.
7. Antique Estate Yellow Gold Opera Glasses – $2,995


What is a trip to the opera without opera glasses? This antique set of yellow gold opera glasses are not only functional, but are a charming reminder of old world theatre.